Say what you will, but there's no denying that when it comes to the realm of supernatural beings, vampires hold a certain degree of curiosity and, well, appeal.
Regardless of what show or movie you've watched vampires in, there are a couple of things that they all seem to agree on (apart from the obvious human blood diet, of course): they're super fast, super strong, undying but unable to go out during the day, have hyperactive senses, and always very, VERY attractive. Garlic is usually a myth, and a stake through the heart followed by burning is often the only effective way to kill them.
Of course, each story has something new to contribute to vampire pop culture lore. Most of the time, it's some kind of workaround on one of the staples previously mentioned.
Take the Twilight saga (and yes, I'm of the opinion that this will never get old), for example – the vamps don't burn under the sun, they sparkle. In Abraham Lincoln: Vampire Hunter, the sunlight only causes slight discomfort. In some cases, vampires always look exactly like humans. While in other cases, their true form is some sort of pale-skinned, black or red-eyed monster with extendable fangs (and sometimes wings, like in the 2004 Van Helsing film).
So yes, vampires will always be exciting and no two movies or series will ever do them the same.
Given that, we've put together an extensive list of TV shows about vampires that you can binge when you're in that spooky mood! Whether they're the main attraction or just one of the species in the show's lineup, you can't go wrong with these vampire shows!
The Vampire Diaries, The CW (2009 – 2017)
Mystic Falls, Virginia is a small town that seems like any other on the surface. Look a little closer, however, and you'll find that its history is rich with supernatural elements – vampires, witches, and werewolves – that most of its residents don't even know about.
Stefan and Damon Salvatore are 162-year-old vampire brothers who have just moved back into town and without meaning to, stir up some trouble for human teenager Elena Gilbert. One bad, one good – both fall in love with her and go to all lengths to ensure both she and the people she loves are safe from the threats their return has brought to Mystic Falls.
Where to watch The Vampire Diaries:
The Originals, The CW (2013 – 2018)
A direct spin-off from The Vampire Diaries, The Originals follows three of the Mikaelson siblings – Klaus, Elijah, and Rebekah – as they fight to reclaim New Orleans, a city that they once ruled.
The Mikaelsons are what's known as the Originals, or the very first line of vampires; ergo, every vampire currently in existence is a direct descendant from one of them. Their family dynamic has always been complex as they spent centuries on the run from their own father, and that's why they fled New Orleans in the first place. Now, they're back to protect it from a war between supernaturals and establish themselves as the ruling family.
Where to watch The Originals:
Legacies, The CW (2018 – 2022)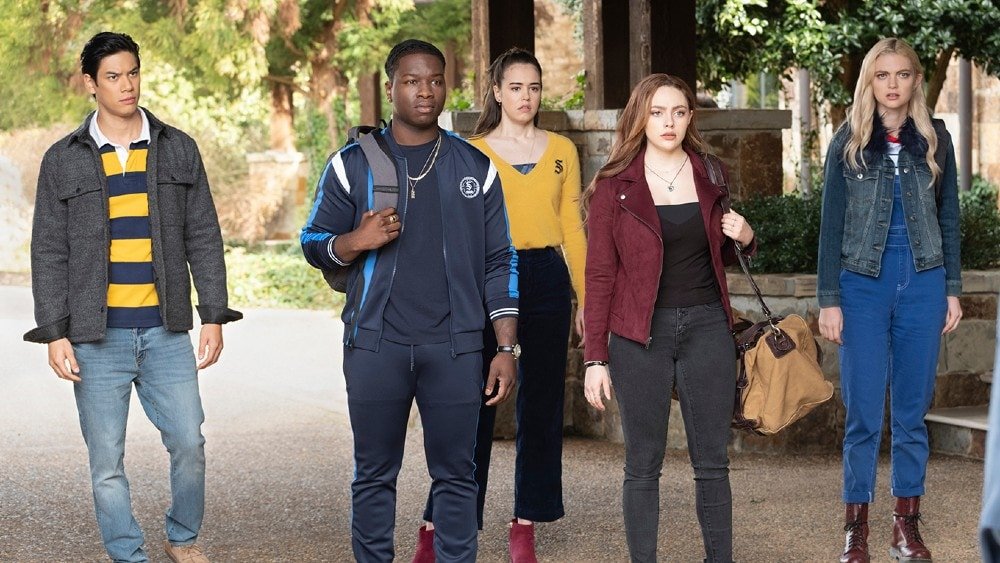 Legacies is the third series in the franchise and is a spin-off of both The Vampire Diaries and The Originals, as it features prominent characters from both. Taking place two years after the events in The Originals, Legacies follows Hope Mikaelson, the daughter of Klaus Mikaelson, and a werewolf named Hayley Marshall who was first introduced in the last season of The Originals.
Through her father, she's a direct descendant of a powerful witch, vampire, and werewolf bloodlines. Now, she's a teenage student at the Salvatore School for the Young and Gifted, where she joins her fellow supernatural beings in learning to control her impulses as a three-fold hybrid.
Where to watch Legacies:
Buffy the Vampire Slayer, The WB/UPN (1997 – 2003)
Buffy Summers is hardly your normal high school teenager, no matter how hard she tries to live a regular, unassuming life. As a "Slayer", she has unique powers that allow her to fulfill her calling to battle demonic supernatural beings.
After her family moves to the fictional town of Sunnydale, California, she finds that her new high school just happens to be above a doorway to the demon realm, giving her no way out of her responsibilities. Eventually, she learns to accept her destiny as a Slayer – but not without entangling her personal life with witches, werewolves, and even vampires themselves.
Where to watch Buffy the Vampire Slayer:
Angel, The WB (1999 – 2004)
The eponymous character Angel was first introduced as Buffy's love interest during the first few seasons of Buffy the Vampire Slayer. We meet him as a broody vampire but it's soon revealed that this is because of his troubled past.
He spent roughly 170 years wreaking havoc across Europe as one of the most violent and sadistic vampires in history. However, a family that he wrongs puts a curse on him, restoring his soul and thus leaving him with the guilt for the damage he did over almost two centuries. In his quest for redemption, he moves to LA to work as a private detective to "help the helpless".
Where to watch Angel:
Forever Knight, CBS/USA Network (1992 – 1996)
Speaking of older vampire shows, here is one from the early to mid-nineties.
Forever Knight is a supernatural crime drama that follows the life of Nick Knight, a vampire who is attempting to atone for his past sins by working as a homicide detective in modern-day Toronto.
Throughout the series, Nick struggles with his vampire nature, his desire to be mortal again, and his relationships with mortals and other vampires.
Forever Knight aired for 3 seasons and has since gained a cult following and is regarded as a classic example of 1990s supernatural television.
Where to watch Forever Knight:
Vampire Academy, Peacock (2022)
If you were a fan of the Vampire Academy film that came out in 2014 or an avid reader of Richelle Mead's YA novel series upon which it was based, then you'll definitely want to check out Peacock's newly-released TV series of the same name!
Vampire Academy is set at St. Vladimir's Academy, a boarding school especially catering to vampires.
It primarily follows two best friends Rose Hathaway, a Dhampir (half human, half vampire) guardian-in-training, and Lissa Dragomir, a Moroi vampire princess, as they navigate life at the academy and the politics of the royal vampire society.
Where to watch Vampire Academy:
Interview With the Vampire, AMC/AMC+ (2022 – present)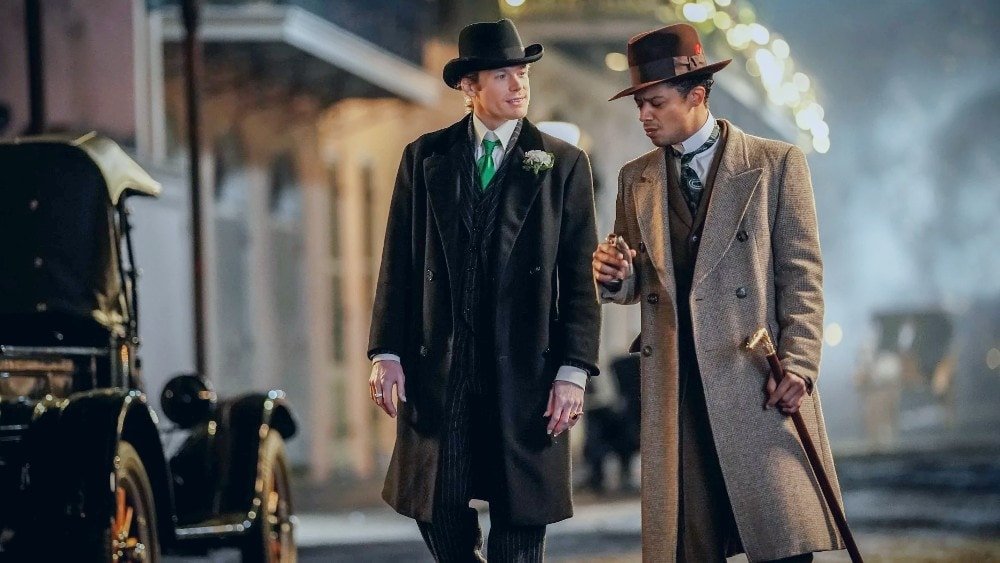 In 1976, gothic fiction writer Anne Rice published a novel on vampires that, quite frankly, goes down in history as one of the best.
AMC's Interview with the Vampire is the first television adaptation of the novel (which is part of a larger franchise series of books), which was also first adapted into a film in 1994.
Interview with the Vampire is the narrative of the life of the centuries-old vampire Louis de Pointe du Lac, as he himself tells it to a reporter in present times.
Through Louis' retelling, we meet his maker and lover Lestat de Lioncourt and learn of their life together through the centuries.
Where to watch Interview With the Vampire:
What We Do in the Shadows, FX (2019 – present)
Vampires aren't often seen in the light of humor, but What We Do in the Shadows does that so darn flawlessly. Filmed in a mockumentary format, this comedy-horror vampire series documents the lives of four vampire roommates sharing a living space in Staten Island.
Nandor is the oldest at almost 800 and is the group's default leader. He's joined by married couple Laszlo and Nadja, who can turn into a bat and a swarm of rats, respectively. Colin is an energy vampire who drains others' energy by either annoying or boring them and finally, Guillermo is Nandor's Latino familiar. Together, they try to navigate each other's quirks and attempt to adjust to the modern world.
Where to watch What We Do in the Shadows:
Reginald the Vampire, SyFy (2022 – present)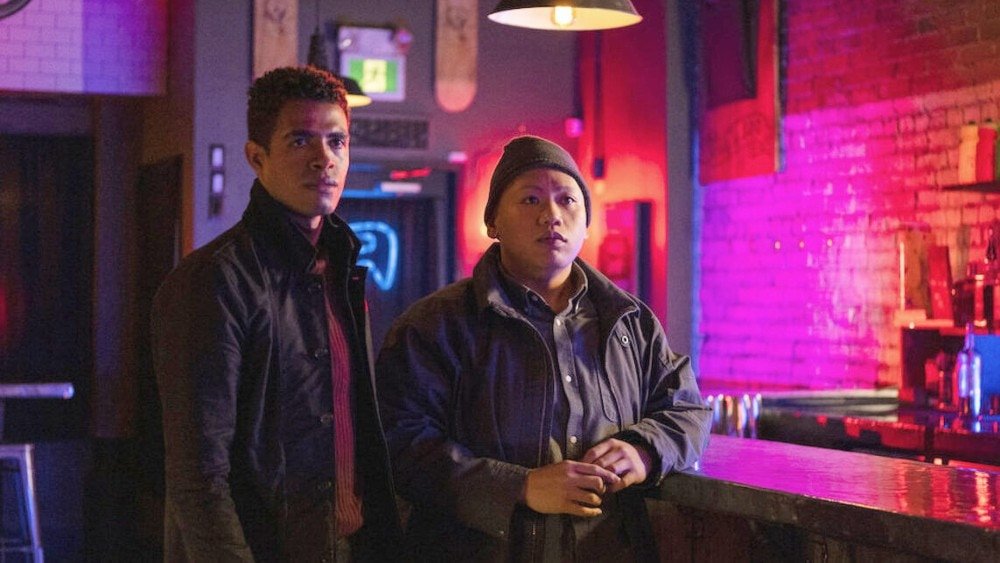 Vampires will always be a huge part of pop culture, regardless of which vampy trope you subscribe to (and there are just so, so many!).
Syfy's Reginald the Vampire is an adaptation of Johnny B. Truant's Fat Vampire novel series and plays around with the common tropes you might see: vampires are 'conventionally' beautiful, graceful, emotionless bloodsuckers.
It follows the titular Reginald Andres, an average guy with an average life… until he gets turned into a vampire.
Reginald is the opposite of what those in their world perceive vampires to be, but he tries to navigate his new life while holding onto his old self.
Where to watch Reginald the Vampire:
Let the Right One In, Showtime (2022)
It's pretty rare to come across a vampire show or film that centers on a young child being the vampire in question, so Showtime's Let the Right One In is quite the needle in the haystack.
The series follows Mark and his daughter Eleanor, who was turned into a vampire 10 years ago.
Stuck at the age of 12 and only able to come out at night, Eleanor must live in hiding while her father does everything it takes to bring her human blood to survive.
Now, they've returned to New York City in the hopes that they can find her a cure.
Where to watch Let the Right One In:
Shadowhunters, Freeform (2016 – 2019)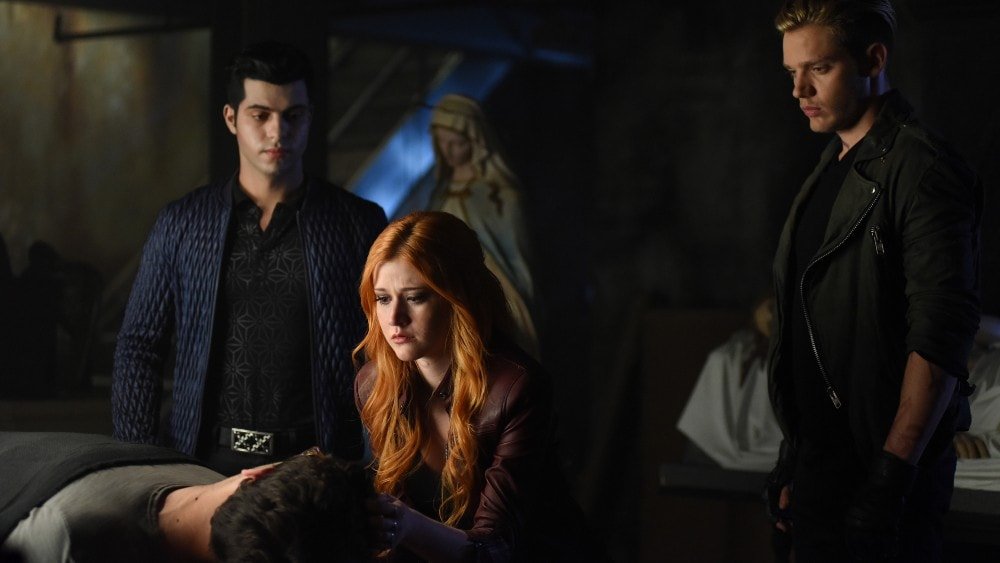 The Shadowhunters are a secret group of human-angel hybrids that are trained from childhood to defend the humans – what they call "mundanes" – against the demon hybrids of the Downworld, which include the werewolves, vampires, warlocks, and faeries.
Most of the time they live harmoniously and undetected by humans, but all of this changes when 18-year-old Clary Fray finds out that she's a part of this world and ends up dragging her childhood best friend, Simon Lewis, into it as well. No longer just an art student at the Brooklyn Academy of Arts, she now has to discover her true self while keeping the demons at bay.
Where to watch Shadowhunters:
V Wars, Netflix (2019)
V Wars is one of the few vampire shows that features vampires as the sole supernatural entity and it certainly employs a unique perspective as well – it's less about the actual supernatural element and focuses more on science and how vampires and humans would realistically co-exist in society.
Instead of the usual "biting to create more vampires", the vamp population in V Wars was created when an ancient biological pathogen melted out of its ice cage thanks to climate change, targeting those who have a certain gene mutation in their DNA that turns them into vampires. This triggers a division in society and a possible war between the human and vampire population.
Where to watch V Wars:
First Kill, Netflix (2022)
Another Netflix vampire series is First Kill which premiered on the streamer just recently.
Based on V.E. Schwab's short story of the same name and set in Savannah, Georgia, First Kill follows Juliette Fairmont and Calliope "Cal" Burns, two teen girls who fall in love after meeting at school.
The catch is that one (Juliette) is the youngest member of a very wealthy and powerful vampire family. While the other (Cal) is part of an old vampire hunter family on a mission to prove her abilities to the hunters in her family by making her first kill.
Does the love between the two have the power to endure or will their dueling families tear the star-crossed lovers apart? I guess you will just have to open Netflix and find out!
Where to watch First Kill :
A Discovery of Witches, Sky One (2018 – 2022)
Yes, A Discovery of Witches does indeed center on a witch and a world filled with magic. Diana Bishop is a witch, but she's also a brilliant historian who one day discovers a mysterious manuscript in Oxford's Bodleian Library.
Though she previously denied and avoided her heritage as a witch, this document reveals dangerous secrets about magical beings that forces her to face her destiny. On her journey to unravel the mystery, she is joined by geneticist Matthew Clairmont, an ancient vampire with his own family secrets. Their relationship soon develops as they fight to maintain peace between humans, vampires, witches, and daemons.
Where to watch A Discovery of Witches:
True Blood, HBO (2008 – 2014)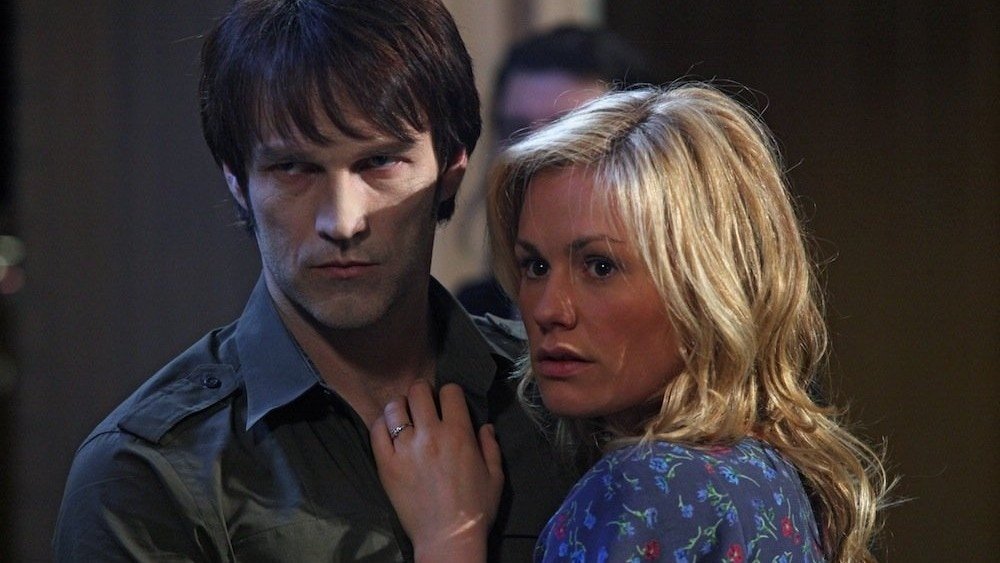 If there's ever a supernatural horror TV show about vampires that takes you on an extreme emotional rollercoaster, it's True Blood. You'll love them, then hate them. You'll be deeply attracted to them then be absolutely terrified.
Thanks to a synthetic blood product that hit the markets, vampires are no longer in hiding and are (generally) able to live amongst humans. In fact, they're even fighting for equal rights – though not without a lot of opposition. Sookie Stackhouse, a telepathic waitress from Bon Temps, Louisiana is central to the series as she falls in love with a centuries-old vampire, Bill Compton, and discovers the existence of many other supernatural creatures.
Where to watch True Blood:
Midnight, Texas, NBC (2017 – 2018)
Midnight is a remote town in Texas that's tailor-made for the supernatural, mysterious, and spooky creatures living on the outskirts of society – with a spattering of a human population, too.
Anyone who's been shunned for deviating from "normal" has found their place in Midnight, including a runaway psychic, a vampire and his assassin wife, a powerful witch and her human boyfriend, a half-demon and his literal fallen angel of a husband, a weretiger, a demon hunter, and a talking familiar. These outsiders find solace with each other and band together when a pair of newcomers threatens to upset the balance in their community.
Where to watch Midnight, Texas:
Preacher, AMC (2016 – 2019)
Based on the Vertigo comics of the same name, Preacher features a protagonist that you could figure out just from the show's title itself. Jesse Custer is a preacher, sure, but he's probably unlike any other preacher you've ever met in your life.
Not only is he a heavy drinker and smoker, but he also has the power to make anyone do whatever he says (thanks to his merging with Genesis, an angel and demon's spawn). After discovering that God has abandoned Heaven, he goes on a quest to find Him again with his girlfriend and best friend – who just happens to be a charming yet mischievous vampire.
Where to watch Preacher:
Being Human, BBC Three (2008 – 2013)
Despite its elements of supernatural horror fiction, British series Being Human has just enough comedy in it to eventually become so well-loved that both a sequel spin-off and an American remake were created. In this original series, we find that various species of supernatural creatures exist among – but apart from – humans.
However, three of them – a werewolf, a hundred-year-old vampire, and a ghost – are desperate to live ordinary lives and blend in with humans. In between fighting against their natures, preventing exposure, and avoiding judgment from their fellow supernatural creatures, the trio must help each other with simply being human.
The North American adaptation of the vampire series from the Syfy and Space networks aired for four seasons between 2011 and 2014, following more-or-less the same plotline as the original.
Where to watch Being Human:
Van Helsing, SyFy (2016 – 2021)
The Van Helsing name is well-known in the realm of the supernatural, primarily as being that of a line of prolific vampire hunters. Vanessa Van Helsing, the original Abraham Van Helsing's direct descendant, wakes up in a post-apocalyptic world caused by the Yellowstone Caldera erupting and covering the world in a perpetual sheet of ash.
Because of this, it's always dark and we all know what that means: vampires can roam freely without any fear of getting burned by the sun. Vanessa's blood is the only cure, as it has the ability to turn the vamps back into humans. That makes her a prime target, of course, but that doesn't stop her from trying to save the world's remaining survivors.
Where to watch Van Helsing:
Dracula, NBC (2013)
Abraham Van Helsing and Dracula are supposed to be immortal enemies, at least as far as the legends always go. In NBC's Dracula, however, the two form an unlikely alliance when they find they have the same goal of revenge against the (historically accurate) Order of the Dragon.
Dracula's life was ruined by the Order and they imprisoned him, but he's back in London posing as Alexander Grayson, "an American entrepreneur who maintains that he wants to bring modern science to Victorian society". However, his plan may not be as easy as he thought when he comes across – and falls hopelessly in love with – a woman who looks exactly like his dead wife.
Where to watch Dracula:
Firebite, AMC+ (2021 – present)
Lastly, we have a show that focuses more on the vampire hunters than the vampires themselves.
Set in a world where vampires and humans have been fighting for land and power for over 230 years, Firebite zeroes in on Tyson and Shanika, two Aboriginal vampire hunters who are going up against the Vampire King and his army to defend the last colonial stronghold and end the war once and for all.
Where to watch Firebite: