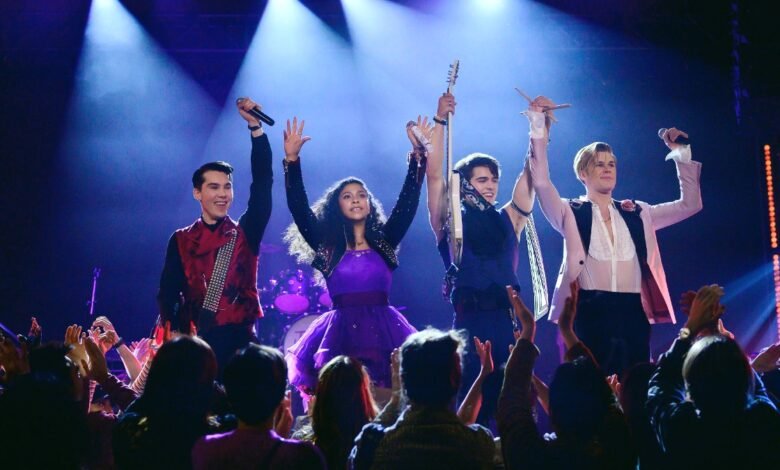 Music. It's probably one of the few things that can easily bring people together regardless of any differences.
It's pretty easy to form a good relationship with someone who has similar tastes in music because genres and artists are so broad that there's always so much to talk about and share.
On the other hand, even with someone who has completely opposite musical preferences, it's just another opportunity to possibly widen your spectrum.
Artists and musicians really deserve all the credit for bringing people together and being a constant source of joy for everyone.
Most of us overlook the hard work it takes to make music and keep sharing it with the world – whether as a solo artist or as a group.
In these TV shows about bands, hopefully, we, music lovers, will be able to appreciate the work of musicians and even find a deeper appreciation for genres we already love and still need to get to know!
Girls5eva, Peacock (2021 – present)
Girls5eva is a musical comedy that premiered in 2021 and has just recently been renewed for a second season!
The title is a reference to the band's name that's at the center of the series. Girls5eva was a four-woman girl group that gained popularity in the early 2000s but sadly, fizzled out really quickly and joined other "one hit wonder" bands of the time.
In present times, they've got their own fairly normal lives but all still yearn for something more. They get their chance to make a comeback in the music industry, however, when an up-and-coming rapper samples their one popular hit!
Julie and the Phantoms, Netflix (2020)
Netflix brings a comedy-drama with a light twist of the spookies with Julie and the Phantoms, which was based on the Brazilian series Julie e os Fantasmas.
The musical follows the titular Julie Molina, a high school student, and aspiring musician.
Her musical inspiration hits a snag, however, following the death of her mother. In a bid to get her songwriting skills back, she accidentally summons the spirits of the deceased Phantoms, a band from the mid-1990s, and becomes their lead singer.
Through them, she reignites her passion for music; through her, the trio get their chance to become the band they always wanted to be.
Star, Fox (2016 – 2019)
Fox's Star is a compelling story about the pursuit of one's dreams against all odds, and the often difficult task of realizing what it takes to get there.
The three-season musical drama follows Star Davis, a talented teenager who escapes from and rescues her younger sister Simone from the unjust and abusive foster system.
Their path crosses with singer/songwriter Alex Crane, and the three girls embark on a journey to make a name for themselves in Atlanta, Georgia.
They're taken under the wing of an old friend of Star's mother, Carlotta Brown, but their slow rise to fame soon takes its toll on them and their relationships with each other.
Queens, ABC (2021 – 2022)
Professor Sex, Butter Pecan, Jill Da Thrill, and Xplicit Lyrics – with stage names like that, you're bound to make your mark on the music industry!
These were the names of the four women who made up Nasty Bitches, the legendary hip hop group of the 1990s that's at the center of ABC's drama, Queens.
In present times, however, these women are simply known as Brianna, Valeria, Jill, and Naomi: in their forties and estranged, but still driven by ambition to grab a chance to regain the fame of their youth.
The Naked Brothers Band, Nickelodeon (2007 – 2009)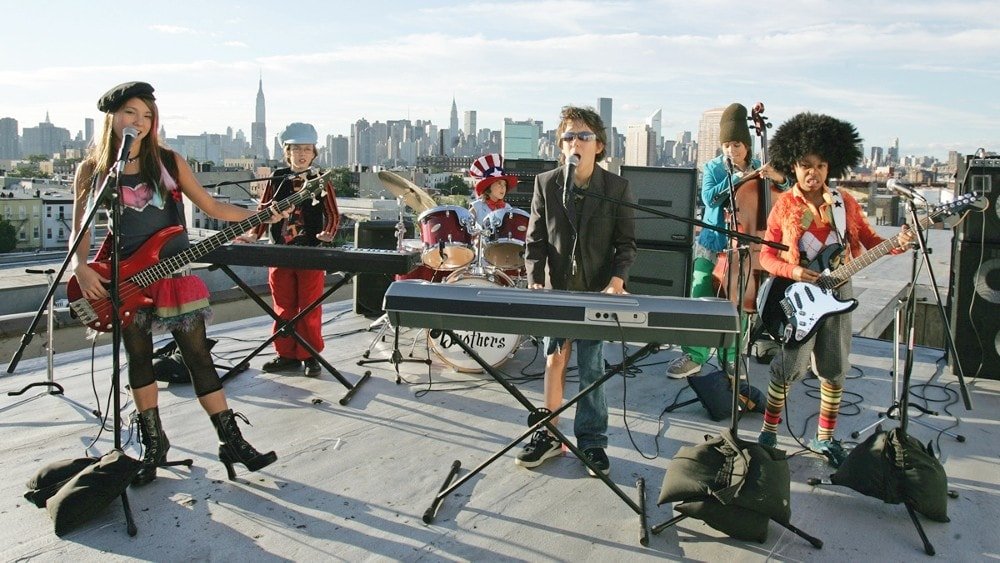 The Naked Brothers Band, despite the name, is geared towards a much younger audience, having aired on Nickelodeon.
Filmed in a mockumentary style, it tells the story of brothers Nat and Alex Wolff, the lead singer/songwriter and drummer, respectively, of the titular band.
In the series, they're from New York City but have gained significant popularity around the world, and the 'documentary' follows their lives as they – along with their accordion-playing, widowed father – navigate the world of fame and music.
The Naked Brothers Band actually serves as a parody of their own lives, having an actress as their mother (who also created the series!).
Jonas, Disney Channel (2009 – 2010)
One might say that Jonas is the Disney Channel counterpart to the aforementioned series, and that's pretty accurate.
The title alone should be clue enough that the teen musical follows the Jonas brothers – all of whom have made names for themselves in the music industry to this day!
Each with quite different personalities, the three Jonas brothers Kevin, Joe, and Nick navigate their musical ambitions and the superstardom that comes with it, alongside discovering who they are as individuals as well.
It's not an easy journey, but at least they have each other.
Sex & Drugs & Rock & Roll, FX (2015 – 2016)
Sex & Drugs & Rock & Roll is an FX comedy series that aired for two seasons before its cancellation.
It's an appropriate title as well, seeing as how it's this excess of sex, drugs, and the rockstar lifestyle that led its main character, Johnny Rock, to fall off the music scene just as he and his rock band The Heathens were rising to fame in the late 1980s.
Now, he's 50 years old and finally has a chance at redemption when his unknown daughter Gigi turns up at his door with an offer that he can't refuse – become the lead songwriter and her coach for her revamped version of The Heathens: The Assassins.
The Partridge Family, ABC (1970 – 1974)
TV shows about bands are truly timeless, and ABC's 1970s series The Partridge Family is evidence that music will always be prime entertainment.
The musical sitcom follows the eponymous Partridge family: widowed mother Shirley and her five kids Keith, Laurie, Danny, Chris, and Tracy as they go from the typical suburban family to a famous, touring pop band!
It all started when they convinced their mother to sing for them while they recorded in their garage; the next thing they knew, they had found a manager and were headed to Las Vegas for their first gig.
The Partridge Family is a definitely great sitcom to enjoy with the whole family!
Flight of the Conchords, HBO (2007 – 2009)
HBO brings together a spectacular team and cast in its two-season musical comedy, Flight of the Conchords.
The series is titled after a real-life musical duo from New Zealand: Jemaine Clement (singer and bassist) and Bret McKenzie (singer and guitarist) and portrays a fictionalized version of their lives where they've moved to New York City to become a folk duo and thankfully, they've got friends to help them adjust to the change in lifestyle and overall American culture.
A huge part of the series is Jemaine and Bret's tendency to break out into song whenever they have feelings or monologues that just need to be said.
We Are Lady Parts, Channel 4 (2021 – present)
We Are Lady Parts may sound a bit odd for a title of a series or even the name of a musical group, but it's actually perfectly appropriate considering it's for a punk rock band (and that's a pretty punk rock name)!
This Channel 4 sitcom follows an all-female Muslim punk group that's determined to make it big in London – if they can land the right gigs, of course.
Their frontwoman Saira approaches Ph.D. biochemical engineering student Amina to become their lead guitarist, promising to play cupid on the latter's quest for a husband in exchange.
Will Amina find her balance between academics and her passion?
The Eddy, Netflix (2020)
This French-American musical drama is definitely one for the books, and much more serious than the previous shows on this list so far.
The Eddy follows pianist and former American jazz musician Elliot Udo who, after the devastating death of his son Fred, moves to Paris to run his own club, The Eddy.
Owning a club comes with its share of dangers, however, and Elliot soon finds himself dancing with Paris' criminal underbelly in order to protect his club, his band, and his daughter – particularly after the murder of his business partner and best friend, Farid.
California Dreams, NBC (1992 – 1996)
When California Dreams first aired, it wasn't meant to be focused on a band; it was a family sitcom involving the entire Garrison family, of which the teens did have their own band.
However, season 2 launched an entire reformatting that shifted the show's focus to the two aforementioned teens Matt and younger sister Jenny, the California Dreams' leader, and pianist/vocalist, respectively.
The series follows the band's progress and performances, as well as its growth as band members change through the seasons and contribute the band's musical prowess.
The Get Down, Netflix (2016 – 2017)
The beautifully artistic minds of Baz Luhrmann and Stephen Adly Guirgis came together for Netflix's The Get Down, a series whose title is an allusion to certain sections of R&B and disco tracks that are played on loop through turntables, which is particularly attractive to dancers.
Set in 1970s New York City, it portrays the rise of hip-hop and disco through the eyes of The Get Down Brothers, a group of artists who dream to take over the city with their music.
Each episode begins with one of them, MC Books, spitting some raps to recap the previous episode and preview what's to come!
Paradise City, Amazon Prime Video (2021 – present)
Paradise City follows the rock band The Relentless, whose beginnings as a band were questionable at best and demonic at worst – literally.
The series is a continuation of the 2017 movie American Satan, which details the band's deal with the actual devil in order to become stars: a human sacrifice.
Though they reach success, it's not without obstacles this series sequel continues to tell the story of their ties with the occult, and how this begins to affect their personal lives and even the lives of those who idolize them.
You're Beautiful, SBS (2009)
With the K-music industry on the rise these past few years, it's no surprise that a South Korean series about a music band should find its way onto this list!
You're Beautiful is a rom-com musical drama that follows the four members of the fictional band, A.N.Jell.
The team's newest addition, Mi-nam, needs to suddenly go to America but can't leave his band without a singer, so he asks his twin sister Mi-nyeo to fill in and pretend to be him for a month.
Mi-nyeo agrees, seeing it as an opportunity to reconnect with their mother and figure out their past as orphans, but things get complicated when feelings develop between Mi-nyeo and her band members – both as herself and as her brother!
The Monkees, NBC (1966 – 1968)
NBC's sitcom The Monkees originally aired for just two seasons (albeit almost 60 episodes), but its legacy lived on for much longer through syndicated broadcasts and even reruns as recent as 2021 as a tribute to the original cast members' passings.
The series followed the musical exploits of the four-man band The Monkees, who were just trying to make a name for themselves outside of their Los Angeles, California homes.
Much of the show revolved around the friendship between Davy, Michael, Micky, and Peter, as well as the absurd situations they found themselves in on their search for fame.
Rebelde Way, Azul Televisión/Canal 9 (2002 – 2003)
The second foreign-language series on the list is Rebelde Way, an Argentinian telenovela with other 300 episodes that has aired in several countries as well.
The series is set primarily in The Elite Way School, a prestigious secondary boarding school that houses the kids of Argentina's scholars and elite.
The academics and routine is rigorous, but 4 students with a common love for music find each other and manage to form a band in secret, away from the prying eyes of the academy and their parents. Thus, Erreway is born.
If you love this series, you might want to also check out the 2004 Mexican musical telenovela Rebelde, Netflix's 2022 reboot Rebelde or any of the other international remakes of Rebelde Way that have come out since 2002.
Catwalk, YTV (1992 – 1994)
Catwalk is a Canadian musical drama that aired over two seasons in the early 1990s and focused on six musicians who came together to form the eponymously titled Catwalk.
Most of the show unfolded over the band's personal relationships with each other – and there were a few, as couples within the band and outside of it were formed – as well as their struggles as a team to land gigs and a record deal.
The band's singer/guitarist was central to the story, as they would rehearse at his loft, and occasionally, even their performances were featured during episodes.
WuTang: An American Saga, Hulu (2019 – present)
Fans and followers of the hip-hop scene will definitely recognize the reference in Hulu's drama series WuTang: An American Saga.
The show is set in New York City during the early 1990s, when the crack cocaine epidemic was wreaking havoc on the streets.
Bobby Diggs (later known as RZA) is looking for a way out despite his older brother's involvement in the drug trade and turns to music.
Thus, his vision comes to life when he manages to bring together a dozen young, black men who are "torn between music and crime" to form the group, the Wu-Tang Clan.
Bronco: The Series, TNT Latin America (2019)
Bronco: The Series is a Spanish-language biographical musical based on the book by José Guadalupe Esparza, Cicatrices de un corazón Bronco, which tells the history of the band Bronco, a Mexican grupero band.
Esparza himself is a member and frontman of the band!
It starts from the group's early beginnings, where four musicians climbed their way through a brutal and competitive industry despite starting from nothing.
However, achieving their dreams came at the cost of their lives and families, and the series even dives into their need to step back to regain what they lost in the process.
Metalocalypse, Adult Swim (2006 – 2013)
As expected from any animated series from Adult Swim, Metalocalypse is geared towards a more mature audience despite it being a cartoon.
It features Dethklok at its center, a "larger than life" melodic death metal band that has achieved worldwide status "like the Beatles, but a thousand times more dangerous and a billion times more stupid".
In keeping with mature content on the network, it often deals with issues such as violence and death, as well as the harmful drawbacks of fame – especially when they unwittingly commit illegal acts and get away with it.
Josie And The Pussycats, CBS (1970 – 1971)
Josie And The Pussycats is a cartoon adaptation of the characters that first appeared in the Archie comics series and who formed an all-female pop music band.
If you're familiar with other Hanna-Barbera shows, Josie And The Pussycats follows a similar format in that the protagonists often get caught up in out-of-this-world adventures.
The episodes usually feature the girls on the way to a gig or performance at an exotic location, but their plans are thwarted when they're chased down by the episode's antagonist as they, in turn, try to stop the villain's evil plans.
Jem, syndication (1985 – 1988)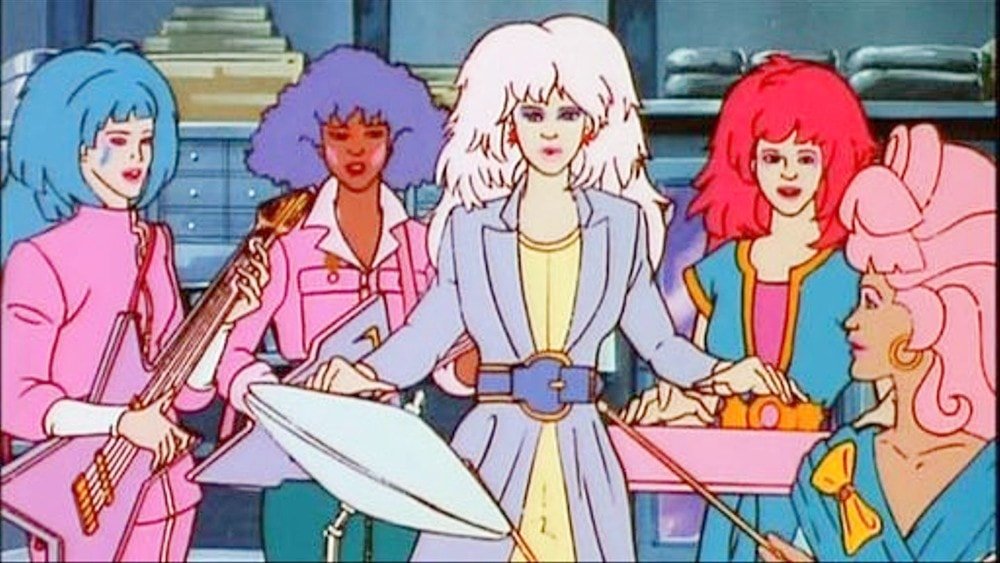 Many who spent their youth throughout the late 1980s will remember the animated series Jem, which aired over 65 episodes and had its own line of merchandise in dolls and accessories.
The cartoon followed the life of Jerrica Benton, the successful owner, and manager of Starlight Music.
However, thanks to a holographic computer built by her late father, Jerrica is able to live an alternate life as Jem, the rockstar frontwoman and lead singer of The Holograms.
Amidst their pop music performances, the women must also battle against other bigshots in the industry and rival bands, The Misfits.
Roadies, Showtime (2016)
We go in a different direction with Showtime's Roadies, shifting focus from the band itself to those behind the scenes: the roadies, without whom any band would definitely struggle whenever performing.
The drama series primarily follows the manager, crew, and roadies of The Staton-House Band and although the storyline is entirely fictional, there's definitely a hint of realism in the drama, intrigue, and hard work these professionals do to support the artists they work with and ensure that every performance, no matter how big or small, goes by without a hitch.
Glee, Fox (2009 – 2015)
Given the extraordinary talent that makes up McKinley High School's glee club named New Directions, we're definitely counting them as a band that belongs on this list!
Under the ever careful and supportive guidance of Mr. Schuester, the enthusiastic and ambitious teenagers navigate the difficulties of high school – friendships, studies, love, and finding one's place in the world.
They lean on each other and Mr. Schuester for support and work hard to achieve their dreams of taking their team all the way to nationals.
Pistol, FX on Hulu (2022)
Pistol is a six-episode biographical drama miniseries that details the few tumultuous years of one of the greatest punk rock bands in history: the Sex Pistols.
Central to the show's narrative is the band's guitarist and founding member Steve Jones, as the series itself is based on his memoir titled Lonely Boy: Tales from a Sex Pistol.
Despite their short-lived career in the industry, Jones' telling of their story details their rise to fame and how their music became the symbol for taking down the establishment.
Rap Sh*t, HBO Max (2022)
Rap Sh*t is yet another newer series for streaming, this time on HBO Max since it premiered on July 21!
It places two talented female rappers at the center who, like most other aspiring musicians, are trying to chase success from their Miami roots.
Shawna is struggling with her raps while she works at a hotel while Mia (a.k.a. KaMillion) is a single mother working multiple jobs.
These estranged high school friends find their way back to each other to form their rap duo and hopefully, make it big.
Daisy Jones & The Six, Amazon Prime Video (2022)
The final series on our list of the best TV shows about bands is an upcoming miniseries (said to be airing 10 episodes) from streaming giant Amazon Prime.
Daisy Jones & The Six is based on Taylor Jenkins Reid's novel of the same name and follows the eponymous Daisy Jones, a talented singer, and rock star wannabe.
Though fictional, it's set in a documentary format and features snippets of the fictional band's career as well as interviews with its members in order to capture their meteoric rise and eventual split right when they reached their peak.