I think we can all agree that anything that has a touch of French about it just has that extra bit of flair for the dramatics, no? Things seem a little more mysterious and alluring.
Perhaps that's because of the language and how it sounds (it is, after all, one of the romance languages), or maybe it's because we know that Paris, France's capital city, is also known as the City of Love.
Whatever it is, knowing that something is French-adjacent is often enough to pull us right in.
This is true even with a TV series that's a bit on the darker side, like detective mysteries and crime dramas – perhaps it's even more true because a crime drama is already full of mystery!
The shows in this list of the best French detective series and crime dramas are sure to spur up some of that enigmatic energy (even if only for how soothing the French language sounds), and we hope you're ready for it!
Candice Renoir, France 2 (2013 – present)
Candice Renoir has been on the air for nine seasons, and it doesn't look like there are any signs of stopping soon.
The eponymously titled character Candice Renoir is a retired police detective in Paris who has spent the last ten years traveling with her four children and husband for his job.
However, his infidelity leads to their separation, and Candice returns to the force as the chief of the Urban Security Brigade in a small seaside suburb.
She has much to catch up on – both in method and respect from her peers – but her success and skill make her a force to be reckoned with.
The Little Murders of Agatha Christie, France 2 (2009 – present)
Les Petits Meurtres d'Agatha Christie, or The Little Murders of Agatha Christie in its English title, is a French adaptation of the detective mystery works of Agatha Christie!
There are three seasons thus far, with each divided into time periods: the 1930, the 1950s to 60s, and the 1970s, respectively.
As it's loosely based on Christie's works, the series follows Commissaire Jean Larosière and his partner, Inspecteur Émile Lampion through each episode as they investigate the case at hand, piece together the clues, and find the killer.
Black Spot, France 2 (2017 – present)
When you live in a town surrounded by woods, and its murder rate is six times the national average, would you ever feel safe?
The fictional town of Villefranche in France 2's crime drama Black Spot is one of those towns, and its astronomical murder rate has caught the attention of prosecutor Franck Siriani.
He wastes absolutely no time in launching an investigation into the strange and tiny town, the 50,000-acre forest that surrounds it and the nearby mountain area, and the equally strange and mysterious head of the local police, Police-Major Laurène Weiss.
Jo, TF1 (2013)
Joachim "Jo" Saint-Clair is the main protagonist of this French mystery, police procedural series titled Jo; the series was filmed entirely in Paris but was also an English-language production and thus, aired internationally.
Despite its global success, however, it was canceled after just one season.
Jo follows the titular detective from the Paris homicide division and his right-hand man, Lieutenant Marc Bayard as they solve the most gruesome murders across many of Paris's iconic locations.
Saint-Clair also battles with personal demons, and he is aided by a non-traditional nun named Sister Karyn to rebuild his relationship with his estranged daughter.
The Art of Crime (2017 – present)
The Art of Crime, or L'Art du Crime in its original French title, is a perfect show to watch if you're a fan of France and its beautiful world of art.
The Art of Crime puts together police Captain Antoine Verlay and art historian Florence Chassagne as they travel to every conceivable art display in Paris in order to solve the art-related crimes that occur there.
They may not always see eye to eye, but they have one common thing going for them: a single-minded goal of protecting the city's most valuable art pieces.
Spiral, Canal+ (2005 – 2020)
Canal+ brings a gripping crime drama to the table with Spiral, which aired over eight seasons before coming to an end in 2020.
The French title, Engrenages, gives a lot to unpack as its literal translation can reference many images of gears turning, getting caught up in things, and violent cycles – all of which lend perfectly to the series' theme of mystery, murder, and intrigue.
Spiral features one central arc per season and follows the lives of six members of the Parisian justice system, from police captain to lawyer and judge, as they dive into the horrific crimes that plague their city.
Nox, Canal+ (2018)
Another Canal+ production is the French limited series Nox.
Set in Paris, Nox starts out as your typical crime series – detectives Julie Susini and Raphaël Berger from the Crime Paris Nord unit are tracking bank robbers who've been using the Paris sewer system to escape with the stolen money.
However, during an operation to take down the criminals, detective Susini runs into one of the tunnels never to be seen again.
After her unit's efforts to find Julie are fruitless, Julie's mother and retired police captain Catherine Susini joins the search.
So Cathrine along with Julie's partner Raphaël heads beep into the maze that is the Paris underground to find her daughter before the unimaginable happens.
Death in Paradise, BBC One/France 2 (2011 – present)
Death in Paradise is a joint British-French production with 11 seasons under its belt; with the most recent wrapping up earlier this year, fans will be glad to know that at least one more season has been commissioned!
The series begins with Detective Inspector Richard Poole arriving at the fictional Caribbean island of Saint Marie to investigate the death of a police officer but is then forced to stay on as the victim's replacement on the local police force.
What follows is a series of British cops having to come to Saint Marie to replace their predecessors, each with their own unique way of adjusting to the island life despite their initial skepticism.
Crossing Lines, Rai 2 /TF1/NBC/Ovation/Sat. 1 (2013 – 2015)
When the title refers to crossing lines, what it actually means is the border between countries.
Crossing Lines is an international production from America, Italy, France, and Germany and both its setting and its cast is just as diverse.
The crime drama follows a team of experts from around the world, assembled by Capt. Louis Daniel, whose primary task is to battle international crimes that have proliferated after the European Union opened its borders to free movement.
At the helm is former NYPD detective Carl Hickman, who takes this chance at redemption after an injury destroyed his career and his life.
Nicolas Le Floch, France 2 (2008 – 2018)
Though each season of Nicolas Le Floch has just two episodes, these episodes are roughly 1.5 hours long and certainly pack a punch with each individual story.
The titular character is a Commissaire with the police force of 18th century Paris, though he doesn't work alone.
He's often assisted by colleagues, particularly Inspector Pierre Bourdeau, to investigate any and all crimes in Parisian society even when it reaches the highest echelons.
On top of that, Le Floch must also untangle the webs of his personal, romantic endeavors.
The Tunnel, Sky Atlantic/Canal+ (2013 – 2018)
The Tunnel is a joint British-French production based on the Danish-Swedish crime drama The Bridge.
The series brings together French police commander Elise Wassermann and British Detective Chief Inspector Karl Roebuck when a murder occurs on the Channel Tunnel and directly within both countries' jurisdictions.
The upper half of a French politician's body, as well as the lower half of a British sex worker's are found within the Tunnel and their hunt for the serial killer begins.
Dubbed the "Truth Terrorist", the murderer is determined to bring to light what they believe to be social problems plaguing both countries.
Blood of the Vine (2011 – 2016)
When thinking of the title of this crime thriller series, Blood of the Vine, one thing may immediately pop into your head: wine!
An appropriate image, given that the series is set in the regions of Cognac and Champagne, as well as right at the center of the famed Bordeaux vineyards.
The show is based on a series of crime stories collected by Fayard publishers, and the protagonist is quite different from what you'd see in a crime drama.
Benjamin Lebel is a wine connoisseur, and his reputation has led him to become a consultant for the police as they investigate the mysterious crimes in the vineyard-rich region.
Balthazar, La Une (2018 – present)
You know a series is a good one when it's one of the highest rated in the country, and La Une's Balthazar became exactly that in France when it first aired in 2018.
The show's title references the protagonist Raphaël Balthazar, the city's most renowned and prolific forensic pathologist.
He's known for his unique way of "making the dead speak"; that is, he is able to visualize the dead's ghosts and ask them questions about their lives that may aid in the police's investigations.
He teams up with police commander Hélène Bach to solve complex murders, while he attempts to solve another that hits closer to home.
The Forest, France 3/La Une/Netflix (2017 – present)
The Forest first aired in France and Belgium before premiering internationally via streaming giant Netflix in 2018.
Despite having just six episodes, the darkness and mystery will keep you on the edge of your seats.
The local French police force are thrown for a loop when a female teenager named Jennifer Lenoir disappears from her small hometown in Ardennes, France and into the forest surrounding it.
As the investigation commences, they are approached by one of Jennifer's teachers with the offer to help them, seeing as she herself had a traumatic experience in the same forest when she was younger.
The Crimson Rivers, RTS 1, France 2, ZDF (2018 – present)
The Crimson Rivers is the TV adaptation of the 2000 French film of the same name which in turn, is based on the crime novel by Jean-Christophe Grangé, Blood Red Rivers.
The series picks up after events in Guernon that transpired in the novel and follows Commissioner Pierre Niemans as he's transferred to take charge of the Central Office Against Crimes of Blood.
He crosses paths with Lieutenant Camille Delaunay, one of his best former students whose intelligence and meticulousness have made her one of the best in her field, too.
Together, they investigate brutal crimes that the local police can't solve themselves.
Capitaine Marleau, France 3 (2014 – present)
Sometimes, in order to handle the more complex investigations, you're going to have to lean towards your more eccentric tendencies.
France 3's Capitaine Marleau follows the titular character who is a captain with the National Gendarmerie, one of France's two law enforcement agencies.
She's the epitome of eccentricity in both appearance and personality, and even as a viewer it takes some time to warm up to her, just like it does with her colleagues on the show.
However, she's a formidable detective who will stop at nothing to catch the perpetrators.
Moloch, AMC+ (2020)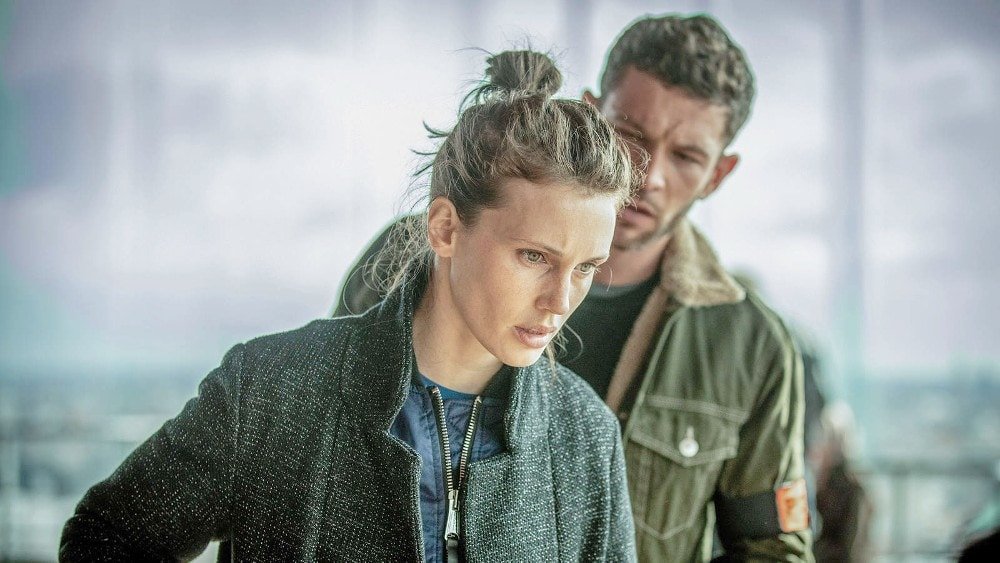 Moloch has been described as a slow burn, supernatural psychodrama, and it certainly lends something different to this list.
It's set in a quiet, industrial seaside town; quiet, that is, until people start spontaneously bursting into flames.
Soon after, the word "moloch" starts appearing in the city and no one can figure it out.
Enter Louise, an ambitious journalist who crosses paths with Gabriel, a grieving psychologist, as they team up to get to the truth.
Unbeknownst to them, that journey will take them through their own pits of fire as well.
The Mantis, TF1/Netflix (2017)
This French thriller miniseries titled The Mantis (or Le Mante in the original French) aired first on the TF1 network before premiering globally on Netflix.
Over the course of six episodes, viewers follow the story of Detective Damien Carrot and the captured serial killer "The Mantis", who also happens to be his estranged mother.
He has no choice but to work with her, as he's on the trail of another serial killer whose methods are a copycat of those that the female murderer The Mantis used during her reign of terror 25 years ago.
Now, she offers them her expertise to help catch the copycat.
Witnesses, France 2/La Une (2014 – present)
Witnesses (or the French Les Témoins) is a police procedural set in the town of Le Tréport, in Normandy, and follows two police detectives as they chase after a mysterious killer.
Sandra Winckler and her partner Justin are asked to investigate the case when the bodies of a male, female, and teenager are discovered inside a show home of a housing project, as if a family.
A photo of former police officer Paul Maisonneuve is found at the scene, and he is dragged into the investigation in order to prove his innocence.
The Frozen Dead, M6 (2017)
Based on Bernard Minier's best-selling novel of the same name, The Frozen Dead centers on the discovery of a headless horse at the peak of the French Pyrenees.
This sets of a chain of events that are investigated by Commander Martin Servaz and local Captain Irène Ziegler.
At the scene of the crime, they discover DNA that belongs to serial killer Julian Hirtmann but the problem is, he's been locked up at a high-security prison for years.
Further investigation opens up an even deeper mystery of a triple suicide from 15 years prior.
Alexandra Ehle (2018 – 2021)
The eponymously titled Alexandra Ehle is a fun and entertaining forensic drama series that centers on the title character, herself described as "quirky", "fanciful", and "free-thinking".
Alexandra is a forensic scientist working at the Bordeaux Forensic Institute, and she's a legend for many reasons.
First, her complete devotion to giving the victims dignity and justice in her own way after she's investigated their bodies.
Second, this usually involves conducting her own investigation, much to the chagrin of the police commander, Antoine Doisneau.
Astrid and Raphaëlle (2019 – present)
Astrid and Raphaëlle is a fascinating crime drama series that introduces extraordinary characters who, quite frankly, we need to see more of in everyday television.
District Commander Raphaëlle Coste is a brilliant police officer who, while working on one case, pays a visit to the police records bureau where she crosses paths with the equally brilliant Astrid Nielsen, an autistic woman who works at the bureau's library.
Astrid's autism comes with an excellent memory and skill in analyzing case files, so Raphaëlle offers to help Astrid with her behavioral side in exchange for consultation on her investigations.
Murder In…, France 3 (2013 – present)
Despite having just 4 seasons so far, Murder In… has become a huge hit and is one of the network's biggest shows to date.
Many fans of France may know of many famous cities and monuments, but this collection of crime stories will take viewers on a journey into the country unlike never before.
Each episode deals with one case, each with a brand new storyline and cast, and takes place in more obscure locations around France such as Pyla, La Rochelle, Grasse, and many more!
Magellan (2009 – 2017)
Originally titled Commissaire Magellan, the now called Magellan is a crime drama that ran over 7 seasons and follows the titular character Inspector Simon Magellan as he dives into the crimes and mysteries that surround his fictional hometown of Saignac.
Magellan is highly respected in his field, and his insightfulness balances out his French aloofness.
When he's not off solving cases, he's balancing out his duties as a divorced single father of two teenage daughters – which is arguably more daunting than crime!
Agathe Koltès (2016)
Agatha Koltès is a mix of police procedural and family drama, with the eponymously titled character as the main protagonist.
Detective Agatha Koltès is a highly successful and well-known police officer; she's charming and beautiful, but nobody's perfect.
She accepts a job at a small town named Brittany, where everyone but the police captain is eagerly waiting for her arrival.
Unbeknownst to everyone else, Agatha and the captain, Mathilde Sirach, are mother and daughter – and Mathilde harbors a grudge against her 'neglectful' mother.
Caïn, France 2 (2012 – present)
Caïn is a French crime drama series now with 8 seasons to its name.
The series follows Frédéric Caïn, captain of the local police department, who has been confined to a wheelchair following a self-inflicted motorcycle accident.
His condition has lent to his personality, known to be cynical with a dark sense of humor, but he also knows how to take advantage of his situation in order to tiptoe around legal loopholes when investigating crimes.
The show also revolves around his personal life, which largely involves his ex-wife Gaëlle and their son Ben.
The Paris Murders, TF1 (2009 – 2020)
The Paris Murders is another crime drama that'll keep you on the edge of your seat throughout its seasons.
It follows Chloe Saint-Laurent, an intuitive criminal profiler who works with the Paris homicide division to solve complex crimes (that are based on real-life!).
Beyond her intuition, however, is her unique sensitivity to the minds of the killers and victims alike.
Alongside her is Detective Rocher, whose no-nonsense attitude often clashes with her own.
Detectives (2013 – 2014)
Though some may characterize Detectives as a comedy, the two-season French crime series still does feature an array of mysterious and suspenseful cases that'll keep you coming back for more.
Detectives follows a group of amateur detectives in Paris, particularly one named Nora Abadie.
Nora is a former intelligence officer whose experience in the field has made her tough and unrelenting.
However, things change for her and those around when she decides to join the family-run private detective agency Roche and Son, whose owners can only be described as downright quirky.
Maigret, France 2 (1991 – 2004)
One of the longest-running shows on this list is Maigret, which had 14 seasons covering just 54 episodes and is based on the works written by Belgian author, Georges Simenon.
The title is, of course, a reference to the main character of Detective Jules Maigret, who leaves no stone unturned when investigating the cases that fall into his lap.
Beyond just asking the questions of "who" did it, Maigret is equally determined to uncover the "why" in an attempt to pinpoint what has driven the criminals to do what they did.
Lupin, Netflix (2021 – present)
Last but not least is Netflix's Lupin which, unless the previous shows, puts aside the investigators in favor of telling its story from the perspective of the criminal.
Arsène Lupin is a fictional character from the writings of Maurice Leblanc in the early 1900s, and it's this gentleman thief and master of disguise who inspires the main character, Assane Diop.
Assane is out to seek revenge on the family that had wrongly accused his father 25 years ago, and it's Lupin's thieving and methods of deception that inspire him to expose the truth.