Who doesn't love a good zombie flick? However, zombies aren't reserved for just movies. There are quite a few awesome TV series featuring or even starring zombies.
So, I thought I'd put together a list of the best zombie TV shows currently around.
---
No time to read out the full list? Then check out our video on the top 10 TV shows about zombies:
---
Among these zombie TV series, there are both comedies and more dramatic, borderline horror series. But all of the shows in one way or another have zombies in them.
And I guarantee that while watching these shows you will get a good education on all aspects of zombies and zombiism.
On with the list!
iZombie, The CW (2015 – 2019)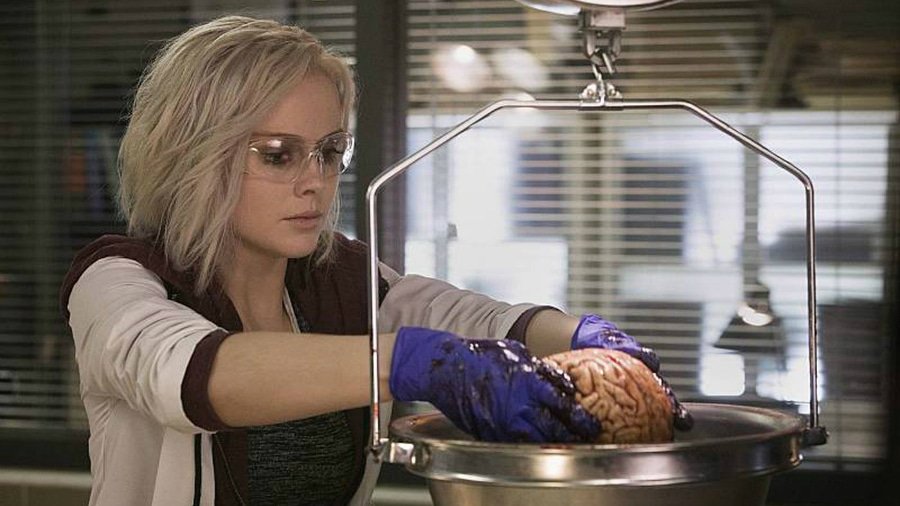 First up we have iZombie – the show that in many ways has changed the way we look at the zombie genre as a whole.
The CW's iZombie tells the story of Liv Moore an ambitious doctor who gets turned into a zombie and takes a job at the Medical Examiner's Office to have access to zombie food of choice aka brains.
But, it turns out that in iZombie zombies "inherit" the personality traits of the person whose brain they eat a well as get some of their memories via visions. So soon enough we see Liv team up with a Seattle PD detective Clive Babineaux and her boss Ravi Chakrabarti to solve murders while navigating different personalities and other people's memories.
If you are looking for a zombie show that is more funny than scary, then iZombie will definitely be for you.
This show offers fun storylines, diverse and engaging characters. And it's all set to a backdrop of a bigger mystery of who else knows about zombies.
And did I mention that the show also has that serialized procedural aspect to it, because in each episode we see Team Liv solve murders? Yes, iZombie has everything. No wonder the show lasted for five whole seasons.
Where to watch iZombie:
Santa Clarita Diet, Netflix (2017 – 2019)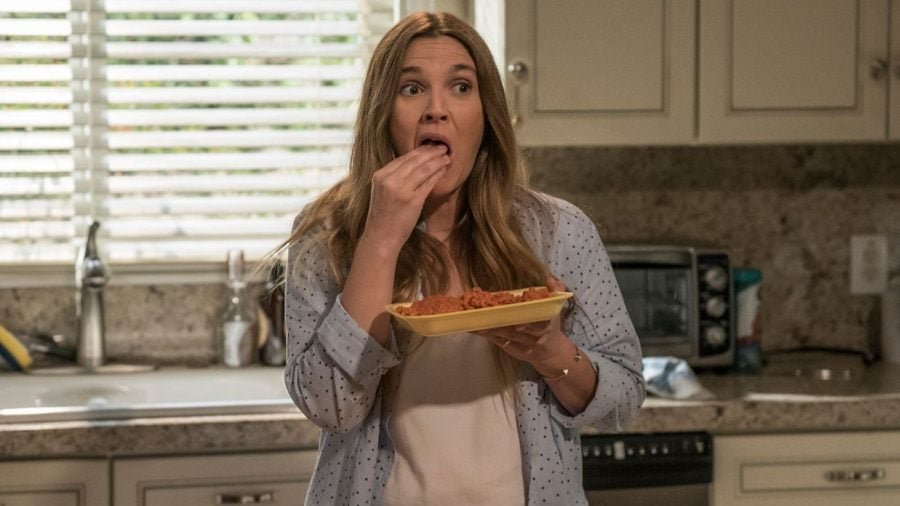 For another less scary option of a zombie TV series there is Santa Clarita Diet.
Led by Drew Barrymore and Timothy Olyphant, Santa Clarita Diet follows Sheila, Joel, and Abby Hammond, an average Californian family of three when suddenly Sheila develops a craving for human flesh.
Somehow she has transformed into a zombie. So throughout the show's half-hour episodes, we get to see the Hammond family trying to navigate Sheila's new condition.
And let me tell you trying to find food aka humans for Sheila to eat while also trying to keep what they're doing from everyone around them isn't easy.
This zombie show is unique in the fact that at its core it is a family comedy yet, the zombie twist puts it at odds with that comedy core giving it also a horror twist.
Santa Clarita Diet is a really interesting and fun watch. And if you love Drew Barrymore then this TV show must be on your TV watch list.
Where to watch Santa Clarita Diet:
Z Nation, SyFy (2014 – 2018)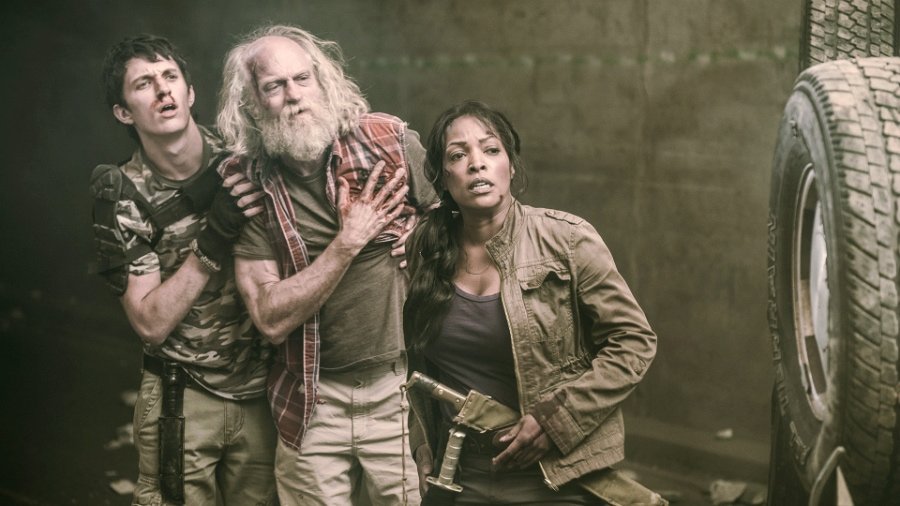 Then there is SyFy's Z Nation. A show that takes on the zombie genre without trying to be too serious about it.
Z Nation is set in a world that has been devastated by a zombie virus dubbed ZN1. Those who didn't become zombies are trying to survive the zombie apocalypse the best they can. And, although the situation for the survivors is pretty dire, all hope isn't lost because there is a man, an ex-prison inmate named Alvin Murphy, whose blood might hold the key to a zombie virus vaccine.
So over the course of the five seasons of the show, we follow a group of people fighting hoards of zombies and anything else the apocalypse throws at them.
When I say that this show doesn't take itself too seriously… I am not saying that it still isn't scary at times. Don't get me wrong, Z Nation has zombies, scary ones. Yet the show also has a lot of comedy in it, making it the perfect mix of horror, action, and comedy.
Where to watch Z Nation:
Black Summer, Netflix (2019 – present)
We previously mentioned Z Nation, a zombie series with a healthy mix of horror – and the production company behind it (The Asylum) is back with another!
Black Summer is set within the same universe, albeit much earlier than the events in Z Nation. In fact, Black Summer takes place during the early days of the zombie apocalypse, just six weeks after all hell broke loose.
The main protagonist Rose is played by Jaime King. Rose is a mother who not only loses her husband but is also separated from her young daughter Anna.
Rose sets off to find Anna, joining a group of refugees as they try to survive the harsh summer with the apocalypse upon them.
Where to watch Black Summer:
The Walking Dead, AMC (2010 – 2022)
The one show that probably comes to mind for most people when somebody mentions TV shows about zombies is The Walking Dead.
The Walking Dead, much like Z Nation, is set in a worldwide zombie apocalypse where zombies aka walkers hunt humans. Humans, in turn, try not to get bitten or scratched by a zombie or die since in all of these cases the human will turn into the living dead.
The series in many ways centers on Rick Grimes. A sheriff's deputy who wakes from a coma only to discover the epidemic of the undead. Thus during the first season, we see Rick forming a group that fights to survive in this post-apocalyptic world.
This show is not for the faint of heart but it is a zombie show true and true. Scary zombies, gruesome deaths, drama and all. Therefore if you are a fan of all that, The Walking Dead will for sure be your cup of tea.
Where to watch The Walking Dead:
Fear the Walking Dead, AMC ( 2015 – 2023)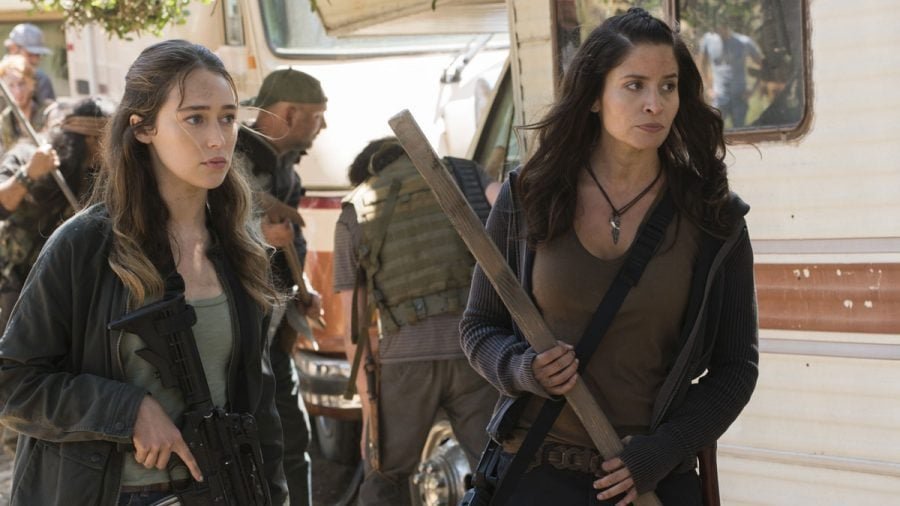 Speaking of The Walking Dead, we can't forget to also mention Fear the Walking Dead – TWD spin-off that also is enjoying quite the success.
While The Walking Dead focuses on a group of people banding together to survive the zombie apocalypse that is in full swing, its spin-off hones in on the events of the very beginning of this catalytical event.
It is a prequel of sorts because Fear the Walking Dead centers on Madison Clark, a mother of two, her two children Alicia and Nick, and her fiancee Travis, as they and other like-minded people try to grasp what is happening around them and how to last in a world that is overrun by zombies.
No matter if you are a fan of The Walking Dead or not if you love zombies and like seeing people learning to survive the zombie armageddon, then Fear the Walking Dead might be just for you.
On top of that, this show also has a stronger family aspect to it. And it definitely is a little less post-apocalyptic than its companion show. Which are just more reasons to watch Fear the Walking Dead.
Who knows, you might even learn a thing or two should we ever face a similar scenario.
Where to watch Fear the Walking Dead:
The Walking Dead: World Beyond, AMC (2020 – 2021)
When it comes to zombie shows, AMC's The Walking Dead is surely one of the most popular – and it has even expanded into its own franchise!
For the third installment in the TWD universe, fans were treated to The Walking Dead: World Beyond.
Set in Nebraska 10 years after the onset of the zombie apocalypse (which we saw variations of in both of the franchise's preceding series'), TWD: World Beyond follows the first generation of teenage survivors who have come of age while spending most of their childhood post-outbreak.
They leave the safety of the only world they've ever known to embark on their own journey.
Where to watch The Walking Dead: World Beyond:
Daybreak, Netflix (2019)
Netflix series Daybreak is a zombie dramedy that features Mad Max-worthy gangs and many crazy scenarios.
This show takes place in Glendale, California, in a post-apocalyptic world that was destroyed by bombs containing bio-agents, which turned all people over the age of 18 into ghoulies – blood-craving zombie-like creatures that walk around repeating their final thoughts before the apocalypse started over and over.
We follow the series protagonist, 17-year-old Josh Wheeler, as he searches the wasteland-like world for his girlfriend Sam with his ragtag group of friends that includes Angelica, who Josh babysat before the bombs went off, and Wesley, a high school bully turned wannabe-samurai.
If you want to see a more teen comedy twist on the whole zombie apocalypse thing then you should definitely check out Daybreak.
Where to watch Daybreak:
In the Flesh, BBC Three (2013 – 2014)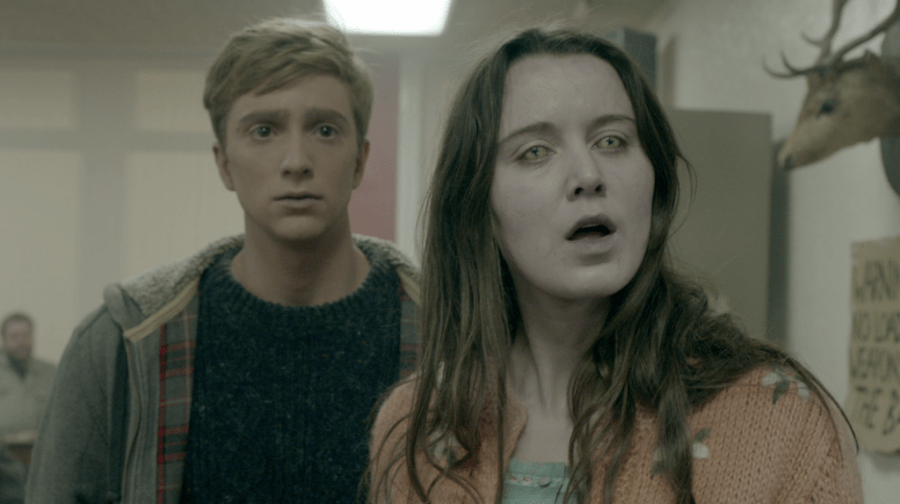 Next, we have In the Flesh, a British take on TV shows about zombies.
This BBC Three drama takes place in a Lancashire village in a world where the zombie apocalypse aka The Rising has been warded off and scientists have figured out how to turn zombies back to humans.
At the center of it all is Kier Walker. A former zombie who returns home after being rehabilitated and now has to learn how to live with the loss of his best friend and the lives he took while he was a zombie.
If most of the series on this list depicts the life of zombies or humans during a zombie uprising then In the Flesh is unique in that it shows what would happen if zombiism was cured and zombies could be turned back to humans.
That in itself is an interesting way to take on the zombie genre and therefore is even more interesting to watch.
So if you are curious to see how life after a zombie apocalypse could look like, take a peek at In the Flesh.
Where to watch In the Flesh:
Dead Set, E4 (2008)
Ever heard of Big Brother? You know, that now-international reality TV show that puts its contestants together in a house isolated from the outside world, where all their movements and activities are monitored and broadcasted to the audience?
Well, this reality show is the fictional setting for E4's Dead Set, a horror-comedy series that aired over just five episodes.
During an eviction night on the Big Brother set, chaos reigns in the UK as a zombie outbreak begins to spread across the country.
Both the remaining housemates and the show's production crew are stranded inside the house and attempt to shelter themselves against the undead.
Where to watch Dead Set:
Reality Z, Netflix (2020)
The popularity of Dead Set traveled across the pond to Brazil, where a brand new adaptation based on it was developed for Netflix.
Reality Z's first season of ten episodes premiered in 2020 but as of writing, the series has not yet been officially renewed for a second season despite popularity amongst viewers.
In place of the parent series' Big Brother, Reality Z takes place on the set of the hit reality show Olympus.
Seven of the show's contestants are still in the house when the zombie outbreak takes over Rio de Janeiro, and they are forced to remain in seclusion with each other and the rest of the crew members with production runner Nina at the helm of their survival.
Where to watch Reality Z:
Kingdom, Netflix (2019 – 2020)
Kingdom is a Korean zombie series (and a personal favorite, too!) that combines the historical and political drama genres with typical elements of the zombie, horror genre.
It is set in the 16th-century Joseon dynasty and right at the onset, viewers are made aware of ongoing political tensions between the Crown Prince Lee Chang and the King's new wife, who seeks to have her own son in order to secure the throne.
Prince Lee Chang leaves to investigate his suspicions surrounding his father's illness and instead, stumbles upon an epidemic in the outer provinces that is turning people into vicious zombies at night.
Where to watch Kingdom:
Day of the Dead, Syfy (2021)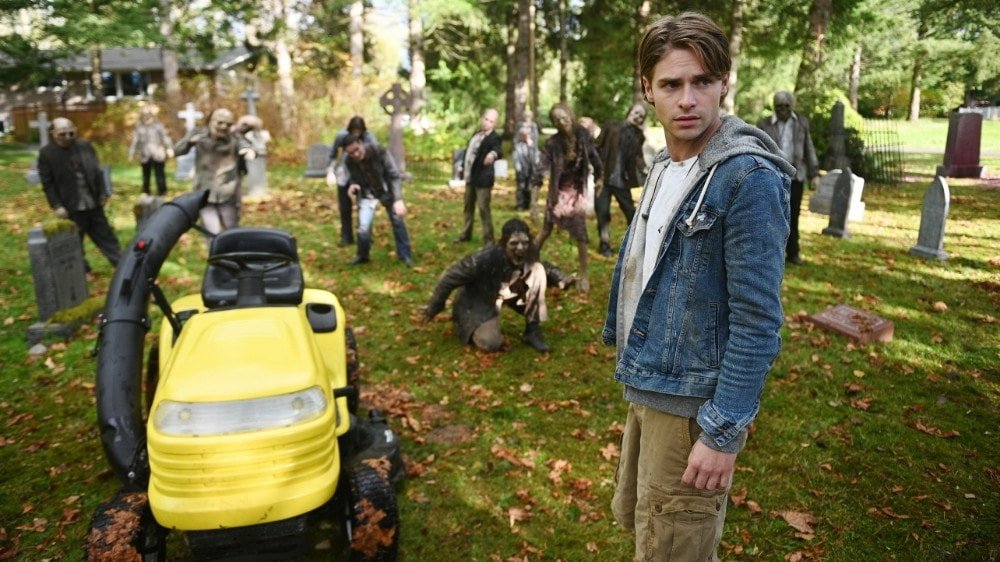 Horror movie fans will definitely recognize this title; it's the third film installment in George A. Romero's Night of the Living Dead franchise and while the original aired in the mid-1980s, there have been two remakes since.
Now, Syfy has released the first season of the Day of the Dead series!
The show is based on the film, and this ten-episode pilot season primarily follows the story of six characters within the first 24 hours of a zombie apocalypse.
Each of them are just trying to ride out the events of their daily lives when the chaos begins, and each have their own methods to fight for their own survival.
Where to watch Day of the Dead:
Helix, Syfy (2014 – 2015)
Syfy's Helix is a science fiction horror series that aired for two seasons of thirteen episodes each.
The series follows two scientists, Dr. Alan Farragut and Dr. Sarah Jordan, and their team of scientists from the Centers for Disease Control and Prevention (CDC) as they journey to a bioresearch facility in the Arctic to investigate some kind of viral outbreak.
Once there, they discover that there is more to this outbreak than they were made to expect, and it houses dark secrets that could pose a life-or-death threat to all of mankind.
The virus will either kill you or turn you into dangerous, violent zombies – though at least the later seems to be curable.
Where to watch Helix:
Brand New Cherry Flavor, Netflix (2021)
The thing about Netflix shows is that oftentimes, they can be very divisive.
That being said, its zombie horror series Brand New Cherry Flavor is another that is definitely not suited for everyone's tastes (to give you an idea without giving spoilers, there is definitely barfing and kittens involved).
However, hidden behind the initial shock value and pulsing, tripping-on-psychedelics vibes of its visuals is a dark and deeply satisfying zombie story of a woman who just wanted revenge on the man who ripped away her dreams of being a film director.
Of course, is it really a surprise that making pacts with witches comes with nightmarish supernatural consequences?
Where to watch Brand New Cherry Flavor:
Ash vs. Evil Dead, Starz (2015 – 2018)
Sam Raimi's Evil Dead franchise is yet another classic in the zombie genre, with four feature films to its name and now, a three-season series as well.
In the series Ash vs. Evil Dead, Bruce Campbell reprises his role as monster fighter Ash Williams, and we meet him again some 30-odd years after his last battle against the undead.
It looks like Ash has lived a pretty average life following those adventures; he works as a stock boy at the local Value Stop store and every day is a routine.
However, one day he accidentally releases the Deadite plague and must once again take on the mantle of the hometown hero.
Where to watch Ash vs. Evil Dead:
Freakish, Hulu (2016 – 2017)
Don't we all just love teenage protagonists? You spend most of the time either cringing at their stupidity or in complete awe of their grit and will to survive.
In Hulu's Freakish, you might think it's more of the former because we're following the survival journey of kids who were in detention, but it actually shows how determined teens can be when their lives are on the line.
While these teens were in detention, a chemical plant nearby suddenly explodes – the residents and fellow students who are infected turn into mutated, zombie-like monsters.
Now, the survivors are trapped inside the school and fight to find a way out.
Where to watch Freakish:
Death Valley, MTV (2011)
MTV's Death Valley is a supernatural, black comedy horror series in a mockumentary format.
Sadly, the show only aired for one season!
A year prior to the events in the series, a supernatural outbreak occurred in San Fernando Valley, California; now vampires, werewolves, and zombies roam freely on the streets.
As a response to the disaster, the LAPD established the Undead Task Force (UTF) to combat these monsters.
Death Valley is the result of a news camera crew closely following the brave men and women of the UTF in order to document not just what exactly these supernatural beings are capable of, but also how these officers capture and kill them.
Where to watch Death Valley:
All of Us Are Dead, Netflix (2022)
With many South Korean shows, it's common for their origins to be from the popular Naver Webtoon app (which is basically a database for digital comics).
On January 28th, Netflix released a zombie horror series titled All of Us Are Dead, which is based on the webtoon Now at Our School (지금 우리 학교는 in the original Korean).
The series is set in a high school that has been classified as "ground zero" for a zombie virus outbreak.
The students that have been left trapped and isolated inside the school must not only fight against becoming infected but also to find their way out.
Where to watch All of Us Are Dead:
Zomboat!, ITV2 (2019)
The Guardian calls ITV2's Zomboat! "surprisingly clever and refreshingly upbeat"; it's filled with British humor and the 'dysfunctional but loving found family trope that we sometimes see in the apocalyptic genres.
In Zomboat!, we first meet sisters Kat and Jo as they've awakened to a zombie attack happening in their city of Birmingham.
Luckily, Kat is a gamer and already has a plan: zombies can't swim, so water is the safest place.
As the sisters try to flee on a stolen canal boat, they encounter fellow runaways Sunny and Amar.
Though there is tension between the groups at first, they eventually form a close bond to help them get through the apocalypse.
Where to watch Zomboat!:
S.O.Z: Soldiers or Zombies, Prime Video (2021)
S.O.Z Soldados o Zombies (translated as S.O.Z. Soldiers or Zombies in English) is an eight-episode Mexican horror series on Amazon Prime Video.
The series follows the notorious Mexican drug kingpin Alonso Marroquín and his son Lucas – both of whom have just escaped from a high-security prison.
Now, they've sought refuge at a remote drug rehabilitation facility on the US side of the border.
However, a failed military experiment conducted by the US causes the animals it was tested on to become zombies – causing a national zombie outbreak.
The Mexican Special Forces have now become a zombie army, and the US military is forced to step in to fix the mess they caused and protect humanity.
Where to watch S.O.Z. Soldados o Zombies:
Curfew, Sky One (2019)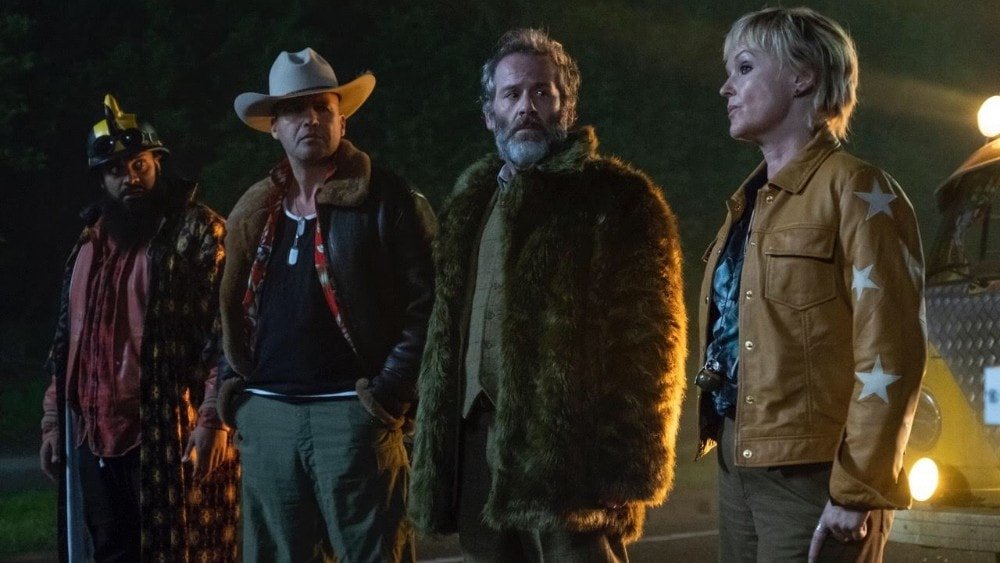 Sky One's action series Curfew focuses less on the actual zombies and more on the fallout that occurred after the outbreak – as well as how society has adapted to the change.
The viral outbreak began in Scotland and quickly spread to the rest of the world; those infected turn into strong, fast, and almost indestructible zombie-like creatures called 'mooks'.
Their only weakness? A headshot, and sunlight.
Because of their ability to come out only at night, the government has implemented a 7 pm to 7 am curfew. However, a few brave groups risk it all at night to compete in deadly, illegal street car races – understandable, because the prize is sanctuary.
Where to watch Curfew:
The Returned, A&E (2015)
The original French series was called Les Revenants, which was in turn based on a 2004 feature film of the same name.
In 2015, the American adaptation The Returned aired for one season before being canceled by the network.
The series takes place in your average American small town where one day, the town's dead residents suddenly turn up again, completely unaware that they've been dead all this time.
This includes a teenage bus accident victim, a suicidal groom, a young boy who refuses to speak, and a local waitress killed by a serial killer.
They try to reintegrate into their old lives, but this proves difficult when it's clear that those they left behind have moved on without them.
Where to watch The Returned:
Glitch, ABC/Netflix (2015 – 2019)
ABC's Glitch follows a similar premise to The Returned, at least in that the dead from a small town have mysteriously come back to the world of the living and nobody can figure out why.
Glitch is set in the fictional Australian town of Yoorana, Victoria, and follows a local policeman, James Hayes, as he is called to the cemetery in the middle of the night.
He discovers that seven locals have risen from the dead – perfectly normal, in good health, but with no memory of who they are.
The series documents their own searches for their identities and James' attempts to figure out why just them, and why they've come back.
Where to watch Glitch:
The Last of Us, HBO (2023 – present)
Last but not least is HBO's post-apocalyptic zombie series The Last of Us, which is based on the fan-favorite 2013 video game of the same name.
The Last of Us sees Game of Thrones alums Pedro Pascal and Bella Ramsey return to our screens as Joel and Ellie, respectively.
Ellie is a 14-year-old who is immune to the brain infection that triggered the apocalypse.
Since she may be the key to a vaccine, Joel is tasked with sneaking Ellie out of a quarantine zone and escorting her across the country.
Where to watch The Last of Us: