Surfers always make it look so easy when they're out there riding the waves. Wind whipping through their hair, salt water glistening on their bodies, the sun beating down on their beautiful tans, and eyes laser-focused on riding out the wave to the very end.
It all paints a really cool picture, and the professionals do it with so much suave that it really does make you think it's easy.
I can assure you, however, as someone who has tried it a few times, that it's not easy. It takes discipline, fearlessness, and strength – although it is very, very fun!
---
Don't want to read the full article? Then check out our video on top 10 TV shows about surfing:
---
And if you're not one to try it out yourself, it's definitely just as fun to watch.
We've put together a list of the best TV shows about surfing so you can also experience the sun, sand, and waves vicariously through your TV screens.
Whether scripted or reality, live-action or animated, we've got it all here. Far out!
Best scripted surfing TV shows
Surviving Summer, Netflix (2022 – present)
We're kicking off the list with a brand new teen drama from Netflix that premiered just this June, Surviving Summer.
The Australian series follows Summer Torres, a rebellious teenager who is forced to relocate to live with a family friend after she's expelled from her school in Brooklyn, New York.
Not only is she moving homes but also moving countries, to a small coastal town called Shorehaven in Victoria, Australia.
She's reluctant to adjust to the change in culture and lifestyle but despite her best efforts, Summer finds herself falling in love with the town, its people, and its waves.
Surfside Girls, Apple TV+ (2022 – present)
Speaking of new teen dramas, next up we have AppleTV+'s Surfside Girls – a teen mystery series with surf elements infused in it.
Based on Kim Dwinell's graphic novels of the same name, Surfside Girls follows Sam and Jade, two best friends who get wrapped up in a ghost mystery.
One day while surfing Sam wipes out and discovers a secret cave where she finds a Spanish coin, rumored to be part of treasure hidden beneath Surfside's famed Danger Point bluff.
So the two best friends and a pirate spirit named Remi that Sam encounters in the cave work together to uncover the truth about the pirate ghost and the missing treasure.
Beyond the Break, The N (2006 – 2009)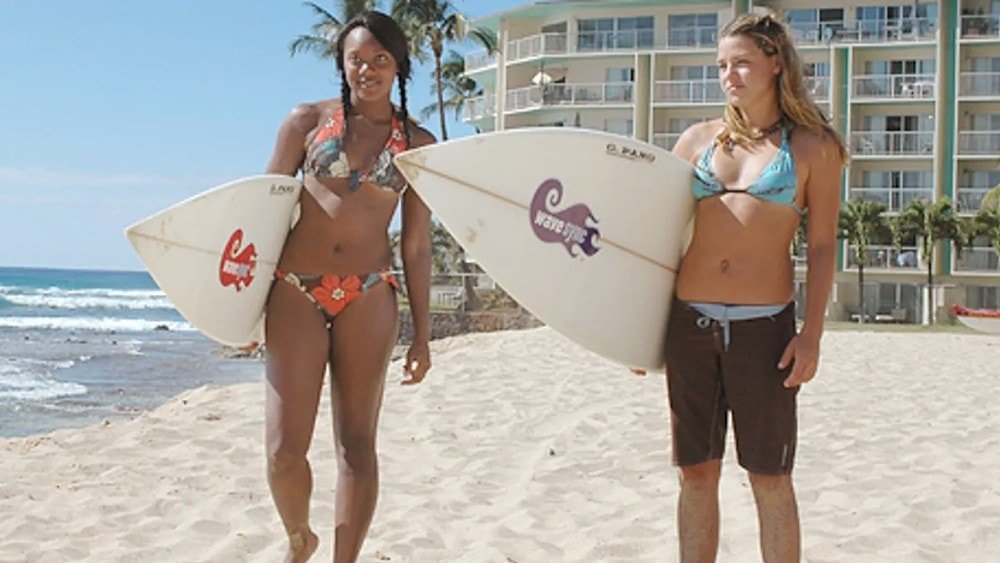 Set in the Aloha State, Beyond the Break is an American drama series that features the sport of surfing against the beautiful islands of Hawaii.
Naturally, almost every person in Hawaii is into the sport and the quartet of friends Birdie, Lacey, Dawn, and Kai is no exception. With the help of their surf instructor Justin, the women work hard to hone their skills and overcome their differences in order to get their breakthrough into the world of professional surfing.
Beyond that, the girls must also deal with personal conflicts between themselves and potential love interests, particularly between Kai and Lacey.
John from Cincinnati, HBO (2007)
We move to yet another coastal city on Imperial Beach, California, where the surfing community is large and welcoming.
HBO's John from Cincinnati is a drama series that follows the local Yost family, who used to have quite a legacy in the field – until patriarch Mitch Yost swore off the sport after a knee injury and his son, Butchie, fell into a life of drug abuse.
Their hopes now lie in the young grandson, Shaun, to bring their name back into good graces. However, their family and journey becomes disrupted by the arrival of a young man of mysterious origin, who insists that he is simply "John from Cincinnati".
Barons, ABC (2022)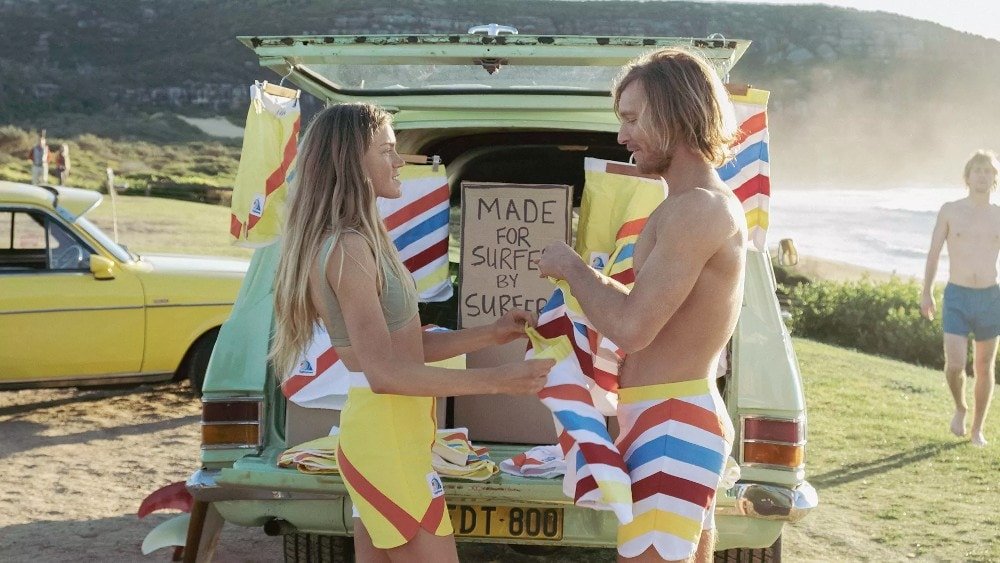 Among the newest TV shows on this list of best surfing TV series is the Australian drama Barons.
Set in the 1970s and inspired by the stories behind how two of the most well-known surf labels, Rip Curl and Quiksilver, came to be, Barons tells the story of Snapper Webster and Bill "Trotter" Dwyer, two surfers on their way to building billion-dollar surf empires.
While Snapper and Trotter start out as best friends, their business aspirations quickly tear the friend group apart and turn the two into fierce rivals.
Blue Water High, ABC1/Nickelodeon (2005 – 2008)
Australian teen drama Blue Water High aired over three seasons; the third being produced due to high demand for fans after it was supposed to end after season two!
The appeal to a younger audience is clear: Blue Water High follows the lives of a group of young teenagers who have been selected to participate in a year-long exchange program at Solar Blue Academy, a prestigious and high-performance surf academy in Sydney.
Not only does the series follow their training to be royalty on the waves, but it also highlights teen drama that the audience loves to see.
High Tide, Syndication (1994 – 1997)
For three seasons almost two decades ago, a detective procedural series titled High Tide aired through syndication.
It followed two brothers, namely Mick Barrett and his younger brother Joey, who travel to exotic places all over the country to assist with solving crimes. After all, Mick is a former police officer and now a private investigator.
You may be wondering, then, why it's on this list! During their downtime, the brothers like to go surfing and this shared hobby of theirs is featured pretty prominently throughout the series.
Big Wave Dave's, CBS (1993)
Don't we all wish we could just pack up and restart our lives somewhere completely out of the blue?
In the CBS sitcom Big Wave Dave's, we meet a trio of men who are at a particularly dull crossroads in their life: Marshall lost his job, Dave is divorcing his wife, and then there's Richie. Dave has the crazy idea to move them all – and Marshall's wife Karen – to Hawaii to start their own surf shop called Big Wave Dave's and it doesn't take much to convince his pals to jump on board.
Their start in the state and the surf business is rocky, but they're determined to turn the tide in their favor.
Gidget, ABC (1965 – 1966)
The ABC sitcom Gidget aired in the 60s over just one season but told the story of a young girl's coming of age and her relationship with her father.
The titular character Gidget is a 15-year-old teenager from Southern California and she's just like you imagined every beach-raised teen to be: carefree, boy-crazed, and in love with surfing.
The series follows her life and her relationship with her best friend Larue and her widowed father Russell, who is an English professor at UCLA.
Through the series, we witness her growth through adventures at home, school, and the beach; in each episode, Gidget addresses the audience with what she learned from that adventure!
His: I Didn't Think I Would Fall in Love (2019)
We're heading international with the first foreign language series on the list: His – I Didn't Think I Would Fall in Love, a Japanese romance drama that primarily follows Nagisa, a 17-year-old high school student living alone in the seaside town of Fujisawa.
He's happy with his life, studying, surfing, and working at the local bath house. His life changes, however, when fellow surfing enthusiast Shun visits the town for spring break.
What starts as a friendship between the two boys develops into something much deeper, and the series dives into how they navigate their feelings for one another.
Lightning Point, Network Ten (2012)
The Australian series Lightning Point is the first on our list with a mix of science fiction, which you may have guessed with the show's US/Canada title, Alien Surf Girls.
The origins title is a reference to the fictional seaside town of Lightning Point, where two girls named Zoey and Kiki from the galaxy called Lumina have crashed their spaceship and become castaways.
Soon, they befriend a local girl named Amber, who not only helps them adjust to life on earth but also ropes them into the community's love for surfing.
Puberty Blues, Network Ten (2012)
Puberty Blues is based on the 1979 book of the same name and is the second adaptation of it after the 1981 film. As such, the two-season comedy-drama takes place in the 1970s and follows the lives of two teenage best friends, Debbie and Sue.
The girls grew up together surrounded by the beach, sea, and waves. They were inseparable and had one goal: to be "in" with the surfer crowd.
However, complications arise that drive the girls apart and have them begin to question whether the surfer clique is really what they want.
Summerland, The WB (2004 – 2005)
Summerland is an American drama series centered on Ava Gregory, a fashion designer and bachelorette living in the fictional city of Playa Linda, California.
After a tragic accident kills her sister and brother-in-law, their three kids Bradin, Nikki, and Derrick move in with her from their home in Kansas.
Together, the new family must adjust to living a different lifestyle, becoming a real family, and living with Ava's three housemates: her ex-boyfriend, her best friend and business partner, and an Australian surfer and local surf shop owner whose on-again-off-again girlfriend becomes Bradin's surfing instructor.
Best animated and anime TV shows about surfing
Wave!!, TV Tokyo (2021)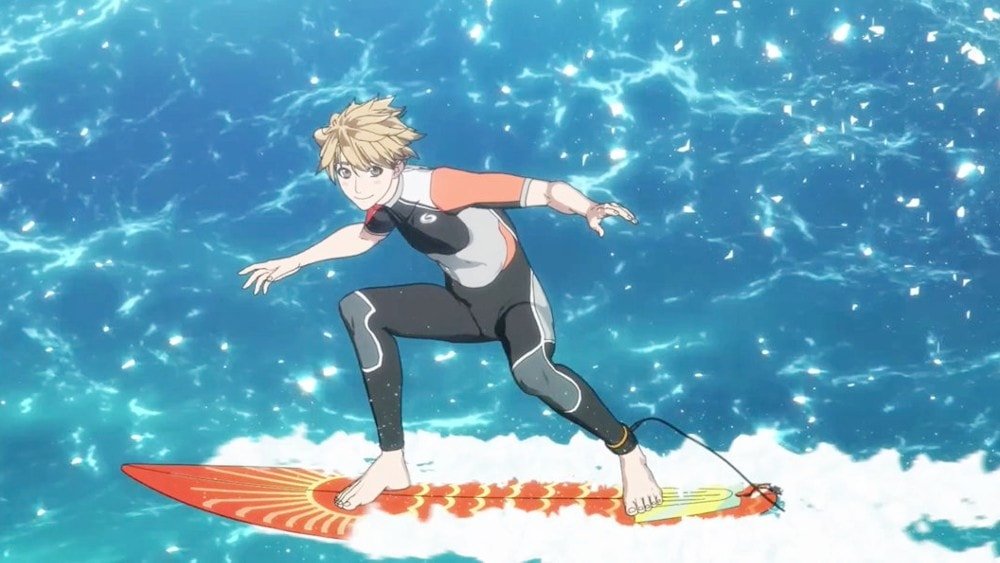 The first animated show on our list takes us back to Japan!
Wave!! is a 12-episode anime series that was adapted into a shorter version of the trilogy of films that were released the year prior.
It follows Masaki Hinaoka, a 15-year-old boy who was born and raised in the coastal town of Ōarai.
Despite the town's popularity for surfing and his best friend's inclination toward it, Masaki never got into it himself. That is until a new kid named Sho Akitsuki moves into town and befriends them, leading to Masaki's growing love for and skill in surfing as well.
Stoked, Teletoon/ABC3/Cartoon Network (2009 – 2013)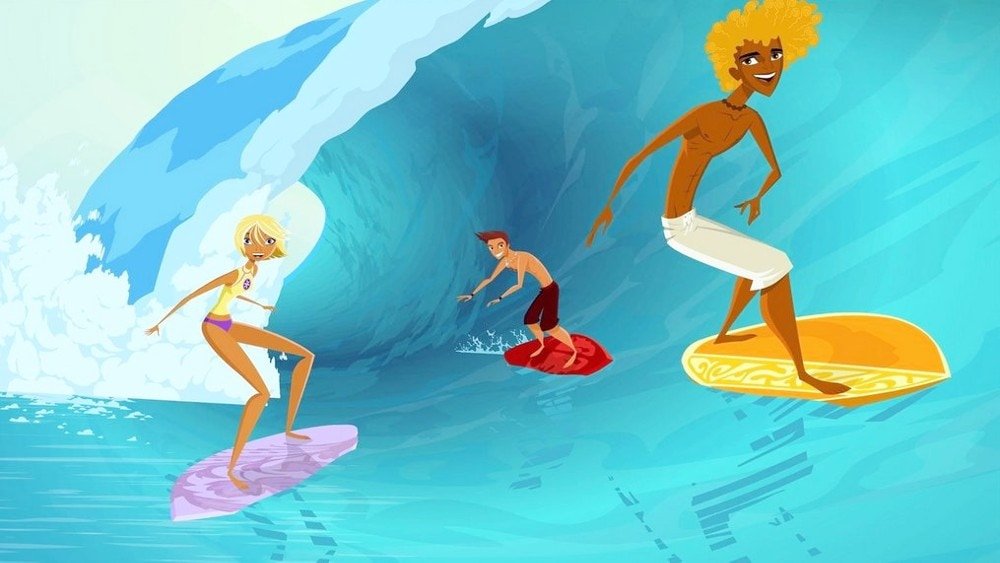 Stoked is a Canadian animated comedy series that centers on the lives of each character, both personal and as a group of friends.
They're all young surfers, of course, who have come together one summer with one goal in mind: to work for the prestigious Surfer's Paradise Hotel and spend their free days out on the waves.
However, the hotel turns out to be anything but a paradise – it's rundown, has hideous uniforms, and it's all grunt work. Through their time away from home and the hardest jobs they'll ever have, the youngsters help each other out and look forward to their days off on the beach.
Good Vibes, MTV (2011)
Moving now to a more adult-oriented animated series, Good Vibes follows the exploits of two teenage best friends, Mondo and Woodie, as they navigate life and the killer waves in the fictional Southern California beach town of Playa Del Toro.
Mondo is a sweet kid who transferred from New Jersey and is working through his insecurity issues, and Woodie is a rich kid who refuses to live as the stereotypical rich kid.
Together, the duo support each other through it all and never leave each others' sides, claiming "it's fun being loners together".
Best reality and documentary TV series about surfing
The Ultimate Surfer, ABC (2021)
The eight-episode reality competition show The Ultimate Surfer aired in 2021 but was sadly canceled after its first season.
The show gathered 14 amateur surfers from around the world at a "Surf Ranch" in Lemoore, California, so they could train together and ultimately compete against each other.
The prize? $100,00 and the chance to compete at the World Surf League Championship Tour!
Over the weeks, the contestants underwent several team and individual challenges to check their skill, with eliminations happening every week until the top 2 prevailed.
Surf Girls, MTV (2003)
MTV's Surf Girls was a collaboration between the network and Quiksilver's female line of products, Roxy.
It's similar to the abovementioned series in format, in that there are 14 amateur surfers gathered to participate in a reality competition only this time, it's an all-female team and they're competing for a chance to go professional.
These women come from all walks of life, and they travel to various exotic surfing locales to hone their skills, learn more about the sport, and in the process, learn about themselves as well.
Curl Girls, Logo TV (2007)
Curl Girls is a six-part reality TV show that chronicles the lives, careers, and relationships of six young women: Erin, Gingi, Jessica, Melissa, Michele, and Vanessa.
The series was also one of the first reality shows on a major TV channel to put lesbians at the front and center!
They may have their differences and strains in their relationships with one another, but they all share a passion for surfing and the show also poses as a competition for them to win a trip to Hawaii.
100 Foot Wave, HBO (2021 – present)
HBO brings us this gripping documentary that chronicles the journey of renowned big wave surfer Garrett McNamara, whose track record of successfully surfing record-breaking waves has earned him the fame and respect of his peers.
100 Foot Waves follows McNamara to Nazaré, Portugal, where he seeks the help of locals and the surfing community to turn the town into a premier surfing destination.
Alongside that is his chase after the said 100-foot wave, which he is determined to add to his list of surfing conquests.
Make or Break, AppleTV+ (2022)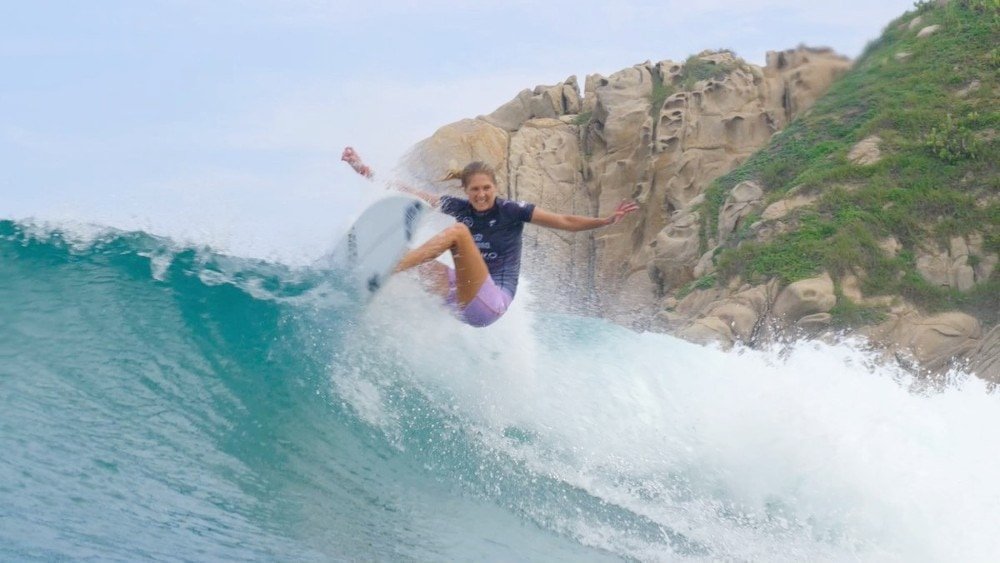 If you ever wanted a look into the world of professional competitive surfing, AppleTV's Make or Break is the show for you.
Follow a group of pro surfers as they travel to the best surfing destinations around the world in order to compete for the World Championship title!
Not only does the series outline the process of the competition but also gives its viewers insight into the surfers' lives – told by the surfers themselves – and what kind of work and sacrifice go into their pursuit of their passion.
Brazilian Storm, Canal OFF (2012 – present)
Originally on Canal OFF, Brazilian Storm is a Portuguese-language reality series in line with the network's inclination towards the sport.
The series revealed 12 surfing professional hopefuls – 6 men and 6 women – as they participated in individual and group challenges both in and out of the water.
Occasionally, the series would shift to show how the contestant would spend their free time – we know how fun a Brazilian party can be!
The competition's prize was valued at 50,000 reais (around $10,000) and featured other famous profiles in the sport.
RedBull surf shows
Life of Kai, RedBull TV (2020 – present)
Kai Lenny is a big name when it comes to big wave surfing, and RedBull provides a look into one chapter of his life with Life of Kai.
Fresh from his loss at the Big Wave event, he is determined to redeem himself. Part of this redemption arc involves chasing as many of the biggest waves as he possibly can around the world and redefining the boundaries of "big wave surfing".
The ultimate goal? Become a household name in his beloved sport.
Who is J.O.B?, RedBull TV (2013 – present)
The technical answer to that would be Jamie O'Brien, a professional surfer and multi-awarded surfing champion from the North Shore of Hawaii.
Surfing has always been at the center of his life, and Who is J.O.B? is yet another extension of that passion.
Throughout its eight seasons so far, the series follows Jamie and a group of his fellow surfer friends as they travel around the world in search of the best waves, and they're always down to try anything and everything to get that done!
No Small Feat, RedBull TV (2020 – present)
Another from RedBull TV is No Small Feat, which aims to show fans of the sport and viewers that being a competitive surfer is, indeed, no small feat.
Though each of its two seasons has just two episodes each, the show follows elite surfers during their pre-competition period for the WSL big wave period and shows just what they need to do to get themselves ready.
Each episode features one pro surfer; the latest season featuring Annie Reickert and Moana Jones!
Made In, RedBull TV
Last but not least, Made In shifts the focus a little bit from the surfers to the surfing destinations and thus, makes it the best show out there for those already acquainted with the sport to look for their next surf trip destination!
It currently has eight seasons – some with a few episodes while some with just one – and each one covers a brand new destination and the surf culture that surrounds it.
So far, Made In has covered Hawaii, Australia, Europe, Ireland, Monterey, South Africa, Basque Country, and New Zealand!
RedBull is a premier destination for TV shows about surfing! The network has its very own arsenal of series about the sport so if you're looking for more, make sure you check out RedBull TV!