The popularity of the western genre began in the early 20th century. And while we don't see many shows or movies being produced in recent times, that doesn't mean there aren't any gems out there.
Western shows will never lose their charm – the cowboys, gunfights, outlaws, railways, and general wilderness. As a testament to that, we've put together a list of the best modern western TV shows for you!
Without further ado, here are our top modern western TV series.
Wild West Chronicles, INSP (2021)
The Wild West time period was a truly remarkable era. One that fascinates many to this day.
It was the age of gunslingers, outlaws, cowboys, and Indians, and so many iconic characters from the time are remembered and celebrated to this day. That's what INSP's upcoming anthology series Wild West Chronicles is about.
Wild West Chronicles follows Bat Masterson, a legendary lawman turned reporter as he travels around the American frontier to track down memories and eyewitness stories of the most famous of Old West icons.
During the 15 episodes, we will get to experience the stories of everyone from Butch Cassidy and Bass Reeves to Stagecoach Mary and Dr. Susan Anderson and the hardship and triumphs that these characters had to endure living in the lawless land of the American West.
Where to watch Wild West Chronicles:
Hell on Wheels, AMC (2011 – 2016)
AMC's Hell on Wheels may be over, but series' based on historically factual events never really fade out of interest, do they?
Set shortly after the assassination of President Lincoln, Hell on Wheels is based on the Union Pacific Railroad and the "Hell on Wheels" mobile encampment that followed the railroad's construction. Including the haphazard group of nomads who made it their home.
The show chronicles the story of a former Confederate soldier who's led to "Hell on Wheels" as he searches for the Union soldiers who murdered his wife and son during the Civil War.
A mix of historical and fictionalized Western period drama, Hell on Wheels is one of the best new western series and one you definitely don't want to miss.
Where to watch Hell on Wheels:
Godless, Netflix (2017)
Streaming giant Netflix makes it on the list with Godless, its western limited series drama. Though with only seven episodes, its first season released in 2017 received positive reviews, several nominations, and wins.
The Netflix western series Godless follows the story of a ruthless outlaw (played by the award-winning Jeff Daniels) as he searches for a former member of his gang who he had taken in as a young child and considered a son.
Jack O'Connell plays Roy Goode, the son-like outlaw on the run who split to start a new life in La Belle, a small town populated only by women.
Where to watch Godless:
Longmire, A&E/Netflix (2012 – 2017)
If you're both a western and crime show fan, then Longmire is the perfect series for you. As it's centered on a sheriff investigating major crimes in his jurisdiction of the fictional Absaroka County in Wyoming.
In solving these crimes, he's often joined various members of his staff and his daughter, who's a lawyer.
Based on the Walt Longmire Mysteries novels by Craig Johnson, it quickly rose to popularity as the highest-rated original drama series on A&E.
Sadly, this new western only ran for 6 seasons and ended in 2017.
Where to watch Longmire:
Outer Range, Amazon Prime Video (2022 – present)
If you think that Outer Range is just your average modern western series, then you're in for a surprise.
It does, of course, have what you'd expect from a Western: intrigue and families fighting over land. In this case, Royal Abbott, the family patriarch and owner of the ranch, protects his family and land against the Tillersons, who are trying to take over.
His family is also dealing with the disappearance of their son's wife, Rebecca.
As if that alone wasn't troubling enough, Outer Range tosses in a touch of science fiction when a mysterious drifter appears on their land and brings with her a black void in the middle of their pasture.
Where to watch Outer Range:
Deadwood, HBO (2004 – 2006)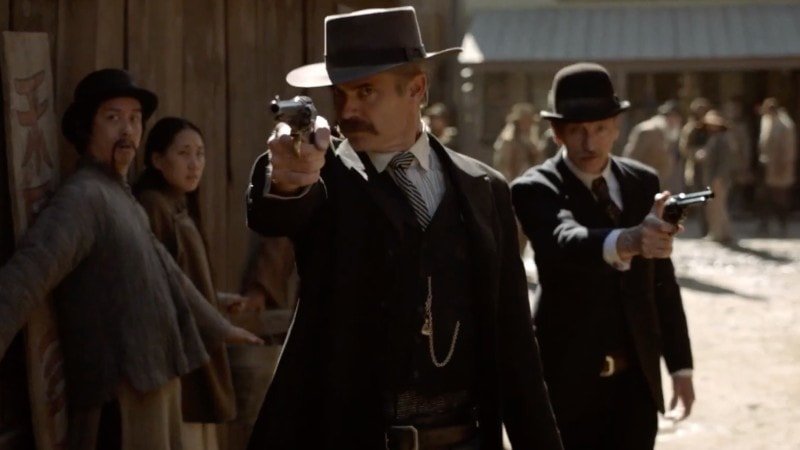 Any show produced by HBO is bound to be a hit, and Deadwood is just one of them. Though only running for 3 seasons, it won eight Emmy Awards and spouted its own movie. Also produced and aired on HBO 10 years after the original series concluded its three-season run.
Like Hell on Wheels and a few other of these best modern western TV shows, Deadwood uses historical accuracies tied in with fictionalized elements to produce a narrative rich with sociopolitical issues, all with the intent of studying how order is brought from chaos.
Writer and creator David Milch even used diaries and news clippings from the time as inspiration for this HBO western show!
In fact, Deadwood features real-life historical figures throughout its run, played by an amazing ensemble cast including Timothy Olyphant and Ian McShane.
Where to watch Deadwood:
Yellowstone, Paramount Network (2018 – present)
Yellowstone is a relatively new one, having just aired its first episode in June 2018.
Following border conflicts in the Yellowstone National Park between a cattle ranch, an Indian reservation, and land borders, the show brings to light violent conflicts that, to be honest, not enough people know about.
Yellowstone is backed by a star-studded cast headed by Kevin Costner as the ranch owner. And Luke Grimes, Kelly Reilly, and Wes Bentley as his three children.
Where to watch Yellowstone:
1883, Paramount+ (2021 – 2022)
We previously mentioned the Paramount Network series Yellowstone, which revolves around the Dutton family who own one of the largest ranches in Montana.
Now, we bring the first spin-off series, 1883, so fans can better understand how the Duttons came to own the land that would become the Yellowstone ranch.
As a prequel series, 1883 is a reference to the period the series is set in as it follows an earlier generation of the Dutton family.
Country music power couple Tim McGraw and Faith Hill star as James and Margaret Dutton, the great-grandparents of Yellowstone's main protagonist John Dutton.
1883 follows their journey across the Great Plains with a caravan group, determined to escape their life of poverty in Texas for a better one in Montana.
Where to watch 1883:
The Son, AMC (2017 – 2019)
The Son borrows its storyline from the 2013 novel of the same name authored by Philipp Meyer. And stars the ever-dapper Pierce Brosnan and Jacob Lofland – playing the same character in different stages of his life.
What sets The Son apart from the other modern western TV shows on this list is the introduction of different timelines throughout the show.
One has Eli McCullough, the main character, as a young Comanche warrior headed into leadership.
Another has Elis juggling his cattle empire during the rise of the oil industry in the late 1910s.
And yet another occurs 70 years later with Eli's granddaughter dealing with a long-buried family secret.
Where to watch The Son:
That Dirty Black Bag, AMC+ (2022 – present)
AMC's streaming platform brings That Dirty Black Bag, a gripping Western series that depicts an eight-day standoff over its eight episodes.
Taking place in a "savage, deserted world", the show chronicles the face-off between its two central cowboys.
Arthur McCoy is the town sheriff described as 'incorruptible' but troubled by demons from his past; on the other side is Red Bill, a notorious bounty whose signature explains the show's title: the dirty black bag he carries around is where he puts the heads of his successful bounties.
In this depiction of the Wild West, the hunter becomes the hunted.
Where to watch That Dirty Black Bag:
Strange Empire, CBC (2014 – 2015)
Western drama series' featuring female leads are few and far between. So on that merit alone, Strange Empire is essentially a one-of-a-kind.
It chronicles three women as they struggle to rebuild their lives after the men in their town are murdered.
Strange Empire shows hope in the aftermath of grief and tragedy, the pursuit of justice, and the fight for independence.
If you're curious to see how communities in the Wild West could have started, then Strange Empire should be on your watchlist because it's definitely one of the best western TV shows.
Where to watch Strange Empire:
Westworld, HBO (2016 – 2022)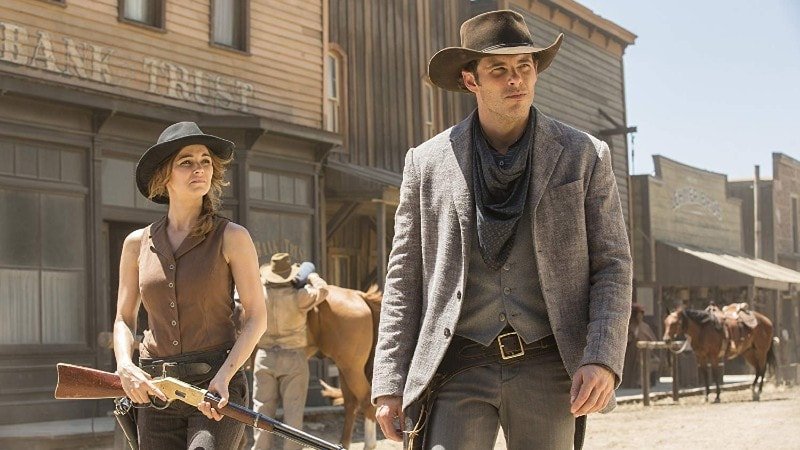 It's hard to imagine mixing the western and science fiction genres into one seamless TV series. But Westworld does just that and took the world by storm when it premiered in 2016.
It gained acclaim as the most-watched first season for HBO original series. And right now fans are waiting for the fourth season of this current western TV show to premiere.
Westworld is a western-themed theme park populated by robots that interact with guests. Preprogrammed to fulfill the guests' desires according to a predetermined narrative and act according to their interactions with humans. The story progresses as these robots slowly start to retain their memories and become sentient beings.
It's I, Robot meets Wild, Wild, West (side note: obviously a Will Smith fan over here). And the ensemble cast mixed with an engaging storyline makes for an addicting show to watch!
Where to watch Westworld:
Wynonna Earp, SyFy (2016 – 2021)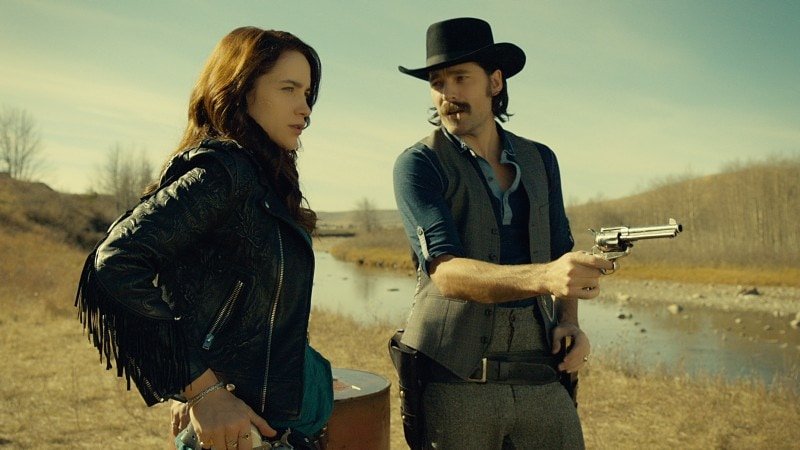 Wynonna Earp is another show deserving to be on the list of the best modern-day westerns because the series manages to effortlessly mix two genres that you never would have thought would mix well – western and supernatural.
The titular character is the fictional great-great-granddaughter of the very real-life western frontiersman, Wyatt Earp.
And the show follows her adventures battling reincarnated outlaws that Wyatt killed and sending them back to Hell, along with other supernatural beings she encounters along the way.
Where to watch Wynonna Earp:
J.J. Sneed from Dolly Parton's Heartstrings, Netflix (2019)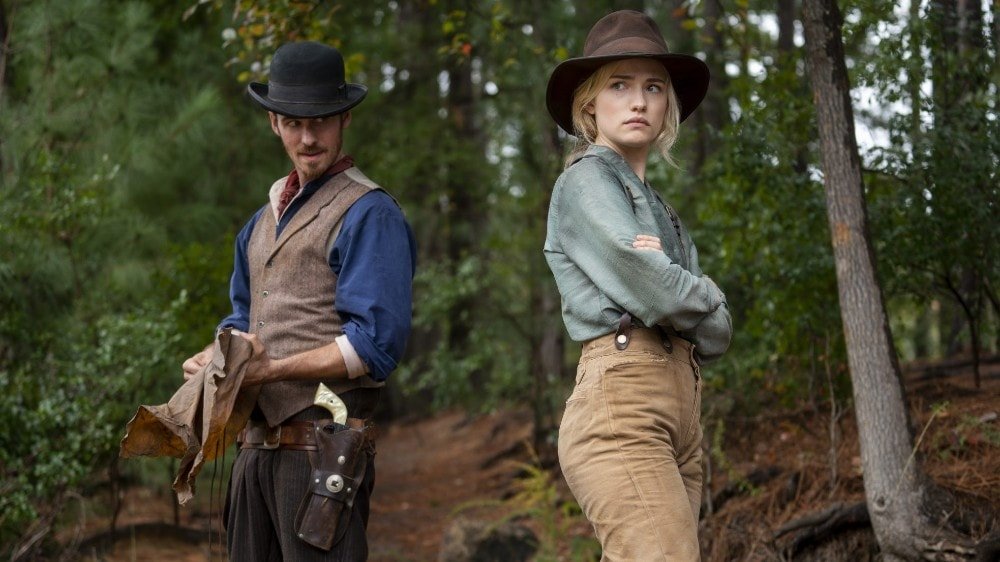 Dolly Parton is a country music icon whose songs are listened to all over the globe. And the reason they are so beloved is that each tune tells a colorful tale of love and loss. So, it's no wonder that Netflix decided to adapt 8 of her songs into their own anthology series – Dolly Parton's Heartstrings.
Episode 7, titled "J.J. Sneed," is set in the old west and tells the story of Maddie Hawkins, a young woman who, after meeting outlaw JJ Sneed, trades in an arranged marriage for a life as an outlaw.
During the course of the episode, we see Maddie join JJ in his outlaw ways by robbing banks, trains, and anything else they can get their hands on.
Eventually, the two fall in love. But after JJ is injured during one of their robberies he shows his true colors leaving Maddie no choice but to turn him in.
Where to watch Dolly Parton's Heartstrings:
Broken Trail, AMC (2006)
Broken Trail is a gripping amalgamation of two notable historical truths: the trafficking of young Chinese women to become prostitutes, and the acquisition of horses by the British in the West during the 19th century.
Broke Trail follows Prentice "Prett" Ritter, an aging veteran cowboy, and Tom Hart, his nephew. They set on a business deal involving the purchase of 500 horses across regions, to be resold to the British Army in Wyoming.
While making the trip there from Oregon they run into Capt. Billy Fender and rescue the 5 Chinese women he'd purchased as prostitutes for miners and railway workers.
Prett and Tom then take it upon themselves to protect and transport the women to safety, even with a gang of killers targeting the women hot on their tails.
Where to watch Broken Trail:
Billy The Kid, Epix (2022)
When it comes to the Wild Wild West, Billy the Kid is undoubtedly one of the most prominent figures from the era; it's no surprise that there are countless films, shows, and other forms of media that dramatize his life and crimes.
Epix's eight-part series Billy The Kid adds another to this list – albeit with a few tweaks to add to its flair.
The series begins with his life as a kid, showing his Irish roots and upbringing before he adopted his outlaw pseudonym.
It moves further into his early gunslinging days until finally, we learn of his contributions during the Lincoln County War.
Where to watch Billy The Kid:
Hatfields & McCoys, History (2012)
The feud between the Hatfields and McCoys is probably one of the most well-known feuds in history.
It has even since become a way to reference any kind of bitter, large-scale rivalry! But what led to this family feud that almost led to a war between states?
The History Channel takes us on a three-part ride that actually began with patriarchs Devil Anse Hatfield and Randall McCoy being good friends during most of the Civil War. However, upon their return to their home states of West Virginia and Kentucky, they find that tensions and resentment between their families are already rising.
Soon enough, as those surrounding them come to take their side, the fight blows out of control and borders on warfare between the states.
Where to watch Hatfields & McCoys:
Quick Draw, Hulu (2013 – 2014)
As a break from the history and drama of the previous shows, we've got Hulu's Quick Draw instead.
Though a scripted original from the network, much of the dialogue is actually partially improvised and this makes it a fresh and fun comedy at every turn.
Actor and comedian John Lehr both created the series and stars as John Henry Hoyle, a fresh graduate from Harvard who is determined to bring order to the crime-riddled town of Great Bend, Kansas.
As Sheriff of this frontier town, he's hellbent on introducing what he's learned about the yet unknown craft of forensic science. Along with his reluctant deputy Eli Brocias, the pair hunt down the most dangerous criminals in the area.
Where to watch Quick Draw:
Peacemakers, USA Network (2003)
Last but not least, the USA Network's western crime drama Peacemakers takes place towards the tail-end of the Wild West era in the late 1800s.
The series is centered on Silver City in Colorado, where its reputation as a boomtown has made room for new and emerging technologies.
Peacemakers follows Silver City's premier crime-solving team composed of Deputy US Marshal Jared Stone, Detective Larimer Finch, and the city's mortician, Katie Owens, as they investigate every misdeed that passes through their city.
With a combination of Stone's experiences as a skilled tactician and marksman, Finch's knowledge in criminology and forensic science, and Owens' skill as a forensic pathologist, their team is unstoppable.
Where to watch Peacemakers: