When you think of medical dramas, you're most likely to conjure images of a hospital or even a private clinic as the show's main setting.
However, the need for medical care can come up in places you may never even have known or realized!
On top of that, have you ever wondered what the medical field may be like outside of what we normally see in Western settings, like Europe or the United States?
With this list, we aim to introduce some of these different or unexpected locations through the best non-traditional medical drama TV shows.
We're not just talking about shows being set outside of a traditional hospital setting, but those in other regions of the world as well!
Let's take a look.
The Good Karma Hospital, ITV (2017 – present)
The first series on our list is from the UK, ITV's The Good Karma Hospital currently has four seasons under its belt, with the fourth premiering just in January 2022.
The medical drama follows Ruby Walker, a doctor in the UK who has recently become disillusioned with love and the life she lives.
She answers an ad for a job at a hospital in South India, packs her life into suitcases, and leaves to start a new life.
Ruby begins working at the under-staffed Good Karma Hospital under the guidance of fellow British expat, Dr. Lydia Fonseca.
Reef Doctors, Network Ten/Eleven (2013)
Reef Doctors is an Australian medical drama, and that will probably clue you in on what exactly the exotic setting is!
That's right, the series takes place between a group of islands scattered around Australia's Great Barrier Reef!
It centers on Dr. Sam Stewart, a single mother and the woman leading the team of doctors working at the Hope Island Clinic.
There, they cater to residents of the island community, the nearby islands, and tourists who come and go.
On top of that, Sam is doing her own medical work involving venom and the potential of its curing capabilities!
Off the Map, ABC (2011)
Sometimes, you just need to run away from your life and find your purpose elsewhere.
That's what the seven doctors in the center of ABC's Off the Map were hoping to accomplish when they left behind their lives and personal demons to work at a remote, understaffed medical clinic in a small village in the South American jungle.
The clinic was founded by Dr. Ben Keeton, UCLA's former chief of surgery who left after an accident took his family from him.
Now, he seeks fulfillment in teaching the doctors under his tutelage to provide care even under the most daunting of environments.
Going to Extremes, ABC (1992 – 1993)
ABC brings another medical drama to the table from the early 1990s!
Going to Extremes ran for one season of 17 episodes, and added a touch of comedy that is pretty rare in medical dramas even to this day.
The series followed the lives of American medical students who underwent an unconventional method of training by attending a different medical school on a tropical island.
There, they were further trained by the "maverick" doctor in charge whose previous contributions to the field were ignored or looked down upon.
Hospital Ship, MBC TV (2017)
Hospital Ship is a South Korean medical drama centered on a group of young doctors who travel to remote and rural villages around the country by ship to provide the best medical care possible to those who have little to no access to it.
Previously, the hospital ship was limited to check-ups and routine services but now, talented surgeon Eunjae is able to conduct operations on board as well.
Joining her are Hyun and Jaegeol, both with their own skills and expertise to bring when dealing with procedures and patients.
Combat Hospital, Global/ABC (2011)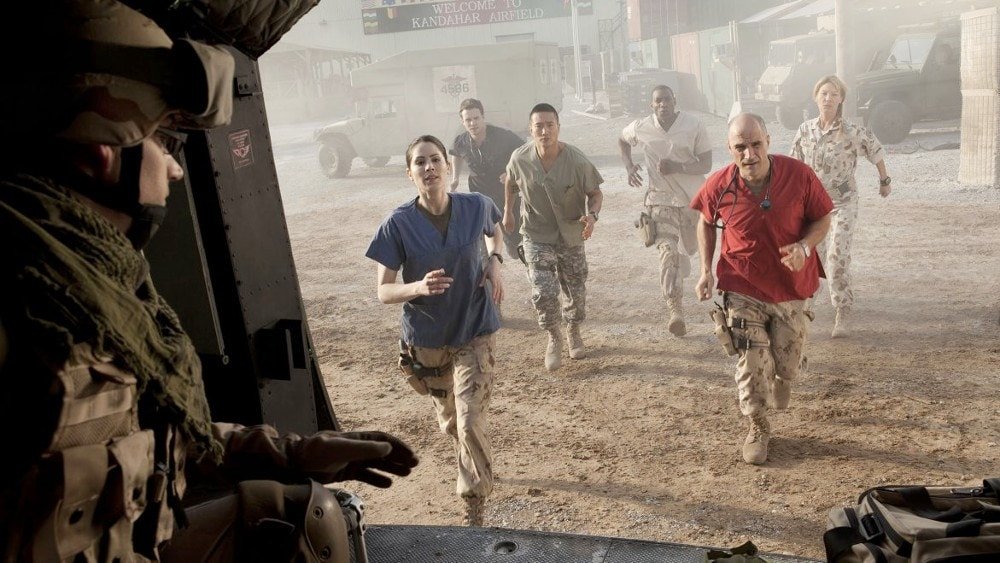 Combat Hospital features not only a group of doctors brought to work together under unconventional circumstances, but also takes place in a rare and daunting setting: the middle of a war zone.
At a military hospital in Kandahar, Afghanistan 2006, a group of doctors and nurses from the International Security Assistance Force originating from countries like the United States, Germany, Australia, the UK, and more, work together to provide medical and psychological care for the soldiers stationed in the city.
The team consists of trauma and neurosurgeons, as well as a psychiatrist, under the leadership of a brilliant career military surgeon.
SkyMed, CBC Television (2022 – present)
Most of the time, we see paramedics and EMTs working from ambulances on the ground; rarely do we see the same in action in the air.
However, air ambulances (like airplanes or helicopters) are such an essential part of the medical system especially in more remote areas or in the cases of accidents in hard-to-reach terrains.
SkyMed is a Canadian series set in Manitoba that centers on the lives and work of nurses and pilots that operate the air ambulance service in this region of Northern Canada.
RFDS: Royal Flying Doctor Service, Seven Network (2021 – present)
The Royal Flying Doctor Service is Australia's air medical service that provides the needed medical care to those in rural areas of the country where access to it is limited if not impossible.
While the RFDS: Royal Flying Doctor Service series is fictionalized, it takes its inspiration from very real-life situations, with the real RFDS consulting for the show on accuracy in terminology and procedures!
Viewers witness these heroes balance their private lives with the action they undergo each day to reach even the most unreachable of regions in Australia.
Royal Pains, USA Network (2009 – 2016)
Royal Pains is another drama-comedy that graced our screens for 8 wonderful seasons before ending in 2016.
The series primarily followed Hank Lawson, a young doctor who was shunned by the medical community after being wrongly blamed for the death of an important patient.
Frustrated, Hank moves to the Hamptons to be the house-call doctor for the rich and famous residing in the upscale community.
When he is also asked to treat the less fortunate living in the town, Hank learns to walk the line between working for himself in the Hamptons and working for others in the outskirts.