Here at TV Show Pilot, we've talked a lot about how we often overlook the everyday heroes in our lives: teachers, security personnel, even the folks who serve you your food at your favorite restaurant.
Among these everyday heroes are those on the medical frontline and our first responders: law enforcement, firefighters, and of course, the paramedics and EMTs.
It's the latter that we're shining the spotlight on in this list!
We've put together a list of the best scripted TV shows about paramedics and EMTs as we hope to showcase the hard work that they do in order to give the best medical care in cases of emergencies.
Bloods, Sky Comedy (2021 – present)
It's pretty rare to find a series that's rated 100% on Rotten Tomatoes, but Sky Comedy's Bloods is one of those!
Bloods is a British drama sitcom that follows Maleek and Wendy, two paramedics working out of South London.
Maleek has a tough guy attitude and prefers to be alone while Wendy is an "overly friendly divorcee"; you'd think that there was never a more mismatched pair!
However, you don't go around answering emergency calls and saving lives without forming a bond and pretty soon, Maleek and Wendy learn to depend on each other when they have no one else.
Sirens, Channel 4 (2011)
Another British comedy on this list is Channel 4's Sirens which aired for one season in 2011.
Based on a book by Brian Kellett titled Blood, Sweat & Tea, Sirens follows the professional and personal lives of three paramedics.
The streets of Leeds are full of partiers and drunks who see paramedics as nothing more than glorified taxi drivers, so Stuart, Ashley, and Rachid are forced to deal with humanity at its dumbest on a daily basis while trying to keep some resemblance of normalcy.
Sirens, USA Network (2014 – 2015)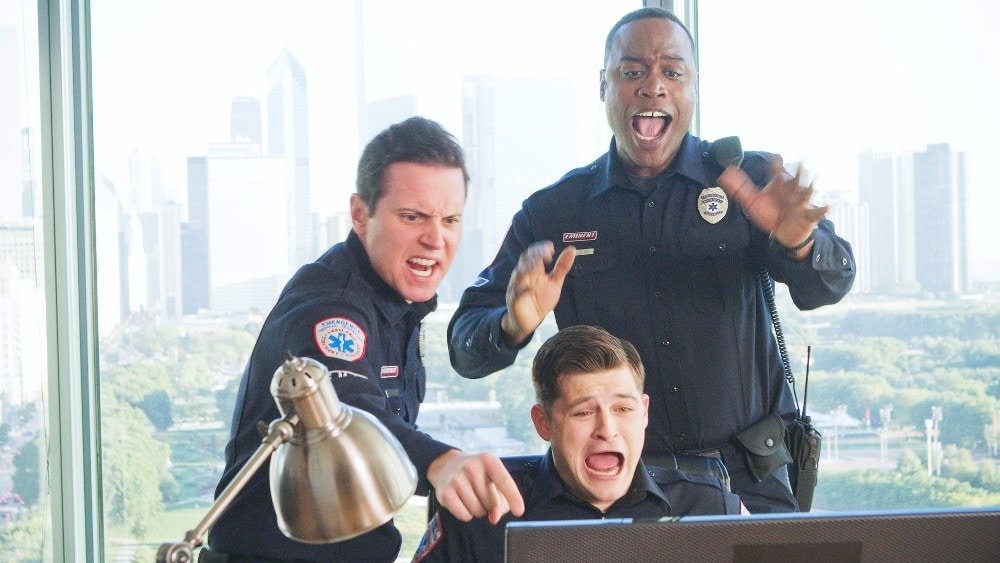 A few years after Channel 4 canceled Sirens, USA Network decided to create their own adaptation of the comedy series.
While the parent series had just one season, this adaptation expanded into two before being canceled itself.
The US version of Sirens follows Johnny "Mousse" Farrell, Hank St. Clare, and Brian Czyk, three EMTs working for Eminent, a fictional private ambulance company in Chicago.
Each episode covers the truly bizarre situations they're dragged into while responding to the emergency calls they're assigned to, as well as their hilarious relationship with each other and Johnny's ex Theresa, a police patrol officer.
Saved, TNT (2006)
From comedy series about paramedics, we switch to a more serious-toned Saved which aired for one season on TNT.
Saved follows Wyatt Cole, a med school dropout turned Portland paramedic with a troubled past who tries to balance his busy job with a relationship with his girlfriend.
With the help of his partner Sack, Wyatt quickly falls into a routine of 24-hour shifts and answering calls but his gambling addiction is never too far out of his mind, so Wyatt needs to learn to control his compulsive gambling and chaotic decision-making.
Rescue 77, The WB (1999)
Rescue 77 is an American medical drama that follows a three-person team of paramedics based out of Station 77, a fictional fire station in Los Angeles.
The show's creator and executive producer Gregory Widen was a firefighter and paramedic himself and was eager for Rescue 77 to be a more realistic portrayal of their profession.
As such, Rescue 77 depicts the personal and professional lives of Kathleen Ryan and Michael Bell, partners in the field who have tension in their own lives as well as in their feelings for each other, and their rookie colleague Wick Lobo, all of whom are fiercely loyal to each other.
Trauma, NBC (2009 – 2010)
NBC's Trauma has been described as "intense", "action-packed", and "an adrenaline shot to the heart" so you know you'll be in for a pretty wild ride.
It follows the first responder paramedics team from the San Francisco City Hospital as they respond to emergencies by any means necessary, whether by land, sea, or air, in order to reach their patients in time to save their lives.
Trauma tells these paramedics' stories not just when dealing with personal and professional issues on call at the hospital, but especially while they're out in the field, where we really get to watch them at work.
In a Heartbeat, Family Channel/Disney Channel (2000 – 2001)
In a Heartbeat takes us down a slightly different path from the other shows on our list.
The series primarily follows four high school teenagers who are also volunteer EMTs in Darien, Connecticut, which is inspired by real-life EMT squads!
Hank, Val, and Tyler have volunteered of their own accord and work hard to balance their lives as students and athletes with the stress of their job.
Jamie is the fourth member of the squad who, though he initially joined as part of a program for troubled teens, ends up fighting to stay and help others as best as he can.
Rescue 995, Channel 8 (2012)
Rescue 995 is the first non-English show on the list; as a production out of Singapore, the medical drama is entirely in Mandarin.
The series was sponsored by the Singapore Civil Defense Force, which is the governing body for emergency services in the country and thus encompasses their paramedics and EMTs.
Rescue 995 follows the story of several paramedics as they save the lives of those on the brink of death.
Central to the story is Shi Haoran, a talented woman with knowledge in both Chinese and Western medicine, whose relationship with her father is strained when she chooses to become a paramedic.
The Listener, CTV/ION Television (2009 – 2014)
As a break from the much more realistic shows, The Listener brings in a touch of the fantasy genre.
It also shifts the focus away from the hands-on work that paramedics do in the field and onto a central character: Toby Logan.
Toby is a paramedic in his late-20s who has a secret he's hidden from almost everyone: an ability to listen to people's surface thoughts.
Originally, he'd refused to talk to anyone about it except to his mentor, Dr. Ray Mercer. However, he soon finds that he can use his telepathic abilities to help those he has been called to save.
Rescue Special Ops, Nine Network (2009 – 2011)
Rescue Special Ops is an Australian medical drama that ran over three seasons before being canceled by the network.
It primarily follows brothers Dean and Chase Gallagher, who are both paramedics and part of the elite Rescue Special Ops team; they're your typical alpha male siblings who fight over everything, but who will also stand up for and protect each other no matter what.
Rescue Special Ops follows their personal lives, as well as the complex search and rescue operations they undertake alongside their team of professional paramedics, who face death with every call.
Emergency!, NBC (1972 – 1977)
Right when Emegency! began airing on NBC, there were changes occurring in the field of emergency services: ambulances were widening their scope of responsibility and the paramedic and EMT professions were slowly gaining ground.
Emergency! has been said to be instrumental in these changes.
The six-season medical drama focused mostly on two firefighter paramedics, Johnny Gage and Roy DeSoto, who formed the fictional Squad 51 of the LA County Fire Department.
The series not only showed how they provided medical services on top of technical rescues but also how they worked closely with the Rampart General Hospital.
Chicago Fire, NBC (2012 – present)
Fans of producer Dick Wolf's previous and current works (the Law & Order, and FBI franchises) will recognize Chicago Fire from his Chicago series franchise.
Like the others within the franchise that portray the lives of law enforcement (Chicago P.D.) and those working in a hospital emergency room (Chicago Med), Chicago Fire tells the story of the firefighters, rescuers, and paramedics from the fictional Firehouse 51.
Despite personal tensions among the first responders out of the station, they lay their lives on the line to save others and this forges an unbreakable bond between them all.
Station 19, ABC (2018 – present)
Shondaland further expanded its reach with Station 19, the second spin-off from the legendary Shonda Rhimes' hit medical drama Grey's Anatomy.
Fans of Grey's may fondly recall Dr. Ben Warren, Miranda Bailey's husband, who was an anesthesiologist then surgical resident at Grey Sloan Memorial Hospital.
He shifted careers again and became a firefighter, which brought him into Station 19.
This action-drama series follows the firefighters and paramedics at the titular Station 19 through the intertwining of their professional and personal lives, from their captain down to their recruits.
9-1-1, Fox (2018 – present)
Ryan Murphy, Brad Falchuk, and Tim Minear come together again for the procedural drama 9-1-1, which was very recently renewed for its sixth season.
Inspired by the real-life experiences of first responders, 9-1-1 follows the lives of various individuals in this dangerous and heart-stopping field: firefighters, dispatchers, and police officers, and of course, paramedics living in Los Angeles.
The episodes showcase to viewers the high pressure that first responders experience when trying to save someone's life, where a split-second decision could make all the difference in the world.
9-1-1: Lone Star, Fox (2020 – present)
From the title alone, it's not hard to guess not only that 9-1-1: Lone Star is a spin-off of the aforementioned 9-1-1 but also that it's set primarily in Texas, the Lone Star State.
Many cast members from the original make a regular appearance in this spin-off, which follows the life of firefighter Owen Strand.
Back in New York, Owen was the captain and lone survivor of his unit after 9/11. Now, he's relocating to Austin to help rebuild another station after a similar tragedy strikes.
However, struggles with his son – a firefighter and paramedic, as well as a recovering addict – and a dark secret he carries with him make it hard to strike a balance.
Third Watch, NBC (1999 – 2005)
The last show on our list takes us to New York, to the 55th Precinct, and its corresponding (albeit fictional) NYFD firehouse, where viewers meet the resident cops, firefighters, and paramedics.
The show's title, Third Watch, stems from the concept that these first responders are those working within the 3 PM to 11 PM shift – also known as the third watch.
Though they may fight and argue amongst themselves, nothing will stop them from working hand in hand to save lives and navigate the complex rescues they handle on a daily basis.