It takes a special kind of genius to be able to build a career around technology. Computer programming isn't something that's easy to navigate when it's being used for a good cause; what more when it's being used for something more nefarious like hacking and cybercrime?
When it comes to that, not only would one have to know the ins and outs of programming in general but also the backdoor to its weaknesses.
This list of TV shows about hackers, computer programmers, and cybercrime may not teach us to become programmers ourselves, but we may just learn enough jargon to at least pretend!
Let's get started!
Best TV shows about hackers
Mr. Robot, USA Network (2015 – 2019)
The great thing about Mr. Robot is that it toes the line between the moral and immoral, asking, "Does a bad thing become a good thing when it's used for the greater good?"
Mr. Robot follows Elliot Alderson, a cybersecurity engineer with social anxiety, depression, and a few other mental health disorders that cause paranoia and delusion making him the ultimate unreliable narrator.
His skill is tapped into by the mysterious Mr. Robot, who recruits him as part of a team of "fsociety", a team of hacktivists who are trying to bring down a huge conglomerate to cancel consumer debt.
De Kraak, VTM (2021)
De Kraak is a Belgian crime drama series that premiered for one season in 2021.
Right off the bat we meet Jeremy Peeters, a brilliant computer geek who catches the eye of Alidor Van Praet, a former conman looking for a hacker to join his team.
Van Praet has masterminded a plan to hack the network of one of the biggest banks in Frankfurt – a job that could put hundreds of millions of euros in his pocket.
Jeremy is only happy to help out, but his motives go beyond money and into revenge.
Millennium, SVT1 (2010)
Not to be confused with Fox's three-season science fiction series tied in with The X-Files, this Millenium is a Swedish six-part miniseries adapted from author Stieg Larsson's book series of the same name.
You may recognize them from the film adaptations starting with The Girl With the Dragon Tattoo and its two sequels!
The series is a combination of all three books and follows journalist Mikael Blomkvist and brilliant hacker Lisbeth Salander as they first investigate the decades-long disappearance of a woman, which leads to a bigger conspiracy.
The Billion Dollar Code, Netflix (2021)
Yet another foreign language series is Netflix's The Billion Dollar Code, which hails from Germany and is based on a huge real-life event: the story and lawsuit of the young hackers who fought for their claim as the inventors of the Google Earth algorithm.
Many parts of the story were altered and fictionalized to avoid further conflicts with such a huge company, but essentially the story remains the same: the journey of a collaboration of hackers and art students whose program was used by a corporation for their own purposes.
Best TV shows about programmers & computer geeks
Chuck, NBC (2007 – 2012)
The comedy-drama series Chuck features the titular Chuck Bartowski, a brilliant computer genius working a boring job as a computer service expert.
However, his life drastically deviates from this average-ness when his former roommate – and current CIA agent steals the one copy of a highly classified CIA and NSA program and emails it to Chuck.
The entire country's secrets are then embedded into his brain through encoded images and thanks to flashes of information he receives from the program in his brain, he's recruited to help on the organizations' top-secret investigations.
Betas, Amazon Prime Video (2013 – 2014)
Amazon Prime's Betas shows a pretty accurate (and raunchy) look into the world of start-up businesses and Silicon Valley — where a tech idea is either a gold mine or it ends up in the trash.
The idea in Betas is a social networking app that "introduces you to people you should know", instead of just those you already know.
The four programmers behind the app are on the hunt for an angel investor, which leads them to crashing a house party of the notoriously picky George Murcheson.
The IT Crowd, Channel 4 (2006 – 2013)
It takes a certain sense of humor to truly appreciate the wit behind a British comedy, and Channel 4's The IT Crowd is a gem you'll want to laugh along to. It follows the titular IT department of a fictional company in Central London called Reynholm Industries.
The lavish corporation stands in contrast to the dingy basement that houses the IT department, and the series follows the two computer techs that keep the company's networks running — and a new addition to the team who is utterly clueless about all things tech.
Silicon Valley, HBO (2014 – 2019)
Like Betas, HBO's Silicon Valley is a look into the eponymous center of technological innovation in the country, as inspired by the real-life experiences of one of the writers working there in the 1980s.
In Silicon Valley, programming genius Richard Hendricks invents a data compression algorithm called Pied Piper.
From there, the series goes through his journey to launch the algorithm and keep his company going amidst the investors and snakes coming at him and his product from all corners.
Halt and Catch Fire, AMC (2014 – 2017)
Set primarily throughout the 1980s to the early 1990s, AMC's Halt and Catch Fire is a look into the dawn of personal computers and the World Wide Web.
The series centers on Cardiff Electric as it attempts to clone the IBM PC — a venture led by entrepreneur Joe MacMillan, computer engineer Gordon Clark, and programmer Cameron Howe.
The trio have their own dreams when it comes to joining the race to be on top of the personal computer game, but together they're an unstoppable force to be reckoned with.
Devs, FX (2020)
As a limited series, Devs was a one-shot with eight episodes, and it received high praise throughout its run.
Once again happening in the heart of Silicon Valley, Devs follows a woman named Lily Chan, a software engineer for a company called Amaya, a breakthrough quantum computing company.
Following the alleged suicide of her boyfriend, who worked with her at Amaya and died on his first day on the job, Lily gets caught up in a tech conspiracy when she investigates her suspicions about the mysterious development division (or 'Devs').
StartUp, Crackle (2016 – 2018)
We head out of California and into Miami with Crackles StartUp, a crime drama that throws unlikely characters together in circumstances surrounding a new tech innovation.
Izzy Morales creates a brand new digital currency called GenCoin and is desperately shopping for investors when she catches the eye of Nick Talman, a young banker, who uses funds from his father's less-than-legal businesses to fund her startup.
These unlikely tech entrepreneurs then cross paths with a powerful, but deeply corrupt, FBI agent who is after the money Nick's father is hiding.
Best TV shows about cybercrime
CSI: Cyber, CBS (2015 – 2016)
With the CSI franchise as popular as ever, the fourth series was produced and this time, instead of having it centered on one city like its predecessors, it would be focused on one aspect of crime.
In this case, CSI: Cyber followed a team of experts who focused on cases related to cybercrime across the country.
Central to the team is the 'hack-for-good' program, which allows that criminals they catch a chance to work WITH them on future investigations in exchange for a reduced or waived prison sentence – something that their current team member Brody Nelson was part of!
Level 9, UPN (2000 – 2001)
Next up we have the short-lived UPN TV series Level 9.
Set in a near-future world where cybercrime and cyber-terrorism are rampant, the show follows a covert team of elite computer experts working for the fictional government agency Level 9.
Led by a former FBI agent Annie Price, this talented group embarked on high-stakes missions to combat digital threats and protect national security.
While it only aired for one season, the show left a lasting impression on viewers with its fast-paced storytelling and exploration of the dangers lurking in the digital age.
Unit 42, La Une (2017 – 2019)
Unit 42 is a Belgian crime drama series in the French language, hence its original French title of Unité 42.
At the center of the series is Sam Leroy, a widowed cop who is asked to move from the homicide division to lead a newly-formed team that would specialize in cybercrimes.
The unit is composed of various experts in their fields, but Sam struggles at first with fully grasping all the complexities of cybercrimes and technology.
Thankfully, he works closely with Billie Vebber, a former hacker whose experience helps her track down these tech-savvy criminals.
Almost Human, Fox (2013 – 2014)
Fox's Almost Human takes place in the near future: 2048, where each police officer is paired with a robot partner.
John Kennex has recently returned to the workforce after 17 months in a coma; he has gaps in his memory that he's trying to recover but one thing he hasn't forgotten is his deep hatred for these robot partners, as it was one of these that killed his partner and caused his coma – and prosthetic leg.
However, when he's paired with an older model that was designed to be as close to humans as possible, he might just change his mind.
Control Z, Netflix (2020 – 2022)
Mexican series Control Z is a three-season teen drama that capitalizes on a teen drama trope we all know and love: the fear of one's secrets being exposed.
The series begins when during one seemingly normal day at Colegio Nacional, an unknown hacker outs a student as transgender.
This ignites a series of events wherein more secrets are revealed and students start to turn against each other.
A quiet girl named Sofia Herrera will do anything to prevent her own secret from seeing the light of day, so she sets out to find the hacker's identity.
Best TV shows about teams with hackers in them
Hackerville, HBO Europe/TNT Serie (2018)
First on the list of shows about teams with hackers is a joint Romanian and German production titled Hackerville, a miniseries with just six episodes.
The series chronicles the events following a major hacking attack on one of Germany's biggest banks and the discovery that it has origins in Timisoara, Romania.
Lisa Metz, a cybercrime expert, is called in to investigate with the help of an elite hacker to trace the criminals' digital trail.
However, her personal roots in Timisoara force her to face her family's demons as well.
MacGyver, CBS (2016 – 2021)
The original series aired between 1985 and 1992; CBS' recent reboot of McGyver just recently wrapped up its fifth and final season.
The titular character is a government agent who works undercover and who's known for foregoing violent methods of catching criminals in favor of using new and genius engineering feats instead.
He doesn't work alone, however, and his team member Riley Davis is a hacker who joined them after she was caught trying to hack the NSA to save her mother.
Scorpion, CBS (2014 – 2018)
CBS' Scorpion is a four-season series loosely based on the life of Walter O'Brien, the show's executive producer and computer whiz.
Scorpion is the name of the group at the center of the show, composed of individuals with vast knowledge across various skills like statistics, behavioral analysis, engineering, mechanics, and of course, technology.
They're said to be the last line of defense against global threats and thus, often work closely with the Department of Homeland Security and sometimes, private corporations as well.
Leverage, TNT (2008 – 2012) & Leverage: Redemption, Freevee (2021 – present)
Leverage is a classic vigilante justice TV series where a group has come together to execute heists against large corporations and government institutions in order to protect the ordinary people they've victimized.
The team has a hacker, a grifter, and a retrieval specialist, and is led by Nathan Ford, a former insurance investigator who is all too familiar with these injustices.
Its sequel, Leverage: Redemption, picks up from where it left off and sees the team reunited under new leadership although still with the same noble purpose.
Breaking In, Fox (2011 – 2012)
In contrast to the previous shows that are primarily within the heavier drama genre, Fox's Breaking In is a sitcom surrounding tech security.
It centers on security company Contra Security and its staff, who are all managed by the "enigmatic" Oz. Central to the narrative is Cameron Price, the company's newest hire and an extremely talented hacker, and he's part of the team that tries to break into their own security systems "before the bad guys do".
Person of Interest, CBS (2011 – 2016)
Person of Interest centers on a software called the Machine, which was built by the genius but reclusive billionaire Harold Finch following 9/11 with the intention to prevent similar attacks from ever happening again.
The Machine monitors all video feeds and analyzes them to pinpoint potential threats, but tech with that kind of power and reach has its own downfalls.
Finch recruits the help of former CIA operative John Reese to help further understand the threats that are identified by the Machine.
Arrow, The CW (2012 – 2020)
Since the start of Arrow in 2012, The CW's DC Comics adaptations have further expanded into what is now known as the Arrowverse, where many of their shows tie together and crossovers are frequent.
In Arrow, we meet the billionaire playboy presumed to be dead: Oliver Queen.
After five years, he returns to his hometown claiming to have been shipwrecked and is now an undercover vigilante fighting crime with his bow and arrow.
Helping him are fellow aspiring vigilantes and assassins, as well as expert hacker, Felicity Smoak.
Intelligence, CBS (2014)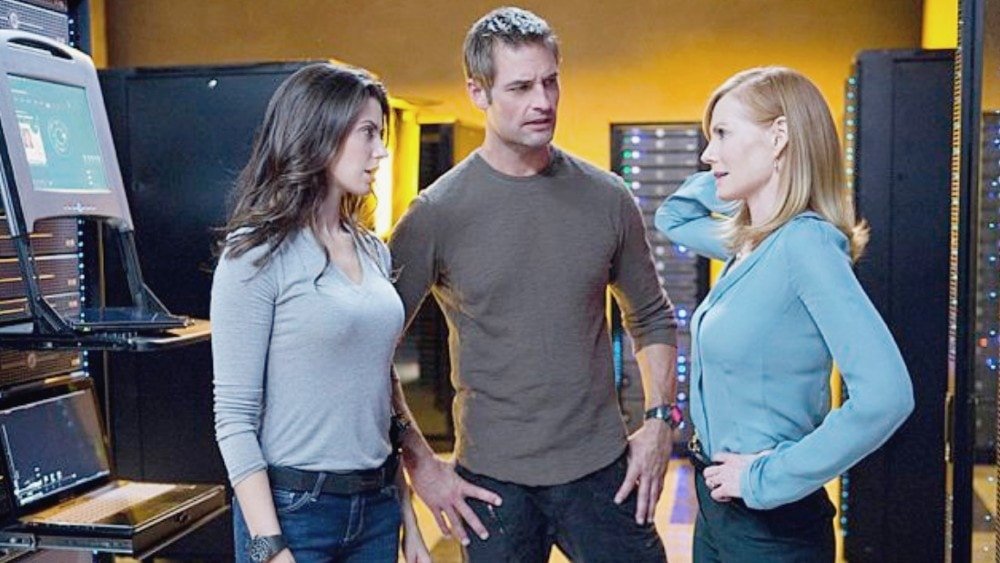 Intelligence takes the idea of a hacker and takes it one step further!
The show's protagonist, Gabriel Vaughn, isn't your average super-skilled techie and hacker; instead, he has the world's most powerful microchip implanted into his brain.
That means he has instant access to all the information needed in order to protect the United States against both internal and external threats.
At the same time, he uses the microchip to gather information about the mysterious disappearance of his wife.
24, Fox (2001 – 2010; 2014)
What's fascinating about Fox's 24 is that it uses real-time narration in each episode, so each season covers just one day – 24 hours – of the protagonist Jack Bauer's life.
Jack himself is not a hacker but is a counter-terrorist agent who believes that the end always justifies the means.
The series often features a moral conflict, where we witness Jack and his team navigate around them.
It's in the spin-off miniseries 24: Live Another Day that the hacker Adrian Cross appears to help Jack in his missions.
Scandal, ABC (2012 – 2018)
Political drama Scandal is yet another gem from the gold mine of Shondaland.
Olivia Pope is at the center of the show first working on the presidential campaign of Governor Grant, and then as the owner of her own crisis management firm – the success of which is due to her reputation as the best fixer in Washington.
The team at her firm comprises several investigators and an extremely loyal tech guy (who used to be an assassin for a spy agency named B613).
The Blacklist, NBC (2013 – present)
Last but not least is NC's The Blacklist, which is probably the epitome of moral ambiguity when it comes to one of the central characters.
Raymond Reddington, or "Red", is a former US Navy officer turned criminal mastermind turned FBI informant.
He voluntarily turns himself in and claims that he has a master "blacklist" of the world's most dangerous criminals.
He's willing to give up that info for immunity and the chance to work with profiler Elizabeth Keen, for reasons that are unclear.
The hacker in The Blacklist, Aram Mojtabai, works with the FBI team that investigates Red's information!