I imagine as a veterinarian you'd have to have not just the knowledge and skillset to treat animals but also a certain calm, soothing disposition – not to mention an actual liking towards creatures of all kinds.
Also, vets probably have one of the best yet most difficult jobs I can think of (at least in my opinion, as someone who absolutely loves animals). You're surrounded by something you love and, depending on where you work, that gives you the opportunity to interact with a wide range of animals.
However, as a doctor, you'd also have to do all the difficult tasks that come with treating sick animals, which I'm sure can be pretty heartbreaking, too.
Animal owners owe a lot to their veterinarians, even though we likely only ever see them once a year for regular check-ups.
When the animals in our care – whether as domestic pets or in a larger setting like a zoo, park, or sanctuary – come down with an illness, our vets will really do whatever they can to save the day.
In a show of appreciation, we've put together a list of the best scripted TV shows about veterinarians!
These shows, despite being fictional, let us see the hard work vets put into taking care of our animals when the care they need is beyond our hands.
All Creatures Great and Small, Channel 5 (2020 – present)
We're starting off with Channel 5's All Creatures Great and Small, which is a new adaptation of Alf Wight's series of novels of the same name.
The show, as well as the novels, is set in the Yorkshire Dales in England as locals are still recovering from the Great Depression that happened in the 1930s.
It follows a trio of veterinary surgeons named James Herriot (itself Wight's own pen name in the writing of these novels), and Siegfried Farnon and his younger brother, Tristan as they take care of the practice in Skeldale House.
Some of the main actors were required to undergo training in veterinary procedures!
All Creatures Great and Small, BBC1 (1978 – 1990)
BBC1's 1978 All Creatures Great and Small was the first of its series adaptations but it certainly wasn't the first to take from Wight's novels, as there were two movies preceding its release.
The first few seasons of this adaptation are based on the first movie, which in turn was based on the first two novels.
With each chapter in the novels containing a short story as part of the larger narrative of Herriot's life, it was already a great format for adapting to a series!
Succeeding seasons used original scripts but still continued the narrative with the work of Herriot and the Farnon brothers.
Young James Herriot, BBC One (2011)
At this point on our list, the James Herriot name should already be familiar!
He was the main character of the All Creatures Great and Small franchise, as well as the pen name that author Alf Wight used to write the autobiographical book series.
BBC One's Young James Herriot is a three-episode miniseries that tells of Herriot's early life from when he arrived at Glasgow Veterinary College in the 1930s to train as a veterinary surgeon – right before he was invited as a fresh college graduate to work at the Skeldale House.
Wild at Heart, ITV (2006 – 2012)
Wild at Heart takes viewers from a veterinary practice in Bristol, England to a game reserve in Africa!
When veterinary surgeon Danny Trevanion is asked to treat an abandoned vervet monkey, both his and his family's lives are changed forever.
It began as a simple family trip to Africa in order to keep an eye on the monkey's rehabilitation and release back into the wild.
However, a chance meeting leads them to restore a property and turn it into a game reserve.
The family settles into their new life treating all sorts of wild animals, though it also comes with its share of obstacles!
Life Is Wild, The CW (2007 – 2008)
Adapted from Wild at Heart is the American series Life is Wild, though with a touch more family drama in the mix.
Danny Clark is a New York-based veterinarian who moves his family to a game reserve in South Africa in the hopes that his two kids, his new wife, and her two kids will heal tensions and become a true family.
They attempt to ease into a completely different life from the one they left, with Danny taking charge of caring for the animals on the very reserve where his late wife grew up.
Heartland, CBC (2007 – present)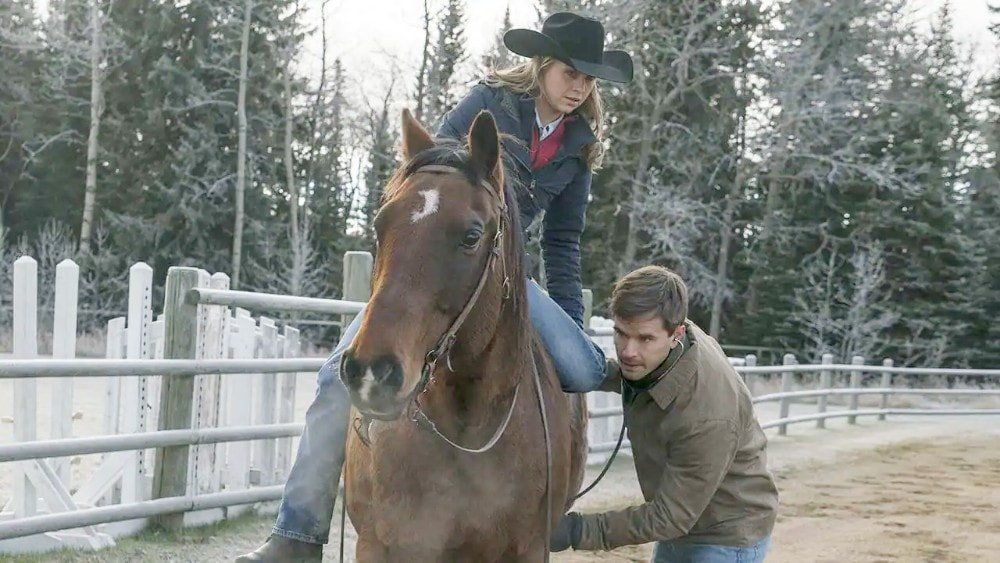 Heartland is a Canadian family drama series from CBC that just wrapped up its 16th season.
Based on Lauren Brook's series of novels of the same name, Heartland follows the Fleming-Bartlett family and the people in their lives as they look after their family ranch in Alberta, Canada.
Though the central protagonist, Amy Fleming, isn't a veterinarian, she inherited her late mother's natural skill with helping horses and practices techniques in natural horsemanship.
However, a few characters who are essential in helping the family maintain their ranch are trained in veterinary surgery, including Heartland's resident vet himself, Scott Cardinal, as well as Amy's future husband Ty Borden.
Rain Shadow, ABC TV (2007)
Rain Shadow is an Australian television series that aired in 2007.
The show follows the story of two veterinarians, Kate McDonald and Jill Blake, who work in the fictional town of Paringa, located in the drought-stricken Australian outback.
The series revolves around the challenges faced by the two women as they try to keep their practice afloat while dealing with the harsh climate and the tough locals.
Along the way, they also have to confront personal issues and conflicts while working to solve various animal-related mysteries in the area.
Sakanoue Animal Clinic, TV Asahi (2018)
The Japanese series Sakanoue Animal Clinic is based on a comic series created in 2012.
It focuses on Tatsuya Koenji, a veterinarian who is working at an animal hospital at the onset of the series.
However, he soon quits his job to move to another veterinary practice where he grew up in Kagurazaka, Tokyo under the tutelage of Zenjiro Tokumaru.
But when Tokumaru disappears without warning and leaves the clinic to Tatsuya, he is forced to find his own way and care for the animals – and at times, their owners – that pass through his doors.
The Animal Doctor, TV Asahi (2003)
Lastly, The Animal Doctor is another Japanese series with origins in a manga.
This time, we follow a high school student named Masaki Nishine, who is studying for his college entrance exams.
During a chance encounter with a puppy, his future is prophesied to him by the eccentric professor Urushihara and he is charged with the puppy's care in the meantime.
When the puppy falls sick, his path crosses with Urushihara once again and he is mysteriously convinced to apply for H University's School of Veterinarian Science.
Masaki's journey at the university is filled not just with animals of all sorts, but vastly different people and characters as well.