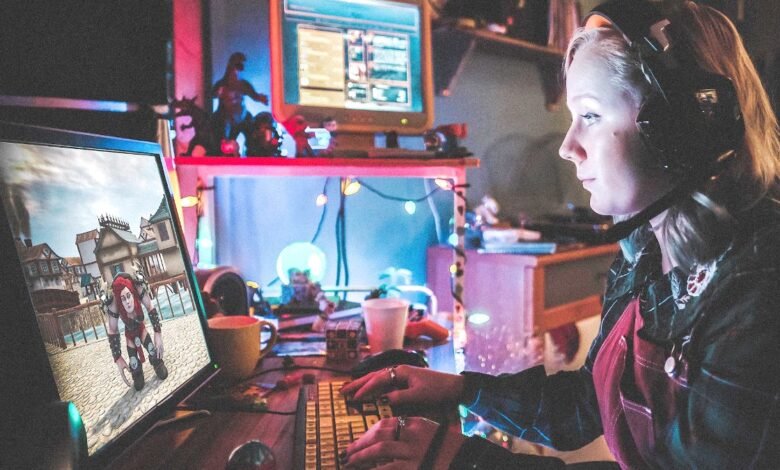 Aside from getting lost in a multi-season TV show for a weekend (or even a week), video games are one of the best forms of escapism available right now.
Given the fact that we can play with almost anyone across the world, it builds a wonderful sense of community and connects so many like-minded players.
Of course, a sense of competition would arise from this – behold the rise of E-Sports, a quickly growing and profitable endeavor. Games such as Overwatch and Rocket League frequently host tournaments that attract millions of viewers.
Whether you're running around like an assassin, or a high-powered wizard dismantling evil forces and fortresses, video games are where imaginations come alive in the 21st century.
So why not combine all our favorite ways of escaping with TV shows about video games and E-Sports?
Let's investigate some of our favorites below.
Mythic Quest, Apple TV+ (2020 – present)
What happens behind the scenes at the offices of your favorite MMORPG?
The show takes a comedic fictional peek behind the curtain as we follow the staff of a video game studio producing the MMORPG juggernaut, Mythic Quest.
From the mind of creator Charlie Day, the show uses humor to illustrate the stress behind world-building and the pressure of keeping a hit game relevant – especially when chaos erupts amid a highly anticipated update launch!
Imagine if the cast of The Office wasn't selling paper, but instead, they were selling escapism in digital form during a fire-safety briefing.
Players, Paramount+ (2022)
League of Legends (LoL) is one of the most, well, legendary games in the world and has spawned a massive industry based on competitive play.
Taking a tongue-in-cheek look at this phenomenon, Players is a mockumentary series that follows a fictional team of LoL players as they try and keep the peace in their fragile group.
Heads butt as 27-year-old veteran player Creamcheese and 17-year-old prodigy Organizm have to learn to work together.
Egos rise and tempers flare as the team makes their way to a prestigious E-Sports tournament.
Though the show leans into humor and the mockumentary format quite heavily, it is also a poignant take on the world of E-Sports and the dynamics in this world.
It is surprisingly sensitive to its character's development and never makes a mockery of those involved with competitive gaming.
Video Game High School, Web Series (2012 – 2014)
A show that was definitely ahead of its time, Video Game High School is a web series that takes place in a futuristic world where professional video game players have achieved rock-star status.
Gone are the days of football and formula one – instead video games have become the most popular sport in the world (something we are slowly seeing the rise of in 2023).
To rise to the top, players attend the titular Video Game High School, where math and science have been replaced by video games.
A fun fact about the show is that instead of CGI, the show opted to use live-action scenes to illustrate the action taking place in the video games being played. A clever way to work around a limited budget, and an imaginative challenge for the actors and creators.
In the show, we meet BrianD, who stumbles into fame and entry into the Video Game High School when he accidentally defeats a top player on live TV.
From there, the show plays like a normal teen drama, rife with angst, all set against the idea that video games determine our status.
The Guild, Web Series (2007 – 2013)
One of the most popular web series of all time, The Guild is the brainchild of Felicia Day, the mother of geek culture.
Based on her own experience with online gaming addiction, each episode sees her character Codex upload a video blog of what happened in the story thus far.
Follow The Knights of Good as they play the fictional MMORPG "The Game" through their online guild.
However, things take a muddled turn as Codex's online and offline lives collide when her guild-mate Zaboo finds her in the real world and shows up at her door.
As we find out, he believes Codex may have been flirting with him, and when she is offline for too long his worry sends him to her home, where he becomes a beloved stalker – if such a concept exists.
This sets in motion a meeting of the entire guild, as soon the characters are not only drawn into their online drama but each other's lives as well.
The show ran for an impressive 6 seasons and has a massive cult following online.
A highly endearing story of friendship sits at the core of the game, which is what keeps viewers coming back for more.
Pure Pwnage, Showcase (2010)
Another entry into the web series catalog, the mockumentary Pure Pwnage follows protagonist Jeremy who, despite being a masterful gamer, has almost no social tact.
As a character, he is not necessarily likable, but the audience can't help but root for him.
We are shown his life as his brother Kyle sets out to film his awkward and often disastrous social interactions with gamers and non-gamers alike.
Dead Pixels, E4 (2019 – 2021)
From creator Jon Brown comes a British sitcom that focuses on the obsession that comes with MMORPG gaming.
Three friends cannot balance their online and real lives due to an ever-increasing obsession with the fictional game Kingdom Scrolls.
The show is a fun blend of animation and live action, which immerses the viewers in the characters' online activities even more – it feels like a real game.
The story takes off when Megan decides to invite her coworker, and crush, to play the game with her group.
This blurs the line between real and online life too much and upsets the delicate equilibrium the group had been maintaining for years.
The show also makes a bit of social commentary on the direction of gaming, with season 2 mentioning the rise of micro-transactions and battle royale-style games.
ReBoot, YTV (1994 – 2002)
As one of the original shows to embrace the computer age, ReBoot has garnered a cult following as the years have passed.
The show is an animated look into the mainframe of a computer system, where the guardians take up the valiant call to defend the system from viruses such as Hexadecimal (a fan favorite).
What makes the show unique is how the concept of gaming is brought into this world.
When the user of the mainframe uploads a game, a giant cube descends upon the population and anyone caught in it, automatically becomes an NPC forced to try and beat the user at the game.
Sadly if the NPCs lose, the area they were in is destroyed and those who were caught in the cube become empty slugs called Nulls. Intense stuff for a children's show from Canada!
ReBeoot: The Guardian Code, Netflix (2018)
2018 saw the reboot of ReBoot into a live-action show with animated elements.
The show follows four highly-ranked gamers who are accepted into Alan Turing High School, however, it is not as innocent as it seems.
The four teenagers were handpicked by an AI called Vera who needed them to help her defend cyberspace from hackers and dark codes from a villain called the Sorcerer.
The show is a modernized twist on the original show, incorporating the internet and the advances made in computing technology since 2002.
Deadly Games, UPN (1995 – 1996)
Video games are often a hyper-fictionalised take on violence and fantasies, but, what would happen if the characters in our beloved games came to life and tried to live out their villainous or even heroic ideals in the real world?
That's the question that Deadly Games sets out to answer.
Protagonist Dr. Gus Loyd inadvertently releases evil upon the world when the characters in his video game designed for personal use step into the real world.
As his hero character "The Cold-Steel Kid", Gus has to wrangle his creations back into the game.
Interestingly, as the game was for personal use only, Gus modeled his villains on antagonists in his real life, such as an evil ex-mother-in-law, or high school bully – each having a unique weakness tailored only to them.
While the show has a bit of comedy due to the design of the antagonists, it doesn't lean into that too hard.
jPod, CBC Television (2008)
Based on the original novel by Douglas Coupland, jPod is another sitcom detailing the lives of video game developers and the shenanigans they get up to.
Taking a more bizarre route the show is often shocking and very tongue-in-cheek as the crew working for the fictional company Neotronic Arts find themselves battling bad bosses, British royalty, and games with too much gore.
Not to mention the disasters of their personal lives, such as pot-growing mothers, ballroom dancing, and love triangles.
Honestly, it is a wild ride, with an incredible premise.
Our protagonists were brought together by a Y2K glitch that somehow grouped all workers with a surname starting with J into the same work groups – hence the name jPod.
And as the jPod they are determined to do as little work as possible and have as much fun doing so as they can.
No Continue Kid: Bokura no Game Shi, TX Network (2013)
From Japan comes a show with an expansive timeline that takes a fictionalized look at the Japanese video game industry over the course of 30 years.
Starting in 1983 and culminating in 2013, this is shown from the perspective of three high school students experiencing the boom of video games at the time.
Reiji's family owned the Game Center Watanabe, where the story begins for Kido, Takano, and Reiji.
Join our three protagonists as they play Pac-Man, Xevious and other hit games throughout their lives.
In times as tumultuous as puberty, young adulthood, and leaving the nest, for these three friends video games remained a constant connection.
Gamer's Guide to Pretty Much Everything, Disney XD (2015 – 2017)
Gamers rely so heavily on their hands, and just like any other sport, without their tools they are nothing.
So what happens when professional video game player Conor breaks his thumb on the cusp of the World Gaming Pro Championship?
With no sponsors, no competitions, and no more free loot, Conot is forced to go back to school.
How does a pro gamer adapt to life as a normal teenager again?
He doesn't!
Instead, he recruits a band of friends from his new school to begin training for the next championship – but this time Conor won't go it alone, he will have his three new friends by his side in the "teams" category.
Crash Zone, Seven Network (1999 – 2001)
Another show ahead of its time, Crash Zone introduces five high school students with an uncanny knack for the technological.
Our protagonists are hired to resurrect a failing company called Catalyst Software.
Hoping to revolutionize the industry, Catalyst Software president Alexandra Davis wants our heroes to be game testers at the company's "Crash Test Zone".
The series showcases amazing teamwork from the protagonists, who despite originally being pitted against one another for a chance at the job, decide to work together to help the company and ultimately bring it into the future.
Kiss Me First, Netflix (2018)
Based on the novel by Lottie Moggaach, Kiss Me First ingeniously blends live action and CGI to tell the story of Leila, the protagonist.
At 17, she is incredibly lonely and addicted to an MMORPG called Azana.
As this is one of her primary sources of social contact, she befriends a new player called Tess, when she comes across Red Pill – a hidden paradise-themed area in the game.
After striking up a friendship, the two decide to meet offline, and Leila is enamored with Tess's outgoing and confident persona.
However, when Tess disappears, Leila suddenly finds herself drawn into a deeply disturbing mystery.
Perhaps Red Pill is less idyllic than it seemed and just maybe Tess and its creator were involved in something far more sinister.
This is where Kiss Me First takes off and transports viewers into a visual feast rife with thrilling moments.
Full Dive, ENGI (2021)
Using video games to escape the depression and pressure of his current reality, high school student Hiroshi Yuuki discovers a long-forgotten MMORPG called Kiwame Quest.
At first, the game seems incredible, with realism on a level he had never seen before.
Players can feel the wind on their skin, smell the greenery and interact with nearly imperceptible NPC's.
However, this euphoria doesn't last long as the realism comes at a cost – suddenly the game is harder to deal with than real life, but Hiroshi is so invested that he simply cannot leave it be.
Instead, he pursues finishing the game as though it was a life-or-death quest.
New Game!, AT-X (2017)
Follow Suzukaze Aoba after her high school graduation as she sets out to become a game designer at Eagle Jump Studio.
She quickly discovers that she will be working under one of her favorite game designers and this motivates her to work even harder.
The show is a light and fun animated look at what life is like at Eagle Jump Studios and follows our protagonist as she makes new friends, designs video games, and finds success.
Kamen Rider Ex-Aid, TV Asahi (2016 – 2017)
In a more apocalyptic vein, this series tells the story of a team of young doctors tasked with fighting the deadly Bugster disease – an invasive virus that turns its victims into monsters.
Under the orders of the Japanese Ministry of Health and Genm Corp (a gaming company), the crew explores their ability to turn into Kamden Riders using game cartridges and other retro video game tools.
Da Boom Crew, The WB (2004)
Another animated gem, Da Boom Crew, showcases the imagination of four very clever foster children.
Using their combined skills they design a video game set in space with alien terrorists and heroes.
However, the four are suddenly transported to a universe that is eerily similar to their imagined universe.
Quickly figuring out the game, the crew set out to find the missing video game cartridges linked to everything, all while doing their best two thwart the evil machinations of Emperor Zorch and his quest to take control of the dimension.
Code Monkeys, G4 (2007 – 2008)
Set in the 1980s, Code Monkeys follows two protagonists with vastly different personalities as they work at the fictional video game development studio, GameaVisiom: slacker Dave, and Jerry (the hard-working anxious one).
Code Monkeys employs stoner humor mixed with a dash of crude in this fan-centered show.
With cameos from well-known video game designers and an animation style that looks like an 8-bit game, the show is a visual feast with gamers from all decades.
One common plot thread is that the video game designers often pitch games to the studios that we the audience know will become famous (ala Pac-Man), but in this universe, the creators are laughed off with insults to boot.
High Score, Netflix (2020)
Of course, with all these fictional takes on the video game industry, it only makes sense to talk about something a little more realistic.
High Score is a docuseries that charts the rise of video games.
A wonderful blend of animation and real–life interviews, we get a look at the games that shaped the 80s and 90s.
Fans of old-school games will instantly recognize the host of the show as the voice Mario from the hugely successful and influential Mario Brothers franchise.
Black Mirror episodes featuring video games or virtual reality
Season 5 Episode 1 "Striking Vipers"
Taking on a darker tone, as Black Mirror is often one to do, season 5 of the show opened with an incredibly poignant look at the line between reality and virtual reality – and how these lines may blur sexuality, friendship, and love.
When Danny Parker is reunited with his old friend Karl, the two begin playing a new installment of their favorite game, Striking Vipers X.
This time the game incorporated virtual reality, and allows the players to experience every sensation that their characters are exposed to.
After only brawling and having a laugh at first, the two friends begin a sexual relationship that only seems functional in a virtual space.
We see our protagonist suffer the real-world consequences of this, as he becomes more withdrawn from his relationship with his wife Theo, finding arousal and stimulation only in the game.
Black Mirror is often known for remarkable twists and we don't want to spoil things here, but we will say that the episode asks very important questions about fidelity and sexuality.
Bandersnatch (special feature)
Keeping with the Black Mirror train, another episode that casts a dark reflection on society is the special feature Bandersnatch, which follows computer programmer Stefan Butler attempting to make a video game version of a "choose your own adventure" story he loves.
The feature is very meta, stopping periodically to ask us, the viewer, to make a choice via the TV remote, which could lead Stefan down a good path to make the perfect video game, or something more sinister.
At one point, one of the choices is to try and explain the concept of Netflix to someone in 1984.
This unique blend of storytelling and audience participation necessitates multiple watches in order to see every possible ending.
Season 3 Episode 2 "Playtest"
This episode looks at an augmented reality horror video game that is in pre-production and tunes itself to the specific fears of the gamer.
In this story, Cooper ignores his family obligations in order to try out this new technology, but the line between reality and augmented reality begins to blur as it becomes increasingly clear why this game is still in the playtest phase.
This is a distressing and uncomfortable episode that delves deep into what fear actually is, and will keep the audience guessing the whole time.
Season 4 Episode 1 "USS Callister"
This episode follows the double life of Robert Daly, who by day is the CTO of a virtual reality company, and by night the captain of a spaceship in his own virtual world.
On board this spaceship are all the people he works with, who had their consciousness pulled from their DNA and then simulated in the virtual world – where they can never escape and are at the whim of Captain Daly, who hates all of them in real life.
Here he takes his anger out on them in his personal virtual space.
A new employee gets added to the virtual crew, but she isn't taking it lying down, and actively rallies the rest of the crew to escape the simulation and Daly's grasp.
This is a mind-bending roller-coaster episode that raises many questions about the nature of consciousness, and whether it can be copied, or uploaded to a game.
Season 3 Episode 4 "San Junipero"
Not every Black Mirror episode is all doom and gloom.
In season 3 episode 4, we follow Yorkie and Wes in a strange town that can only be visited once a week, where they fall in love.
It's slowly revealed that San Junipero is actually a virtual reality where the dead can live, and both Yorkie and Wes are elderly patients receiving end-of-life care, using their virtual selves to interact with each other.
This is much more lighthearted than the other episodes and is more of a promising look at how technology could one day allow everyone to live forever in a virtual paradise.