In some cases, families with working parents need to call in some extra help – and there's nothing wrong with that!
That's where nannies come in.
They're the unsung heroes who are there to make things just that much easier in the household by being there full-time, helping with housework, and especially with looking after the kids.
It's no easy feat, either, if you're basically manning the house.
We've got a list of the best TV shows about nannies to show us all what it takes to be one.
We've thrown in a few that feature babysitters, too! After all, they may not be around every day, but they're certainly great help when you need a nanny at the last minute.
It takes a certain skill set to be great with kids, and the nannies and babysitters on this list will show you exactly that!
The Nanny, CBS (1993 – 1999)
I would bet a good amount that CBS' pop culture classic The Nanny is the first show that came to your mind, and that's also why it's the first on our list.
Fran Drescher stars as Fran Fine, a Jewish-American bridal consultant straight out of Queens, New York.
Fate brings her to the doorstep of widowed British Broadway producer Maxwell Sheffield who ends up hiring her to be nanny to his three children: Maggie, Brighton, and Grace.
Though Fran's methods are out of the ordinary, her personality and (and iconic nasal voice) bring warmth and kinship back to the Sheffield household.
My Fair Nanny, STS (2004 – 2009)
With an icon like The Nanny, it's never a surprise when international adaptations pop up even several years after the original run has ended.
That's the case with My Fair Nanny, a Russian remake (still pioneered by Peter Marc Jacobson, who created the original, and Fran Drescher herself!) based on the American parent series.
In a similar vein, Viktoria Prutkovskaya is hired by a famous producer and widower, Maksim Shatalin, out of a desperate need for someone to help look after his three children.
Viktoria and Maksim's kids initially have an unfriendly relationship, but this soon changes – and so does her personal relationship with Maksim himself.
The Baby-Sitters Club, Netflix (2020 – present)
As a true blue 90s kid, I grew up on Ann M. Martin's The Baby-Sitters Club series of novels and its companion novels, Baby-Sitters Little Sister.
This reboot of the original 1990s series is an absolute gem that stays true to the source material while still making it relevant to the current social atmosphere.
The Baby-Sitters Club is set in Stoneybrook, Connecticut and centers on five young girls in middle school who establish a babysitting business for their neighborhood.
It tackles not just the difficulties they face as young entrepreneurs, but also their personal struggles with culture, gender, and identity.
Jessie, Disney Channel (2011 – 2015)
Next up is another series aimed at a younger audience as a Disney Channel original.
We all love to see a story of a small-town girl moving into a big city, and Jessie does just that.
The titular character Jessie moves from her home at a Texas military base to New York City where she accepts a job as a nanny for a wealthy, Upper West Side family.
The Rosses have four kids (three of whom are adopted) and a seven-foot-long Asian water monitor lizard, so Jessie certainly has her hands full at all times.
Luckily, she always has help from the family butler and their apartment building's doorman.
Melissa & Joey, ABC Family (2010 – 2015)
Having to raise your own kids is probably hard enough without a helping hand, so imagine how hard it is to have to raise someone else's – even if they are still family.
In ABC Family's sitcom Melissa & Joey, Mel Burke is a city councilwoman who suddenly becomes the sole legal guardian of her niece Lennox and nephew Ryder after their parents are hit with a family scandal.
Overwhelmed by the sudden responsibility and having to juggle family and her work in politics, Mel hires a former commodities trader in desperate need of a job, Joe Longo, as their "manny".
Country Comfort, Netflix (2021)
The newest of all the nanny shows on this list is Netflix's Country Comfort that premiered on the streaming service in early 2021.
Although the show only had one season, that makes it perfect to binge when you want something light and easy to watch.
Starring Katharine McPhee and Eddie Cibrian, Country Comfort follows Bailey, an aspiring country singer who becomes the nanny for a family of 6.
Ever since they lost their mom, the kids and their father, Beau, haven't been able to keep a nanny around for too long. But Bailey, who's their 10th nanny, looks to be up to the challenge.
And little does Bailey know, the family is musically talented, so by stumbling upon Harmony Hills ranch, she just might have found the band she's been looking for.
My Babysitter's a Vampire, Teletoon (2011 – 2012)
My Babysitter's a Vampire is a supernatural teen drama that premiered in both French (in Canada) and English.
The show's pilot was a television film of the same name where a solid backstory was established: Ethan Morgan, a geeky teenager, discovers that his babysitter Sarah is a vampire, he can see visions, and his best friend Benny is a spellmaster.
Picking up from this premise, the series follows Sarah, Ethan and Benny (occasionally aided by fellow vampires Rory and Erica) as they embark on various supernatural adventures and battle all sorts of creatures in order to protect their hometown.
Sam & Cat, Nickelodeon (2013 – 2014)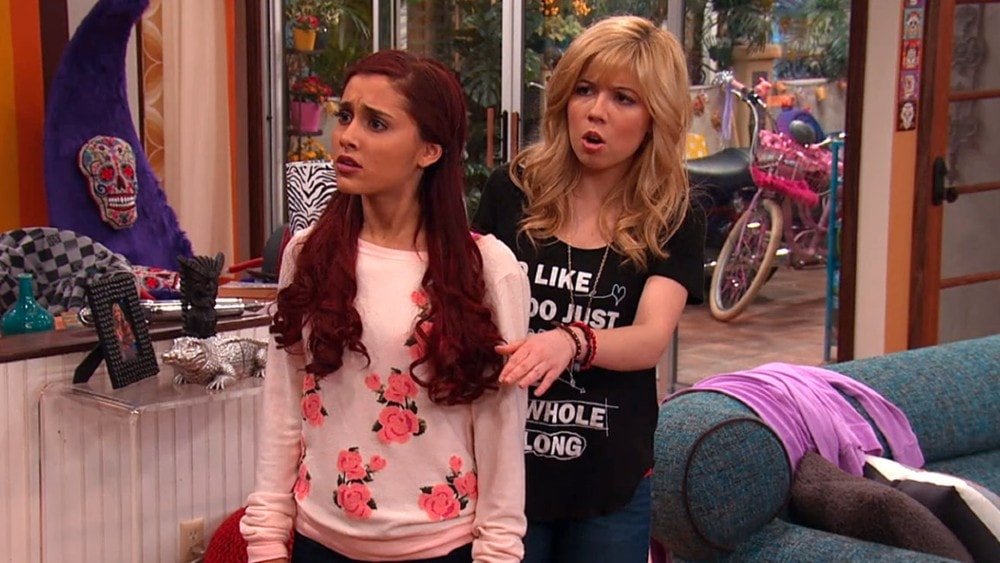 Sam & Cat is a spinoff of two very popular Nickelodeon shows, iCarly and Victorious, and brought in the characters of Sam Puckett and Cat Valentine, respectively.
After an extremely strange incident involving a garbage truck rescue that leads to the start of their friendship, Cat invites Sam to be her roommate since her grandmother has moved to a retirement home.
In order to make money, the two girls start their own after-school babysitting business (claps and snaps for another series with young entrepreneurs!) that often leads to all kinds of adventures.
Two of a Kind, ABC (1998 – 1999)
When it comes to the 90s' staple celebrities, we all know there's none other than Mary-Kate and Ashley Olsen.
Outside of all their films in this decade, they also starred in ABC's Two of a Kind where they assumed their typical twin trope roles: Mary-Kate Burke, a sports-minded tomboy, and Ashley Burke, a girly girl and straight-A student.
The twin sisters live with their widowed father Kevin, a college professor whose 26-year-old student Carrie Moore answers his ad for a part-time babysitter for the girls.
Kevin is against it at first, believing Carrie will only bring trouble, but the girls band together in a scheme to spark some romance between them.
Nanny and the Professor, ABC (1970 – 1971)
ABC comes in with another on this list but takes us all the way back to the 1970s.
Following the success of the Mary Poppins film of the 60s, Nanny and the Professor follows a similar plotline.
Phoebe Figalilly is a beautiful, young British woman who mysteriously shows up unannounced on the doorstep of the Everett household with the offer to become a nanny to the family's three kids.
Phoebe, who the Everetts take to fondly calling "Nanny", seems to have a very strong intuition that hints at almost supernatural, though her magical abilities are never confirmed nor denied unlike the more salient abilities of Mary Poppins.
My Heart is Yours, Canal de las Estrellas (2014 – 2015)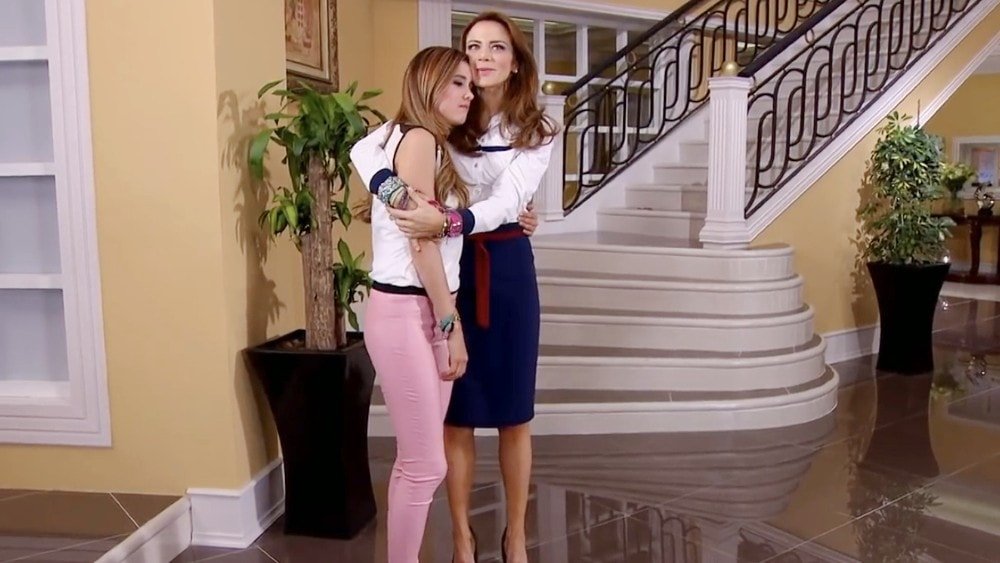 We've got another foreign language series with the Mexican telenovela My Heart is Yours, or Mi corazón es tuyo in the original Spanish title, which is also based on the Spanish series Ana y los 7.
The series follows the story of wealthy widower Fernando Lascuráin, his seven children, and the love triangle he gets caught in between Isabela, a beautiful economist (and socialite), and Ana, a struggling exotic dancer who he had hired to be his children's nanny.
Ana is hiding a secret that's put her in some financial trouble, however, which only further complicates matters in the Lascuráin household.
Who's The Boss, ABC (1984 – 1992)
In a setting rare for the 80s and the early 90s, ABC's Who's the Boss defies gender stereotypes and we love to see it!
Tony Micelli has been forced to retire from his career in Major League Baseball and he's now looking for a change in scenery with his young daughter, Samantha.
They end up in a swanky Connecticut neighborhood and Tony is hired as a live-in housekeeper for Angela Bower, a divorced advertising executive, and her son Jonathan.
They move into the Bower household, where the two families begin to slowly build a more familial personal relationship.
Family Affair, CBS (1966 – 1971)
In this late 1960s sitcom, we meet successful civil engineer Bill Davis – a perpetual bachelor living in New York City's Upper East Side with his British butler, Giles French.
Prior to the start of the series, Bill's brother and his wife were involved in a fatal car accident, leaving their three kids orphaned.
In a turn of events he never expected, his teenage niece Cissy and the younger twins Buffy and Jody are sent to live with him.
Both he and Giles – who is referred to often as Mr. French or just French – are flustered by the suddenly added responsibility but soon enough, they all become something more of a family than they expected.