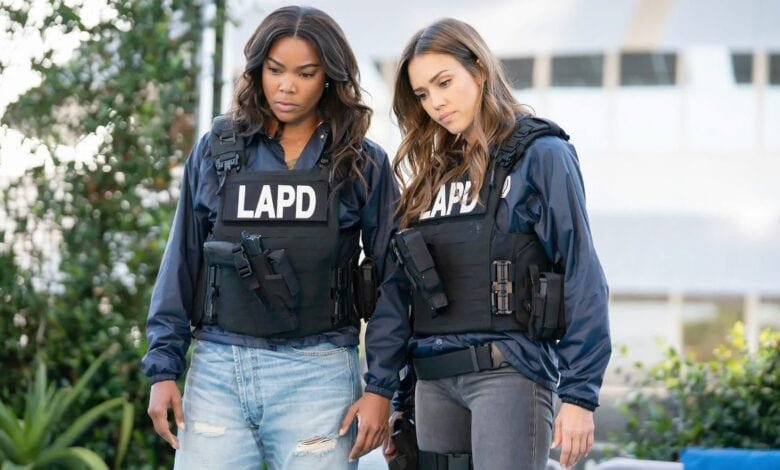 A good cop drama is a true comfort, in the same way, a good sandwich hits the spot when you need something familiar that only changes a little now and then.
In the world of television, the Los Angeles Police Department (LAPD) is a firm favorite location – as it seamlessly mixes Hollywood's glitz with the gritty reality of police work.
In a city as diverse and famous as Los Angeles, there's no shortage of neighborhoods, stories, and complexities to explore. Whether it is busting crimes in South Central, investigating a burglary in the swanky Beverly Hills, or making a literal deal with the devil, the hardworking TV detectives in our favorite LAPD shows are on the case.
With such a vast pool of ideas to pull from, we decided to get out our TV detective badge and track down the best shows about the LAPD, and we found that there is a plethora of both new and old shows.
NEWER LAPD SHOWS
S.W.A.T., CBS (2017 – 2023)
Starting strong we head into the hardcore world of S.W.A.T. where we meet former marine and S.W.A.T. Sergeant Daniel "Hondo" Harrelson – a lifelong citizen of the City of Angels and a deeply principled man who finds himself torn between his loyalty to his job and the people of LA too.
Hondo and his team are considered the "the last stop" in law enforcement, making their jobs high stakes and demanding.
Of course, this will spill into his private life as he finds himself suddenly appointed as the guardian of a teenager and a bridge between the politics of his fellow officers and the friends and family from the streets he grew up in.
Interestingly the show is a modernized version of a TV show from the 1970s and a feature film of the same name, proving that this genre definitely works!
The Shield, FX (2002 – 2008)
Lauded as one of the greatest TV series of all time, The Shield is police procedural perfection.
This Golden Globe award-winning show is set in the fictional Farmington district of LA where gang-related violence, prostitution, and drug deals are a daily reality.
The experimental unit of detectives and officers who make up the cast of The Shield set up their task force, aka Strike Force, in a converted church they call "The Barn".
Here we are introduced to the Strike Force members, including Detectives Mackay and Vendrell.
Using their force and underground connections, the team often straddles the line of legality to extract information from their targets.
Their methods may be controversial but their success rate makes their higher-ups look the other way – asking the question: where do we draw the line on morality for the greater good? How long can Mackay and his Strike Force operate this way until internal affairs investigators catch up with them?
Southland, NBC (2009 – 2013)
Not shying away from the gritty reality of police work, Southland shows us the conflicts and dramas of life as an LAPD patrol officer or detective.
This show is decidedly more character-driven and tends to ignore the typical police procedural format in favor of creating a relationship between the audience and these often flawed characters.
Southland is not afraid to show how complex the work of the LAPD can be, often tackling topics like corruption, gang life, and the impact of drug abuse.
It also delves into the personal lives of the characters, taking on themes like sexuality and the toll such intense exposure to the darker side of life may take on a person.
The Rookie, ABC (2018 – present)
Are you ever too old to follow your dreams? For our protagonist John Nolan, the answer is a clear no, as he moves to Los Angeles to become a police officer at the age of 45 after his divorce.
He may have graduated from the police academy as the oldest rookie on the force, but his life experience, patience, and sense of humor allow him to stand out from his peers.
While many doubt him at first, thinking he is going through a midlife crisis, he begins to win everyone over with his knack for police work.
Interestingly, the show is actually based on real events, as it draws from the life of Los Angeles Police Department officer William Norcross, who followed a very similar path in his 40s.
The Closer, TNT (2005 – 2012)
Meet Deputy Chief Brenda Leigh Johnson, who brings her skills as an interrogator from the CIA to her new job at the Priority Homicide Division of the Los Angeles Police Department.
Easily underestimated by her Southern accent, she quickly builds a fearsome reputation through her unusual tactics for getting confessions, earning her name as the Closer.
She and her team take on complex homicide cases that often hinge on a witness or confession, and though she may clash with the politics of her co-workers due to her unique methods, she gets the results needed.
The show is highly acclaimed with a loyal fanbase that appreciates its takes on not only the standard procedural show but also the look at the lives of the officers and their familial, religious, and political influences.
Major Crimes, TNT (2012 – 2018)
A spin-off from The Closer, Major Crimes allows Captain Sharon Raydor to take over as head of the Major Crimes Division.
However, her arrival breeds some distrust among her squad members owing to her time as a former internal-affairs investigator.
Now that she is on the ground with the squad, she learns first-hand how interference from higher-ups can compromise a crime scene or make an investigation difficult.
Whether it is her own rules she created as the head of the Force Investigation Division or the cost-saving strategy that favors deals instead of confessions from violent criminals, she begins to understand how bureaucracy can break a system.
However, the show still delivers a crime-solving buzz for viewers as the team uses advanced forensic science techniques and by-the-book detective work to take down violent criminals.
Bosch, Amazon Prime Video (2014 – 2021)
Based on the novels by Michael Connelly, we meet LAPD detective Harry Bosch who possesses a principled set of morals that makes him an uncompromising investigative force with his head fixed on serving justice.
As he navigates the darker side of Los Angeles, we learn more about him as a character and how his personal demons propel his investigations.
As a Vietnam War vet, he brings a hardened character to the screen who has a relentless need to find the truth, and though he may not always be the most likable man in the room, he makes quick work of the corrupt world around him.
Each season weaves together storylines from various novels that feature the character, and in season 1 the primary storyline is the hunt for the killer of a 13-year-old boy, while our protagonist is on trial for the murder of a serial killer!
Lucifer, Netflix (2016 – 2019)
Not even the LAPD is free from the odd supernatural twist or two, and what happens when angel-turned-devil Lucifer Morningstar decides to take up a hobby as a sidekick to a detective?
Having become bored with life as the Lord of Hell, Lucifer Morningstar moves to Los Angeles and opens a nightclub, and soon after he finds himself embroiled in the life of Detective Chloe Decker.
Using his unique ability to ascertain people's deepest desires, he helps her solve a variety of complex cases, while also learning more about humanity, quickly growing to appreciate them.
This sets the stage for a much larger plot that sees him navigating the world of celestials and mortals, while also coming to terms with who he really is.
The show is packed with dark humor but also takes on the search for identity, meaning, and love, albeit in a very supernatural setting.
As Lucifer himself put it: "Crime solving devil – it makes sense, don't overthink it."
Life, NBC (2007 – 2009)
Meet Detective Charlie Crews, who returns to life on the force after 12 years in prison for a crime he never committed following DNA evidence proving his innocence.
As he sets out to uncover the real reason behind his wrongful conviction, he also takes on a variety of new cases with his partner, Detective Dani Reese.
However, readjusting to the world comes with its own challenges, and he takes a uniquely philosophical approach to his work.
He now practices the philosophy of Zen and has an obsession with fresh fruit, which was a rare delicacy in prison, which definitely draws attention to him and makes him a rather odd detective.
Notably, his quest for justice is truly altruistic as he was awarded a hefty settlement for his wrongful conviction and he chooses to come back to work for the LAPD.
Tommy, CBS (2020)
In Tommy, we follow Abigail "Tommy" Thomas, the first female Chief of Police in Los Angeles.
Preceded by her reputation as a feminist icon in the NYPD, she accepts the position after a federal judge's ruling that the LAPD needs a female police chief.
With her she brings her tough New York skin and personal demons, however, she is determined to rise above the challenges presented to her daily.
She also connects with her daughter and granddaughter who now reside in LA and comes out as gay.
Throughout her job, she creates a trusted inner circle of squad members who help her navigate this new landscape and take on the daily reality of crime in Los Angeles.
Law & Order: LA, NBC (2010 – 2011)
Taking a page from the original TV juggernaut that is Law & Order with its 20-year run on TV, we set our sights on LA where we meet a dedicated team of detectives and prosecutors trying to reign in the criminals of Los Angeles.
As is trademark with the Law & Order franchise we see both the procedural police side of the story and the courtroom drama that accompanies a successful investigation.
Whether taking down murderers, solving a burglary, or investigating a drug ring, these dedicated men and women do their best to maintain law and order in LA.
Though it only ran for one season, the show has garnered a following that would love to see another season, and we can only hope that happens!
Angie Tribeca, TBS (2016 – 2018)
Amid all of the procedural seriousness, it is refreshing to see a sitcom make an appearance.
In Angie Tribeca, we follow a hilarious parody of the police drama genre, as we follow Detective Angie Tribeca and her refreshingly quirky team at the LAPD's Really Heinous Crimes Unit.
If that does not set the tone enough, let's expand.
The show is full of visual gags, one-liners, and off-the-cuff character quirks.
Angie takes her job seriously though, and tries her best to solve the crimes she and her unit come in contact with, however, that does not make her immune to the occasional fourth-wall break and joke.
The show is definitely a spoof of many police drama tropes and does a fantastic job playing with these ideas in an entirely absurd and surreal setting.
Gang Related, Fox (2014)
As the tagline for the show reads "every here has a dark side" and in Gang Related, we quickly learn that.
Though he is a very dedicated cop and law-abiding cop most of the time, Ryan Lopez cannot escape his past connection to gang boss Javier Acosta.
While working for the LAPD Gang Task Force, he finds himself torn between the duty he is sworn to and the allegiance he has toward his gang relations.
As a child after losing his parents, Ryan was adopted by the Acostas, the head of the feared Los Angeles gang, who raised him to go undercover as a police officer and feed them information.
Living a dual life slowly starts taking a toll on our protagonist, and as he grapples with his loyalty to either side, he is also exposed to the reality of organized crime in Los Angeles and the moral complexity that comes with blurring the line between good and evil.
Lethal Weapon, Fox (2016 – 2019)
Based on the hugely popular film series, Lethal Weapon is the ultimate buddy cop genre staple.
Meet veteran Roger Murtaugh and the unpredictable Martin Riggs, as they are teamed up and form the most unlikely of partnerships to take on the criminal elements in Los Angeles.
One is by the book and the other is slightly more reckless and together they create a harmonious crime-busting machine.
Each learns from the other, as Roger learns to color outside the lines a bit and Martin adopts a newfound respect for the rules.
With oodles of witty banter and a heartwarming bond between two friends at the core, the show pays beautiful homage to the spirit of the original films while still giving it a modernized approach.
L.A.'s Finest, Spectrum (2019 – 2021)
Another successful film spin-off in the buddy cop genre, L.A.'s Finest is based on the Bad Boys franchise and focuses on Syd Burnett, a former DEA agent who teams up with Nancy McKenna, an LAPD detective who has seen her fair share of crime in Los Angeles.
The duo form a strong partnership and take on high-level cases together, while also navigating their familial bonds, personal demons, and life as a woman in the LAPD.
Though it often takes on serious topics, the show does uphold the sense of humor of the film franchise it derives from, making it an action-packed thrill ride with the odd joke added in.
The Protector, Lifetime (2011)
Life as a detective in the LAPD can be incredibly demanding, and for our protagonist Gloria Sheppard, she has to balance that with her personal life as a recently divorced single mother of two – twins to boot!
With the help of her brother in raising her sons Nick and Leo, she figures out life as the protector of both her boys and the city of Los Angeles.
During the day she takes on high-profile cases with her partner Michelle Ducett and after hours, she works on rebuilding her life one day at a time.
Stalker, CBS (2014 – 2015)
In Stalker, we meet the LAPD Threat Assessment Unit, a specialized division that takes on the often disturbing world of stalking and the toll it takes on the victims and detectives who have to engage with minds that are twisted enough to terrorize another human being.
Together Lieutenant Beth Davis teams up with newer task force member Detective Jack Larsen, who may be slightly reckless but possesses the insight to prevent a stalking case from escalating into something more gruesome.
What makes the show stand out is the fact that it truly delves into the mind of the stalkers, examining what creates them and how far a person will go to feel in control.
It can at times be very chilling to watch, but the intricacies of the show are worth every tense and nail-biting sequence.
Fastlane, Fox (2002 – 2003)
Not all crimes are solved in a straightforward procedural way, and in Fastlane, we meet the members of a secret LAPD division called "The Candy Store" which has its headquarters in a glitzy luxury mansion, where two undercover cops, Van Ray and Deaqon Hayes, pretend to be high-rolling flashy criminals.
The two report to their handler Billie Chambers and have a plethora of gadgets, cars, and knowledge at their disposal – it's like Charlie's Angels in Los Angeles. After all, as their motto says "Everything we seize, we keep. Everything we keep, we use."
The show lives up to its name, and features incredibly fast-paced action sequences, humorous moments, and suspense!
Though it had a short run, it has become a cult favorite with many looking up to the two strong leads and their adrenalized antics.
Robbery Homicide Division, CBS (2002 – 2003)
Shifting focus, we head to the Robbery Homicide Division (RHD) of the Los Angeles Police Department, where the team is tasked with investigating a plethora of high-profile cases that fall within their jurisdiction.
The show is known for its direct and intense approach, as Lieutenant Sam Cole drives his squad to a high standard when solving some of the worst crimes that take place in the city of Angels.
The show tried to achieve realism by having technical advisors on the set who brought their real-life experience to the writers, actors, and directors.
This has earned it acclaim for its incredibly nuanced look at the criminal investigation, evidence-gathering techniques, as well as the dynamics between team members.
Awake, NBC (2012)
With an incredibly fascinating premise, Awake takes us into a science-fiction world of parallel universes.
When Detective Michael Britten is in a terrible car accident, he finds himself living in two realities – one where his wife survives, and one where his son survives.
While he grapples with the two realities, he tries to unravel which is the real reality and which might be a dream.
Either way, he still continues to solve cases as a Detective in both worlds, while looking for clues as to his own mental state and the reality of it all.
Each time he gets out of bed, he switches realities and in each world, he finds small differences that offer him guidance.
Interestingly, he is also able to use information from the two different realities to solve his cases, meaning there is a link between them.
This is a truly fascinating show that demands a rewatch to put the clues together.
Raines, NBC (2007)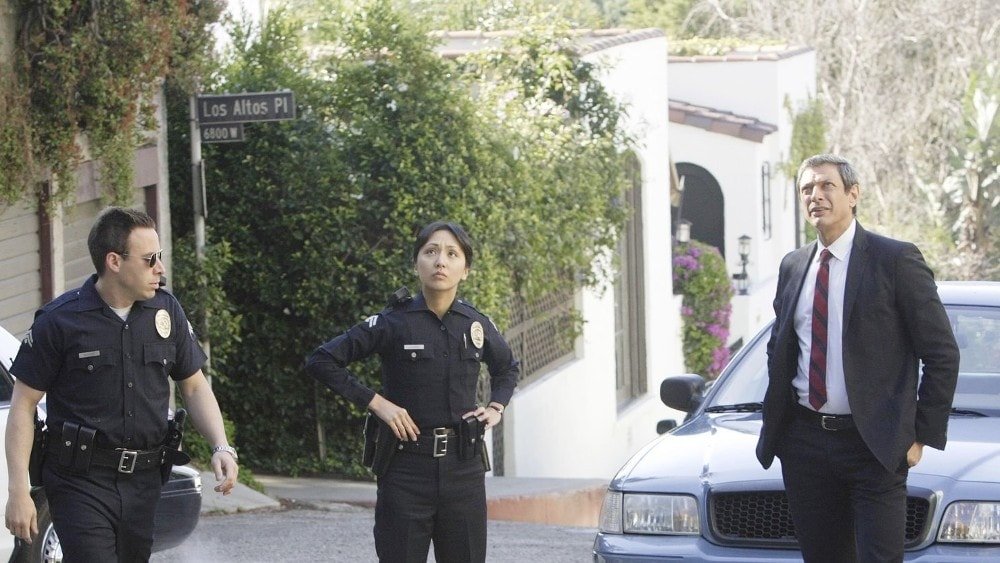 Meet Detective Micheal Raines, portrayed by the legendary Jeff Goldblum, an LAPD detective who has the unique ability of being able to interact with, and see visions of the murder victims he comes in contact with.
In each episode, he uses these visions as his sounding board for his theories about the case and gains a unique insight into the lives of the victims, illuminating potential clues that may have been missed otherwise.
Once the case is solved, the visions leave him, however, over time, they begin to take a toll on him and his relationships, as his sanity is questioned by those around him.
Common Law, USA Network (2012)
Meet detectives Travis Marks and Wes Mitchell, two law enforcement officers in the Los Angeles Police Department's Robbery-Homicide Division who cannot stand each other, despite being paired up as partners at work.
While Marks relies on charm and is a little wilder, Mitchell is a former lawyer who brings meticulous perfectionism to the job.
This inspires their Captain Mike Sutton to arrange for them to see a couples therapist, Dr Emma Ryan.
As the two attend their weekly sessions, they begin to learn to work together and apply their therapy techniques to solving cases.
The show is a fun procedural comedy with a twist of drama and a focus on the value of partnership.
Mob City, TNT (2013)
It's about time we take a trip to the neo-noir genre, and in Mob City, we are told the true story of the conflict between the LAPD and the Los Angeles Mafia Operations, led by Bugsy Siegel.
Set in the 1940s, 1947 to be exact, we see flashy cars, movie stars, and corruption at its height, as the mafia had its hand in almost every lucrative pocket in the city.
Here we follow police officer Joe Teague, a former Marine and now an LAPD detective, who tries to follow the letter of the law while still getting caught in the crossfire of the mob wars.
Can he make a difference in the rampant organized crime he uncovers, or will he also blur the line between criminality and legality when money starts talking?
The show has a wonderfully gritty atmosphere that sucks you in and places you right in the middle of the glamour and gore that marked this historic period.
Training Day, CBS (2016)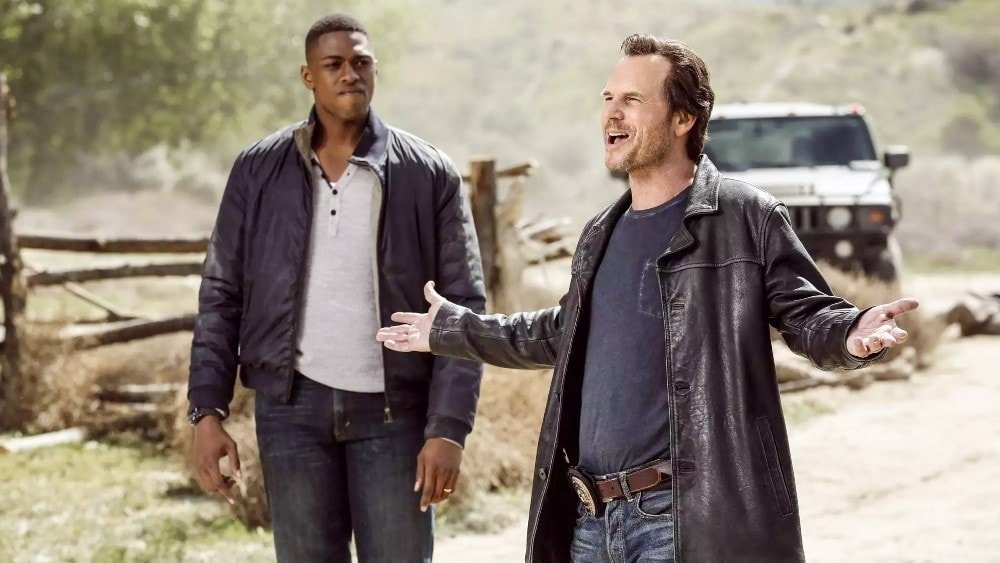 Set 15 years after the events of the blockbuster film by the same name, Training Day focuses on Detective Frank Rourke who has a morally ambiguous approach to his job that may be considered a little… unorthodox.
When he is partnered with Kyle Craig, suspicions rise, as Kyle is tasked with the job of reporting back to internal affairs about his new partner.
As the two begin to work together, Kyle is put through his paces as Frank shows him how dark the corruption of law enforcement can be, as well as pushing his boundaries.
Is Frank truly corrupt or is he just a product of the world he operates in?
Rush Hour, CBS (2016)
This action-comedy series is based on the highly popular film series of the same name and this time we follow the partnership between Detective Lee, a Hong Kong detective with a history in martial arts, and Detective Carter, a streetwise and sometimes tactless LAPD detective.
The two unlikely partners take on solving crimes in Los Angeles and are often dragged into dangerously humorous situations that require teamwork to solve.
Whether it is Carter using his knowledge, or Lee taking down an assailant with his martial arts skills, the two learn to work harmoniously and respect one another.
The show really does pay homage to film series while bringing its own voice to the table.
Death Valley, MTV (2011)
One of the more absurd but hilarious takes on the police procedural genre, we head into the mockumentary Death Valley.
Meet the members of the Undead Task Force, who have to keep the recent invasion of werewolves, vampires, and zombies that descended on The Valley in check.
Using a clever mix of handheld footage, interviews, and fourth wall breaks, the satirical show creates a comedic journey into the underworld as our protagonists treat their unusual job as just another day at the office.
Whether breaking up a sex-for-blood ring, corralling unruly werewolves during a full moon, or dodging zombie bites, these men, women, and their "documentary crew" are hot on the trail of these supernatural pests.
9-1-1, Fox/ABC (2018 – present)
Delve into the lives of the men and women who are first on the scene when someone calls 911, whether that be LAPD police officers, LAFD firefighters and paramedics, or the 911 call center dispatchers on the other end of the line.
This high-pressure environment isn't for everyone and only a select few can handle the stress from being caught up in such intensely shocking and frightening situations.
The unique format of the show means that each is centered on numerous interconnected storylines that span many emergencies.
We the audience get to see the characters deal with these extreme situations while also being given a glimpse of the immense toll it takes on their personal lives.
It gives a face to the voice on the other end of the line when you dial 911.
OLDER LA COP SHOWS
L.A. Heat, TNT (1996 – 1999)
At the SIS or Special Investigation Section, we meet Los Angeles Police Department detectives, Chase McDonald and August Brooks, a kick-ass duo who take on numerous criminals in the course of their careers – whether drugs, organized crime, or even murder.
While Chase is a little tougher and looser in the application of the rules, August brings balance to him through his level-headed and analytical approach to their cases. In their free time, they couldn't be more different as well, as Chase makes metal sculptures and August runs a youth center for underprivileged teenagers.
The show actually enjoyed a long run of international success, even beating out Baywatch in Germany, before it found its audience in America – airing nearly three years after its production concluded.
Martial Law, CBS (1998 – 2000)
Sammo Law, a well-respected police officer in Shangai, China, is transferred to the LAPD where he experiences quite the culture shock.
Here he is tasked to track down a crime boss as well as a missing undercover cop by his government.
After his arrival, he soon finds himself partnered with a pair of police officers and realizes that his short mission might just be turning into a long stay.
As he and his new squad members take on the criminal elements of Los Angeles, he brings his knowledge of martial arts to the fold which helps them apprehend more suspects.
Will he ever go back? Or is he happier with the LAPD?
T. J. Hooker, ABC (1982 – 1986)
This TV classic stars the iconic William Shatner in the titular role of T.J. Hooker, a police sergeant who returns to the job of a uniformed patrolman in order to make a bigger difference on the ground following the traumatic murder of his partner.
As he always maintains, he would rather be out there battling crimes instead of pushing pencils.
The man is tough as nails and is there to teach the younger recruits in the force what it means to be a man of the law.
His young partners take on his wisdom and take on a huge variety of crimes, whether they are high-profile cases or simple street offenses.
Adam-12, NBC (1968 – 1975)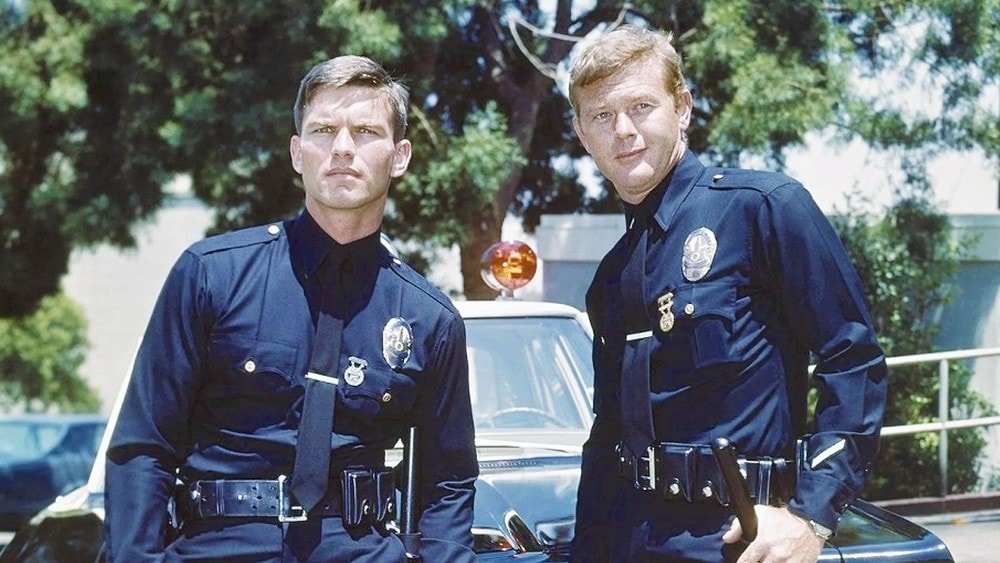 With its impressive run-time, this classic follows the daily lives of officers Pete Malloy and Jim Reed on their patrols on the streets of LA.
It is almost a prototypical police procedural as each episode focuses on a new case or call for service.
The series starts with Malloy on the brink of retirement on his final field assignment to train up the younger Reed.
Though he may stray from the books, Malloy sees huge potential in Reed and decides to delay his retirement to guide the youngster through his probation period.
The show then follows the two as they encounter numerous crimes in Los Angeles, from routine traffic violations to more serious crimes like domestic disputes.
Hunter, NBC (1984 – 1991)
Meet Sergeant Rick Hunter of the LAPD, who is relentlessly focused on the pursuit of justice with his partner Detective Sergeant Dee Dee McCall.
Together the two of them solve a number of cases, while occasionally bending the rules to achieve their goals.
Both are tough in their own way and use their renegade attitude to crack down on the seedy underbelly of the Los Angeles crime scene.
The show enjoyed a brief revival in 2003, during which the duo took on San Diego.
Police Woman, NBC (1974 – 1978)
Police Woman follows Sergeant Suzanne "Pepper" Anderson who makes history as one of the first female police officers in the LAPD.
In her time with the force, she becomes an undercover officer in the Criminal Conspiracy Unit, often assuming the role of a non-threatening female occupation in order to get close to the suspects and gather enough information to arrest them.
Whether she's a flight attendant, prison inmate, or waitress, she blends in easily and gets the job done, and proves that this police woman is a force to be reckoned with!
Columbo, NBC (1971 – 2003)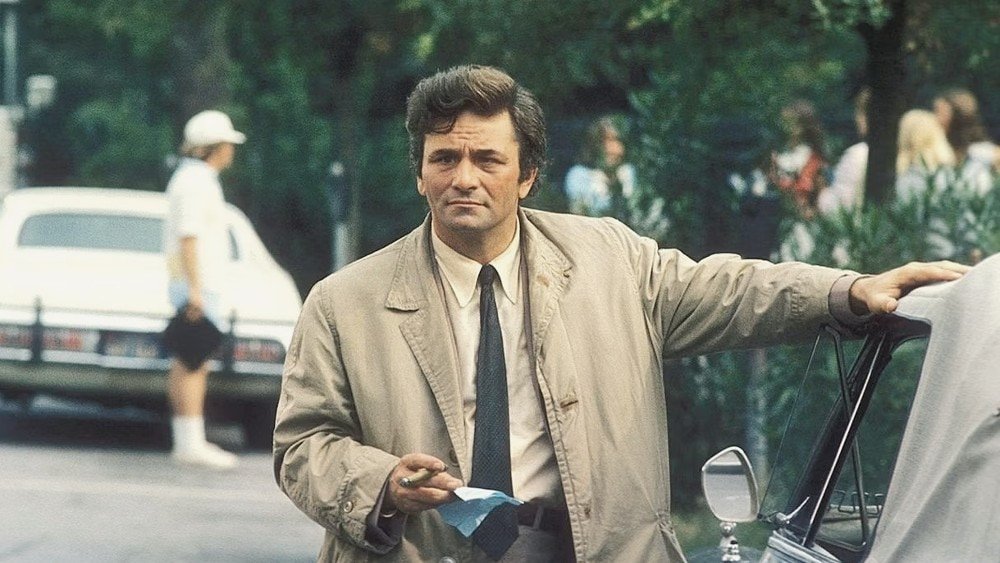 Perhaps one of the most famous law enforcement officers to grace the screen, Lieutenant Columbo was known for his unassuming and kind nature while coming across as slightly disheveled in his signature coat and cigar.
However beneath that was a shrewd intelligence, often catching criminals off guard with his gentle "Just one more thing" when getting ready to break open a case with a very pointed question.
What made the show unique though is that it was the inverse of a traditional detective show, where the audience knew who the killer was and watched as Columbo unraveled each clue until he found his culprit.
Over the years the show has garnered an international cult following and received high praise for the intricate plots and the inviting dynamic between the characters.
Dragnet, NBC (1951 – 2003)
A show that just won't quit, Dragnet has had numerous runs on television, from 1951 to 1959, the 1960s, 1980s, and even as recently as the early 2000s.
In the show, we meet Joe Friday, a dedicated LAPD detective who works together with his fellow officers to maintain law and order through his no-nonsense attitude and deep reliance on the facts.
What makes the show so unique is that most episodes were based on real cases and tried their best to portray police work in the most realistic way possible with each episode famously opening with the iconic "Ladies and gentlemen the story you are about to hear is true".
The show truly set the tone for what a police procedural should look like and gave credit to the brave men and women to take on the job of law enforcement.
Burke's Law, ABC (1963 – 1995)
Meet Amos Burke, a sophisticated man with a knack for solving crimes.
Despite his own wealth as a millionaire, he prefers to work for the LAPD and focuses on high-profile murder cases.
Amos possesses a unique wit and charm, as well as the resources to blend into the elite worlds he often has to investigate – the man is chauffeured to his crime scenes!
With a delightful blend of mystery, humor, and a touch of drama, the show features self-contained murder mystery episodes that sometimes would feature celebrity guest stars.
Police Story, NBC (1973 – 1977)
In Police Story, we take on an anthology format where each standalone episode focuses on a new story with new characters in one of the many divisions of the LAPD.
Many of the episodes would actually draw from real-life events and try their best to give us a realistic look at the reality of police work.
Though it was an anthology series, there were some familiar faces, such as Vinnie the retired cop who appeared in at least 16 episodes, or Robbery-Homicide Division partners Tony Calabrese and Bert Jameson.
The format made the show unique among a sea of police procedural peers and allowed the creators to be a bit more experimental with their storylines and approaches.
David Cassidy: Man Undercover, NBC (1978 – 1979)
Meet undercover police officer Dan Say, and follow along as he uses his skillset to infiltrate numerous underground organizations in an effort to gather enough information to arrest them.
With his experience working for the Organized Crime Unit, he can easily assume new identities, especially as he looks much younger than he is.
Within the show, we also see the psychological toll the job takes on Shay, as well as the moral challenges he is met with.
Where is the line when you're pretending to be a criminal?
Jigsaw John, NBC (1976 – 1977)
Using his remarkable wit, intelligence, and out-of-the-box thinking, Detective John St. John is known for putting clues together much like a jigsaw puzzle, earning him the moniker Jigsaw John.
During his time with the LAPD, he solves a number of bizarre cases in a series of self-contained episodes, while we also learn more about his personal life and his love of Chinese food for breakfast.
The show, which came from the film They Only Come Out at Night, also introduces us to his girlfriend Maggie Hearn, and his young partner on the force, Detective Sam Donner.
Alien Nation, Fox (1989 – 1990)
Turning our gaze to a more extraterrestrial genre, we meet Detectives Matthew Sikes and George Fransisco.
In a world where humanoid aliens, also called Newcomers crash land in the Mojave Desert looking for refuge, Matthew and George (who is an alien) work together in the LAPD Alien Squad.
What makes the show interesting is that it takes on the topic of prejudice and immigration and uses the lens of sci-fi to investigate it.
Consequently, the episodes often have a moral message related to racism or bigotry.
It also often inverts expectations which pokes fun at what it means to be a human being – such as our fear of aging when compared to the extended lifespan of a Newcomer.
Paris, CBS (1979 – 1980)
Meet Captain Woody Paris, played by the legendary James Earl Jones, who takes on the role of a supervisor to a group of rookie detectives.
While we see his daily duties corralling his group of recruits, the show also focuses on his personal life and his job as a professor of criminology at a local university.
Instead of being a standard procedural show with a case of the week, Paris focused on the man himself as well as the relationships he found himself in.
It also showcased the moral weight of being a leader under pressure from higher-ups who take a more ambiguous approach to doing the right thing.
Sam, CBS (1978 – 1979)
How could we talk about the LAPD without saluting the best of the best, the canine officers who bravely assist their partners on the job?
In Sam, our titular protagonist is a golden Labrador Retriever who works with Officer Mike Breen to bring down smugglers and bomb threats while also assisting in rescuing people.
Using his superior sense of smell, sight, and insight, he shines on the force, much to the delight of his fellow officers and us, the viewers.
Enos, CBS (1980 – 1981)
As a spin-off from the cultural phenomenon that was The Dukes of Hazzard, Enos focuses on Enos Strate, the former deputy sheriff of Hazzard County, who finds himself in the city of Angels employed by the LAPD.
Along with his partner Truk Adams, each episode opens and closes with Enos writing a letter to Daisy Duke telling her about his adventures.
As he tries to adjust to life in the big city, he finds himself in numerous humorous situations as he faces down unusual criminals and the obstacles that come with the culture shock of working for such a huge police department.
Joe Forrester, NBC (1975 – 1976)
Experienced officer Joe Forrester patrols the streets of Los Angeles taking on numerous challenges as a man of the law.
In the show, we take a look at his day-to-day duties on the force and the impact it has on his personal life.
What stands out is that Joe has a great community behind him including his fellow officers and the citizens he encounters, making the show more character driven.
Interestingly, Joe Forrester is a character that first appeared in Police Story, another show on our list.
Cop Rock, ABC (1990)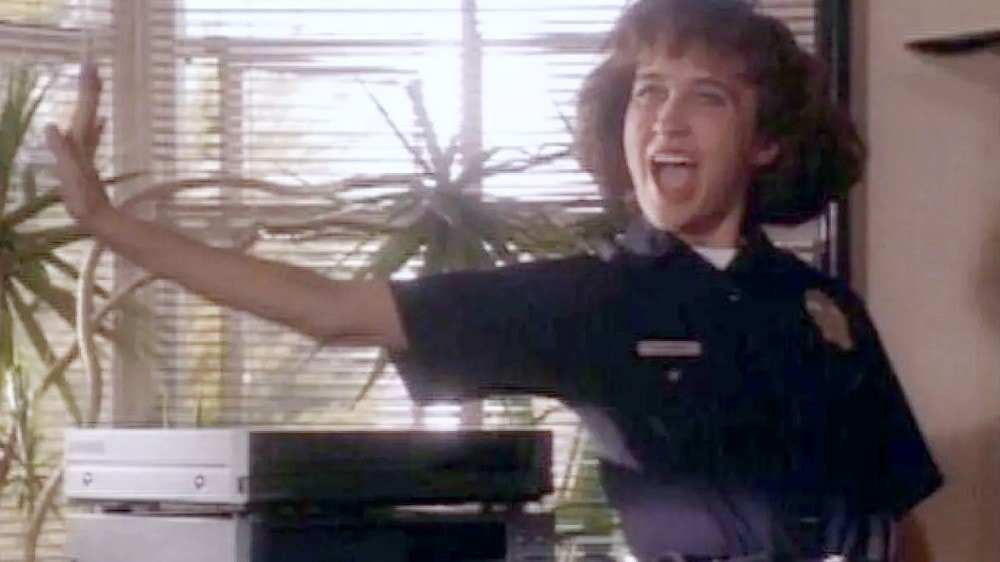 Ending a more experimental note we look to Cop Rock, which turns the standard police procedural drama into a musical.
Follow the lives of numerous police officers, criminals, and lawyers as they navigate their way through the world one beat at a time.
The show used original songs to drive the storylines along and often commented on the political landscape of the time.
Though it did not immediately draw an audience, it has since found a dedicated audience who appreciate its unique format and willingness to push the boundaries of television as we know it.