Let me guess: you're probably here because you're somewhat of a true crime junkie, right? Maybe the podcasts on your regular rotation are getting way too real so you need to take a bit of a break from real-life crime.
However, since you love the genre so much and can't stay away, you decide that a fictional, scripted show about serial killers is the best kind of breather from true crime. Is that accurate? Yup, that sounds exactly like me, too.
The reality of crime and serial killers can be pretty terrifying when the podcast you're listening to or the docuseries you're watching really gets into the nitty-gritty of things.
On the other hand, when you're watching a scripted TV show about the same subject, the absurdity and unrealistic aspects of it take over and for a second, you kind of forget that serial killers do actually exist and have committed atrocious crimes in the past.
Sometimes, these shows even attempt to delve into the circumstances that led to the killer's proclivity for, well, killing, as well as the possible psychosis that has affected their minds.
Other times, these shows go down the procedural path and show the viewers the process by which these killers get caught and apprehended. Either way, series about serial killers can get really fascinating!
With that being said, we've put together a master list of the best TV shows about serial killers to satisfy that true crime junkie in you – without bringing the paranoia of an actual true crime!
Big Sky, ABC (2020 – present)
We're starting off with a recent premiere from ABC: Big Sky.
Cody Hoyt and Cassie Dewell are partners and private detectives who are investigating the case of two missing girls who were kidnapped somewhere along a remote highway in Montana.
After joining forces with Hoyt's ex-wife Jenny (also an ex-cop), they discover that these two girls aren't the only victims.
With their eyes set on a long-haul truck driver named Ronald Pergman, the team of investigators rushes to make sure that nobody falls victim to his crimes again.
Where to watch Big Sky:
Prodigal Son, Fox (2019 – 2021)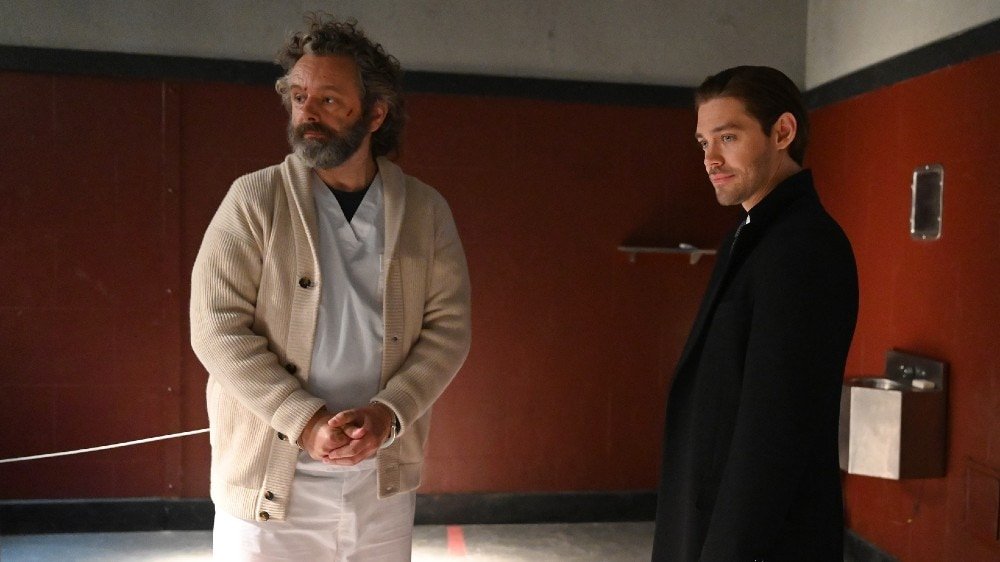 Fox's Prodigal Son is a procedural crime drama with an interesting take on the serial killer theme in mixing it with the biblical tale of the prodigal son.
It focuses primarily on Malcolm Bright, a former FBI profiler who now works as a consultant for the NYPD. Bright's reputation precedes him not just for his unique ability to look at crimes through the eyes of the killer, but also as the man who implicated his own father – Martin Whitly, or better known as the notorious serial killer "The Surgeon" – when he was a young boy.
Now estranged, Bright must return to his father to gain valuable insight when a copycat murderer begins his own rampage.
Where to watch Prodigal Son:
You, Lifetime/Netflix (2018 – present)
In Netflix's You, the main character Joe Goldberg seems like your typical nice guy but oh boy does he have a dark secret.
In the first season, he falls in love with a girl he meets at the bookstore where he works. However, the love quickly turns into a toxic obsession that has him stalking her and manipulating every aspect of her life so she falls in love, too. When their relationship turns sour, he kills her and it's assumed that the same happened to his ex-girlfriend.
In the second season, Joe is in a new town with a new name – and the cycle starts all over again. While the third season brings a twist – Joe is now married to Love, his season 2 obsession, and the two try to lead a normal life in a Californian suburb.
Where to watch You:
Ragdoll, AMC+ (2021 – present)
AMC+'s thriller series Ragdoll follows detectives as they investigate the gruesome murders of a serial killer that are connected to the work of another serial murderer.
The series starts with the discovery of the murder of six people that are dismembered and cobbled together into "The Ragdoll", a grotesque body made up of the body parts of the six victims.
As the detectives start investigating the case, the Ragdoll Killer starts taunting them with a kill list, a list of six more people he intends to kill. And one of the detectives, Detective Sergeant Nathan Rose, the same detective who caught the Cremation Killer two years prior only to have the serial killer set free because Rose cut corners during his investigation, is on the list.
So the first season of the series examines how the team of detectives rush to prevent more people from being murdered. While also unravel's Rose's past trauma and connection to the Ragdoll Killer.
Where to watch Ragdoll:
Dahmer – Monster: The Jeffrey Dahmer Story, Netflix (2022)
Jeffrey Dahmer (played by Evan Peters), also known as the Milwaukee Cannibal or the Milwaukee Monster, was one of the most notorious serial killers in the United States.
Between the years 1978 and 1991, he murdered seventeen men. And Netflix's new miniseries Dahmer – Monster: The Jeffrey Dahmer Story is a retelling of the crimes of this man.
Created by Ryan Murphy and Ian Brennan, the 10-episode show details Dahmer's crimes from the point of view of the victims.
What's interesting about this particular serial killer series is that, since nearly all of Dahmer's victims were men of color, Dahmer really emphasizes the impact systemic racism and institutional failures of the police had on this case and why Dahmer was able to continue his murderous killing spree for over a decade.
Where to watch Dahmer:
Mindhunter, Netflix (2017 – 2019)
Netflix's original Mindhunter is an absolutely fascinating series, especially if you have an interest in criminal profiling.
The series is set in the late 70s to early 80 when profiling was still in its early days at the FBI. Agents Holden Ford and Bill Tench spearhead the young Behavioral Science Unit with the help of psychologist Wendy Carr and together, they seek to further hone their knowledge in the field of criminal psychology and profiling in order to help solve ongoing and future cases.
To do that, they interview convicted serial killers like Ed Kemper, Jerry Brudos, David Berkowitz (Son of Sam), Dennis Rader (BTK), Richard Speck, Charles Manson, and a few others.
Where to watch Mindhunter:
The Alienist, TNT (2018 – 2020)
The Alienist takes us back to the late 19th century, where Teddy Roosevelt has just been appointed as police commissioner of New York City.
When a series of gruesome child murders rips through the city, he approaches Dr. Laszlo Kreizler and his team to help conduct a secondary investigation without the NYPD's knowledge.
Kreizler was known as an alienist – what we now know to be a criminal psychologist – whose expertise was in children with mental illnesses, and he uses both his knowledge and insights from previous patients to solve the murders.
The second season focuses on yet another killer, intertwined with the investigation into the kidnapping of a diplomat's daughter.
Where to watch The Alienist:
Dexter, Showtime (2006 – 2013; 2021)
To further the paranoia, Dexter reminds us in a way that serial killers could be hiding in plain sight, crossing our paths every day and we would never know it. That's certainly the case with Dexter Morgan – a forensic analyst specializing in blood spatter analysis by day, and a vigilante serial killer by night.
Traumatized by events in his early childhood, Dexter developed severe sociopathic tendencies that carried over into adulthood, manifesting in his persistent desire to kill. However, he was raised to channel those tendencies into a vigilante agenda that targeted criminals themselves.
If there ever was a perfect example of the saying "not everything is black and white," this would be it! And it's topped off with a good dose of unreliable narrator syndrome that makes things all the more complicated.
UPDATE: A 10-episode revival series titled Dexter: New Blood that sees the return of Michael C. Hall as the iconic character began airing on Showtime in late 2022!
Where to watch Dexter:
Rellik, BBC One/Cinemax (2017)
Rellik (which is "killer" spelled backward) tells the story of the hunt for a serial killer who uses acid to attack his victims.
On Rellik, we follow Detective Chief Inspector (DCI) Gabriel Markham, who survived an attack by the serial killer himself, and his team investigate the killer's crime in order to put the man responsible behind bars.
What's interesting about this series is that it's told in an unusual fashion by starting the series with the shooting of the suspected killer and then moving the story backward until it reaches the start of the events that lead to the shooting.
Where to watch Rellik:
Scream, MTV/VH1 (2015 – 2019)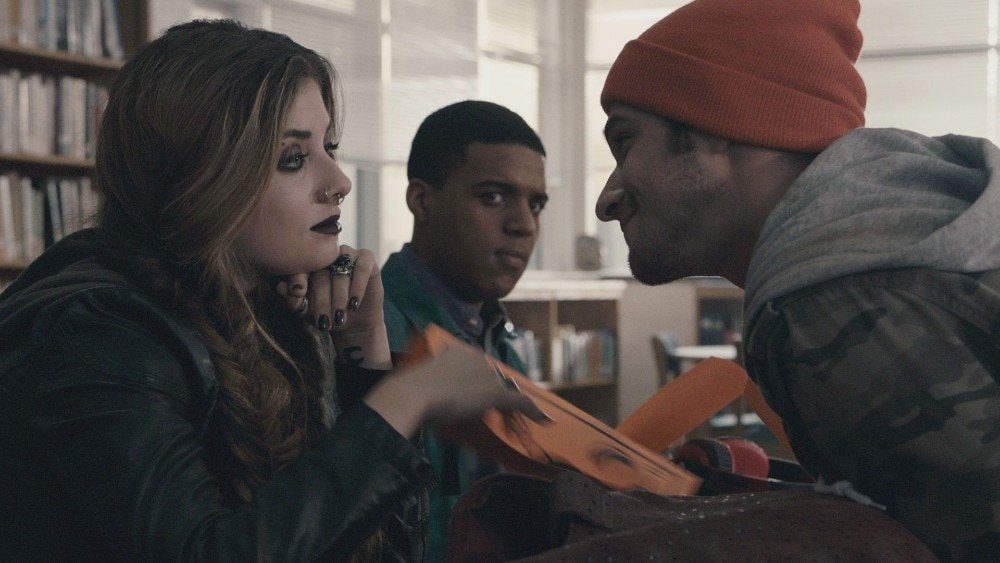 Fan of the Scream slasher film franchise? Then you'll love this TV series adaptation of it, too!
The Scream series doesn't connect to the events of the movie but uses the character of Ghostface to wreak havoc in its new setting of Lakewood.
Emma Duval, who is at the center of the first two seasons, finds out that her family has a dark secret that links to the horrific events in their town's history – the effects of which have continued to this day through a series of murders targeting Emma and her friends.
In the third season, Ghostface's killing spree continues in Atlanta, where he torments a young football player and his loved ones.
Where to watch Scream:
Bates Motel, A&E (2013 – 2017)
Yet another based on an absolute classic of a film, Bates Motel is established as the prequel to the 1960s movie Psycho – albeit reimagined in a modern setting.
Norman Bates has already been established as a disturbing character as an adult in the film and Bates Motel gives viewers a glimpse into his psyche as he was going through his teenage years.
His youth was tragic and traumatic, not to mention enveloped in a very strange, almost Oedipal relationship with his mother. That doesn't excuse his actions but through the show, we get to witness the circumstances that led to the shattering of his mental health and better understand why he turns into a killer.
Where to watch Bates Motel:
Marcella, ITV (2016 – present)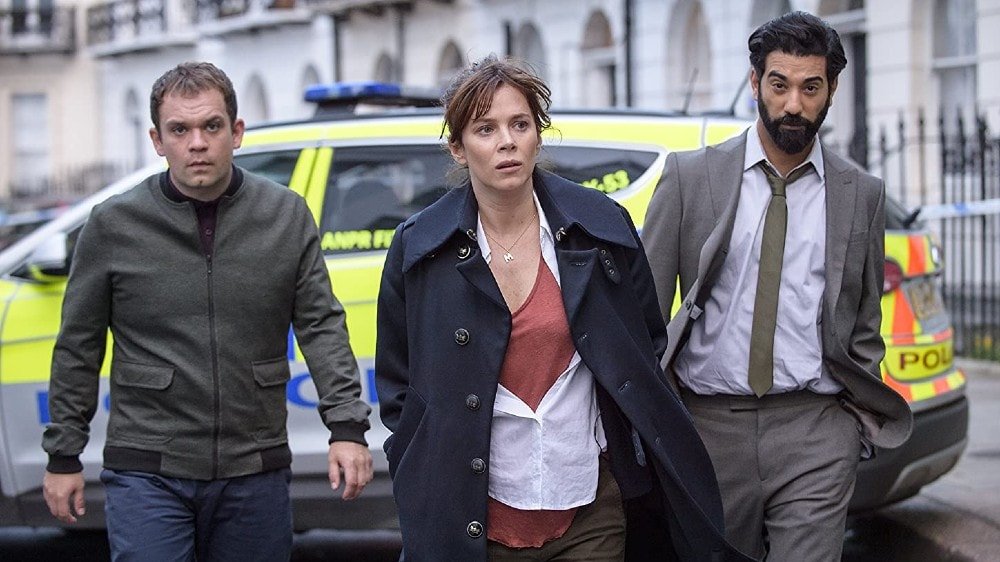 Marcella is a Nordic noir crime series that follows the narrative of a new serial killer with each season while also continuing the protagonist's overarching storyline.
Here, the protagonist in question is the eponymous Marcella Backland, a former detective with the London Metropolitan Police Service. After an unexpected upheaval in her marriage, she returns to work and channels her energy into investigating an 11-year old multiple murder case when the killer seems to have struck again.
The second season involves a series of child murders and at the same time, Marcella is battling with constant blackouts that lead to a decline in her mental health. While the third season saw Marcella go undercover in Northern Ireland to infiltrate a wealthy crime family.
Where to watch Marcella:
Perfume, ZDFneo (2018 – present)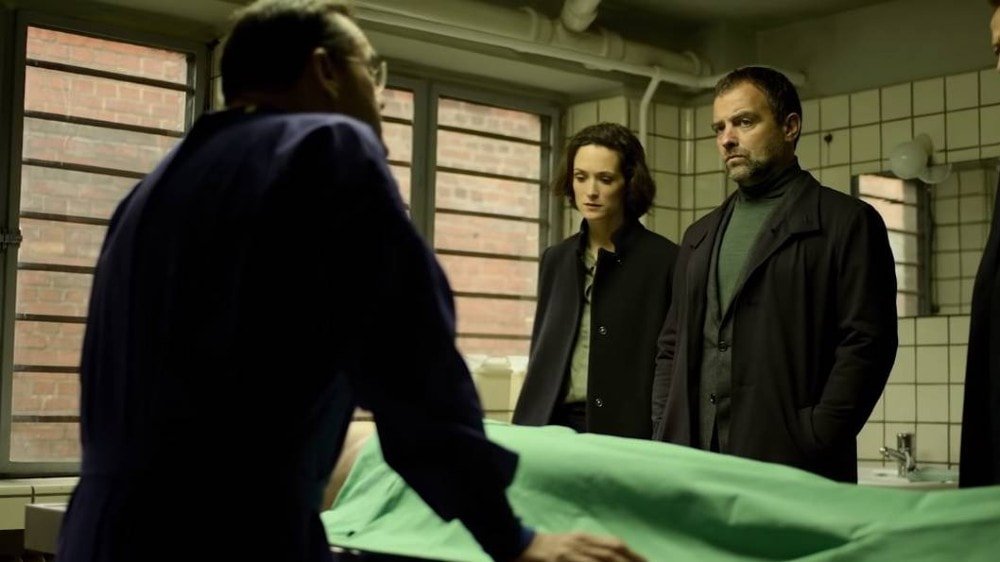 Inspired by Patrick Süskind's novel of the same name as well as the 2006 film adaptation, Perfume is a German psychological drama series where the serial killer is certainly unlike any you've ever heard of before.
Investigators Nagja Simon and Matthias Köhler are on the trail of a killer whose signature seems to be removing his victims' body hair. As strange as this seems, they find that their initial suspects used to experiment with human scents under the inspiration of the Perfume novel (an amazing, meta self-reference, too!).
Perfume explores the power of one's sense of smell and the destruction it can cause when the desire to chase a specific scent gets out of hand.
Where to watch Perfume:
Hannibal, NBC (2013 – 2015)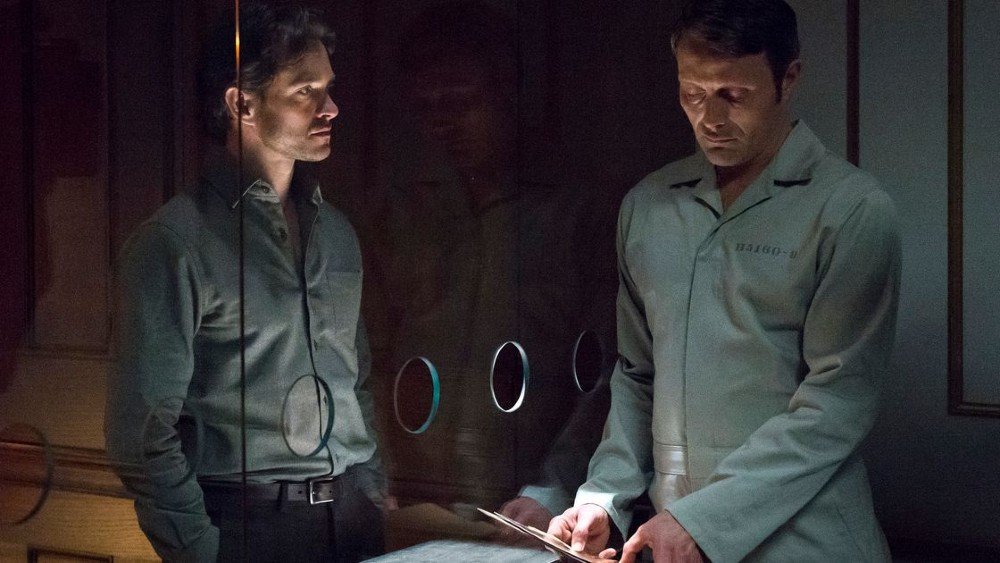 Hannibal Lecter is famous in horror genre circles, and he's not someone you're likely to forget once you've come across him in either the original novels or their film adaptations. He is, after all, a brilliant forensic psychiatrist with a gruesome penchant for serial killings and cannibalism.
In NBC's critically acclaimed series Hannibal, Dr. Lecter is still hiding his macabre habits when he is asked to assist FBI profiler Will Graham, a criminal profiler with the ability to empathize deeply with the murderers, in apprehending a serial killer in Minnesota.
Their professional and personal relationship is central to the series as it progresses, fueled by Lecter's obsession with pushing the boundaries of Graham's already fragile mind.
Where to watch Hannibal:
The Following, Fox (2013 – 2015)
You'd think there was nothing scarier than a serial killer on the loose, but Fox's The Following will prove you wrong when it combines a serial killer with a cult. That's when you realize that a serial killer with a group of devoted followers is much more terrifying.
In The Following, former FBI agent Ryan Hardy is in pursuit of an escaped murderer named Joe Carroll, who has since amassed a loyal fanbase to do his bidding in a grand scheme targeting Agent Hardy himself.
The second and third seasons introduce new cults and serial killers but simultaneously sustains Carroll's story arc as he continues to play a vital role in Hardy and his team's pursuit for the killers.
Where to watch The Following:
The Bridge, FX (2013 – 2014)
FX's The Bridge is a crime drama adapted from the Danish-Swedish crime series of the same name (which, in turn, was created by the same man who created Marcella!).
Where the original series took place between the Denmark and Sweden border, this American adaptation takes us to the US-Mexico border. This is where detectives Sonya Cross from El Paso, Texas, and Marco Ruiz from Chihuahua, Mexico join forces to investigate the death of a notoriously anti-immigration judge whose body is found on the border.
Their investigative methods differ vastly, but the two must work together to prevent the murders from escalating amidst lingering issues with illegal immigration, violence, and drug cartels.
Where to watch The Bridge:
The Fall, BBC Two/RTÉ One (2013 – 2016)
Whereas most serial killer series keep you hooked through the whodunit structure, The Fall sets itself apart by establishing from the get-go that the suspect has already been identified.
In this case, Scotland Yard superintendent Stella Gibson is working with the Police Service of Northern Ireland (PSNI) to capture and stop Paul Spector, who is targeting young women in Belfast.
Since they – and we as viewers – already know who their target is, it allows the show to focus instead on the process through which they chase after him, as well as his possible motives and the psychology behind what could drive a seemingly normal person to commit these murders.
Where to watch The Fall:
Luther, BBC One (2010 – 2019)
Somewhat similar to the previous show Hannibal, Luther follows the story of an uncanny partnership between law enforcement and a murderous criminal.
The eponymous John Luther is a hard-working, dedicated Detective Chief Inspector working in the Serious Crimes Unit of their agency. At the start of the series, he's investigating Alice Morgan, a brilliant but psychotic murderer who ultimately walks free due to lack of evidence.
They continue to cross paths as the series progresses and eventually, she becomes a kind of companion to him as she provides valuable insight to help him solve his cases. This uncanny relationship isn't without consequences, however, and it was destined not to end well.
Where to watch Luther:
True Detective (season 1), HBO (2014)
We love a good anthology series, and True Detective is no exception. Every season features a new cast and storyline, but it's the first season that we're focusing on for this list.
In 1995, 28-year-old prostitute Dora Lange was murdered and her body disposed of in a grotesque, almost ritual-like manner. Detectives Rust Cohle and Marty Hart were on the case then and now, 17 years later, they must revisit it when another victim turns up in a similar fashion.
True Detective season 1 plays out between flashbacks and the present time, allowing the connection between events in the past and current investigations to unravel what really happened to these poor victims.
Where to watch True Detective:
Aquarius, NBC (2015 – 2016)
Like Mindhunter, NBC's Aquarius borrows its serial killer – and some events in the series – straight from the pages of real-life history books.
When you think of Los Angeles in the late 1960s, a particular killer will probably come to mind: Charles Manson. Detective Sam Hodiak of the LAPD and his young colleague Officer Brian Shafe are investigating the disappearance of a teenage girl named Emma when he crosses paths with Manson and his "family" – including Emma herself.
Unfolding against the backdrop of a changing America, Aquarius follows not only Hodiak's pursuit of Manson as he moves toward propagating his "helter-skelter" philosophy, but also how these historical events affected an already shifting American society.
Where to watch Aquarius:
The Sinner (season 3), USA Network (2017 – present)
The Sinner started out as an eight-part limited series but after it garnered critical acclaim, it was eventually further developed into an anthology series, with Detective Harry Ambrose from season 1 being the only recurring character in each season.
In season three, Ambrose is called to investigate a fatal car accident but soon discovers that the survivor, Jamie Burns, has a much more sinister, murderous scheme in play, fueled by his long-time obsession with death and pushing the limits.
As Jamie's body count climbs, he continues to do whatever it takes for Ambrose to admit that they're the same – something that even Ambrose himself begins to question.
Where to watch The Sinner:
Slasher, Chiller/Netflix/Shudder (2016 – present)
We've got another anthology series for you! With three seasons under its belt so far and a fourth on the way this 2021, each installment tells a unique narrative with a mysterious serial killer at the center.
Despite its simplistic title, Slasher isn't just your run-of-the-mill slasher series with 80% jump scares and 20% plot – the stories are woven with twists and turns that'll have you biting your fingernails through every episode.
Season 1 deals with a copycat murder targeting a young woman whose past intertwines with her present, season 2 uses the summer camp serial killer trope but with an epic twist. While season 3 is a revenge story gone horribly wrong. And season 4 sees members of the wealthy Galloway family compete for the family's patriarch's fortune while also being hunted by a masked killer.
Where to watch Slasher:
Mr. Mercedes, Audience/Peacock (2017 – 2019)
The title Mr. Mercedes is the name of the unidentified perpetrator of a heinous crime involving grand theft auto of a Mercedes that resulted in the death of sixteen people.
The case is still unsolved, and this haunts Detective Bill Hodges to this day, even after his retirement from the force. To make matters worse, he's now also become the target of a new psychopath named Brady Hartsfield through online threats and harassment.
Hartsfield eventually resorts to extreme lengths with murdered victims as he becomes increasingly desperate to make a name for himself, leaving Hodges just as desperate to catch him.
Where to watch Mr. Mercedes:
The Loch, ITV (2017)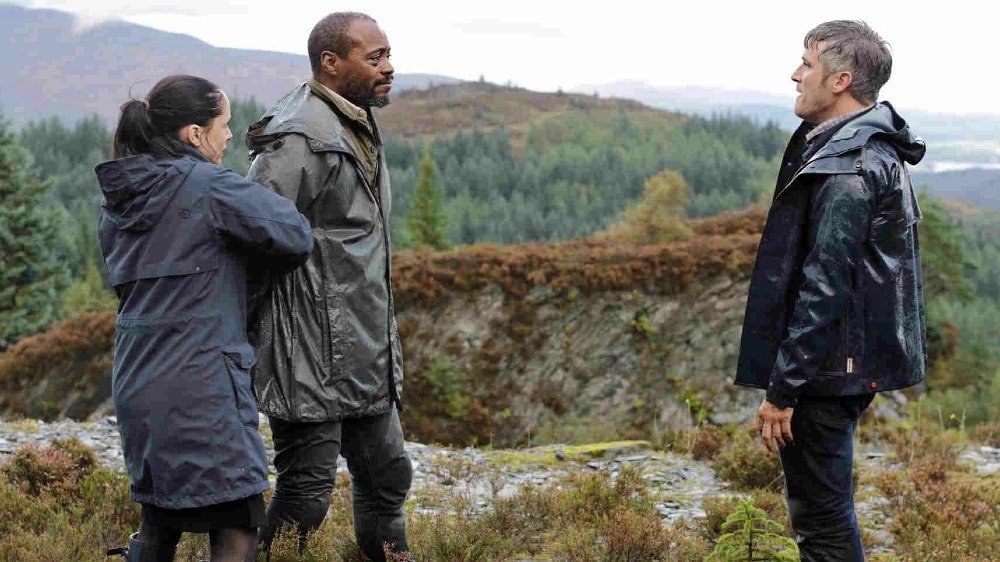 Though this six-part miniseries titled The Loch (also known as Loch Ness) does take place at a small village in the infamous Loch Ness – though don't be mistaken, as the series has almost no relation to the myth of the Loch Ness monster (though admittedly, that would be kind of cool).
Instead, a team composed primarily of Detective Sergeant Annie Redford, Detective chief inspector Lauren Quigley, and psychological profiler Blake Albrighton lead the investigation when a body is found at the foot of a mountain along the lake.
While it seemed like an accident at first, it soon becomes clear that they're dealing with a serial killer when a human heart is also found along the lakeshore.
Where to watch The Loch:
Wicked City, ABC (2015)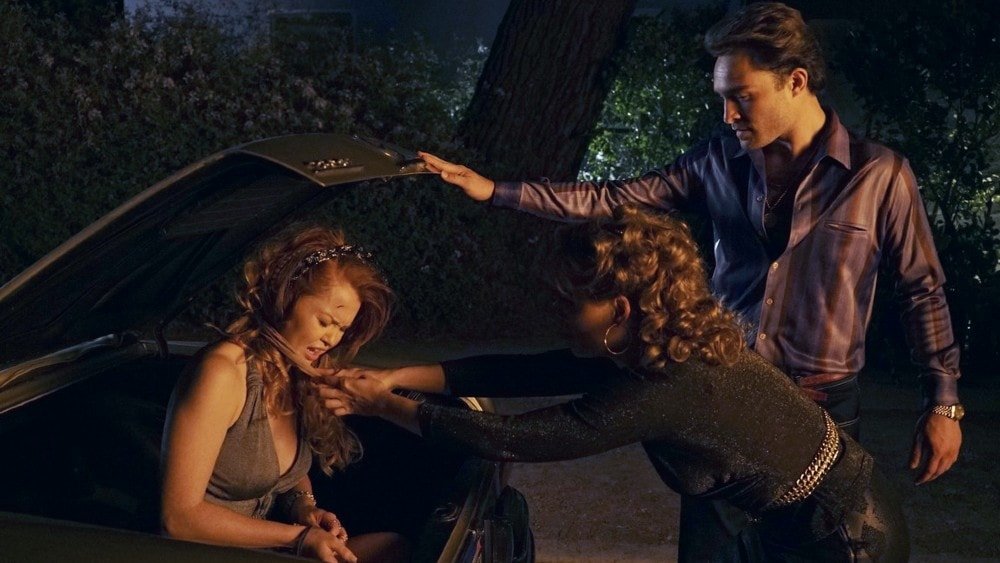 Set in Los Angeles during the early 1980s, ABC's Wicked City shows viewers that during this particularly happening time in LA history, the City of Angels was home to the devil incarnate himself: Kent Grainger, and his lover Betty Beaumontaine.
The Hollywood industry was in full bloom with many young women trying to get famous, and Grainger used that to his advantage in his quest to obtain notoriety through a serial killing rampage across the city.
In order to catch him before his body count continues to rise, Detectives Jack Roth and Paco Contreras must form unlikely alliances with civilians, including a journalist, a photographer, and an undercover cop.
Where to watch Wicked City:
Wolf Creek, Stan (2016 – 2017)
Australian anthology series Wolf Creek features outback serial killer Mick Taylor in both seasons but with a brand new group of targets each time.
In the first season, he targets an American family on vacation, killing the parents and shooting their 19-year-old daughter Eve before leaving her for dead. Unbeknownst to him, she is found and taken to the hospital, where she ultimately survives and sets out to seek revenge.
In the second season, Taylor sets his sights on a group of international tourists, hijacking their tour bus and stranding them in the middle of the outback. One by one, Mick hunts them down while the survivors do whatever it takes to make it out alive.
Where to watch Wolf Creek:
Des, ITV (2020)
ITV's Des is based on the real-life arrest and conviction of serial killer Dennis Nilsen in 1983. Nilsen was convicted of six counts of murder and two counts of attempted murder, though his real count is reportedly 12 victims and an additional 7 attempted – all young men and boys.
Des follows the fictional Detective Peter Jay as he discovers a home in North London with drains clogged full of human remains. That's what leads him to the homeowner Dennis Nilsen, who confesses to "15 or 16" bodies.
Meanwhile, a biographer speaks to Nilsen while he's facing conviction in an attempt to better understand the motives for his heinous actions.
Where to watch Des: