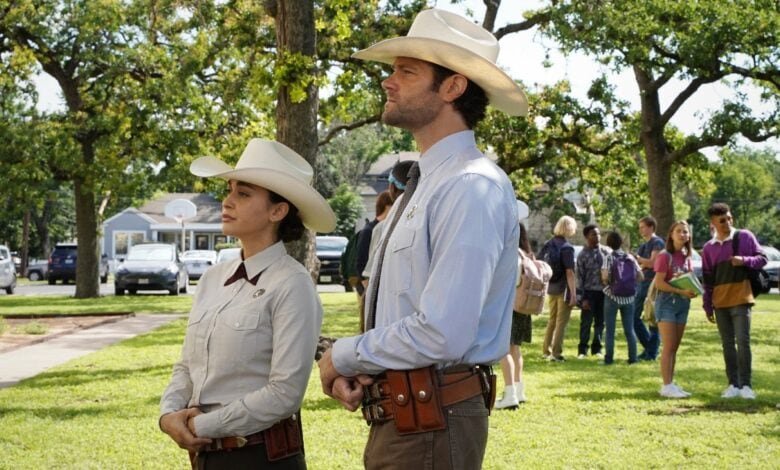 Most people outside of the United States have likely heard of the Texas Rangers at some point in their consumption of Western media. Whether in passing or in a more in-depth capacity, it's probably not completely alien to their ears.
Only, having heard of it is likely where the knowledge stops – the details on what a Texas Ranger is or does are hazy at best.
That shouldn't stop anyone from watching all the amazing TV shows out there about Texas Rangers, though! In fact, we've got a nice, compact yet comprehensive list of them right here, ready for you to consume and binge-watch.
While these shows are sure to clarify a lot of what's unknown about Texas Rangers, it might be better to go into it with at least a little bit of information.
So what do they do?
Well, the Texas Ranger Division is the primary law enforcement agency with statewide jurisdiction in Texas. According to the Texas Department of Public Safety's description, the Rangers "conduct major violent crime, public corruption, cold case and officer involved shooting investigations and oversee the department's border security and tactical and crisis negotiation programs."
Now given that basic overview, we should be able to better understand the events that unfold in these TV shows about Texas Rangers!
Walker, Texas Ranger, CBS (1993 – 2001)
Now you know you're going to get a good show if the star is legendary actor and martial artist, Chuck Norris.
In this action-packed procedural from CBS titled Walker, Texas Ranger, Norris plays the titular Sergeant Cordell Walker, a member of the Texas Rangers based out of Dallas-Fort Worth.
Norris' spectacular martial arts skills are really put to the forefront with his character, as it's what Walker usually employs to take down the criminals they go after.
He doesn't work alone, however, as he has the help of his young partner Jimmy Trivette, a former Dallas Cowboys player, and often consults with veteran Ranger C.D. Parker. Ushering them along the way of their pursuit of justice is Assistant District Attorney, Alexandra Cahill.
Walker, The CW (2021 – present)
Twenty years after the end of the previously mentioned series, The CW launched a brand new reboot titled Walker, bringing back a reimagining of the beloved character of Cordell Walker.
In this reboot, Jared Padalecki stars in the eponymous role, fresh from the conclusion of his previous long-running series, Supernatural.
Here, Walker is a widowed father of two who has just returned to his hometown of Austin, Texas following a two-year undercover assignment. Upon his return, his former partner is now his boss so he's starting fresh with a new partner named Micki.
Aside from the work he needs to do to reconnect with his distanced children and his brother that stepped in as their father in his place, he also struggles to gather information about his wife's death.
From Dusk Till Dawn: The Series, El Rey (2014 – 2016)
If you're a fan of the original From Dusk Till Dawn horror film with George Clooney and Quentin Tarantino (as well its sequels), you might love this series adaptation as it further expands on both the characters and the mythology behind the series.
For those new to the franchise, a TV show with vampires probably wasn't what you were expecting when talking about Texas Rangers, huh?
Well, From Dusk Till Dawn: The Series follows brothers Seth and Richie Gecko, fugitives on the run from the FBI, and Texas Ranger Freddie Gonzalez, who is fuelled by a personal vendetta.
Attempting to flee through the Mexican border, the Geckos hold a family hostage to smuggle them through and eventually end up at a club full of vampires.
Killer Women, ABC (2014)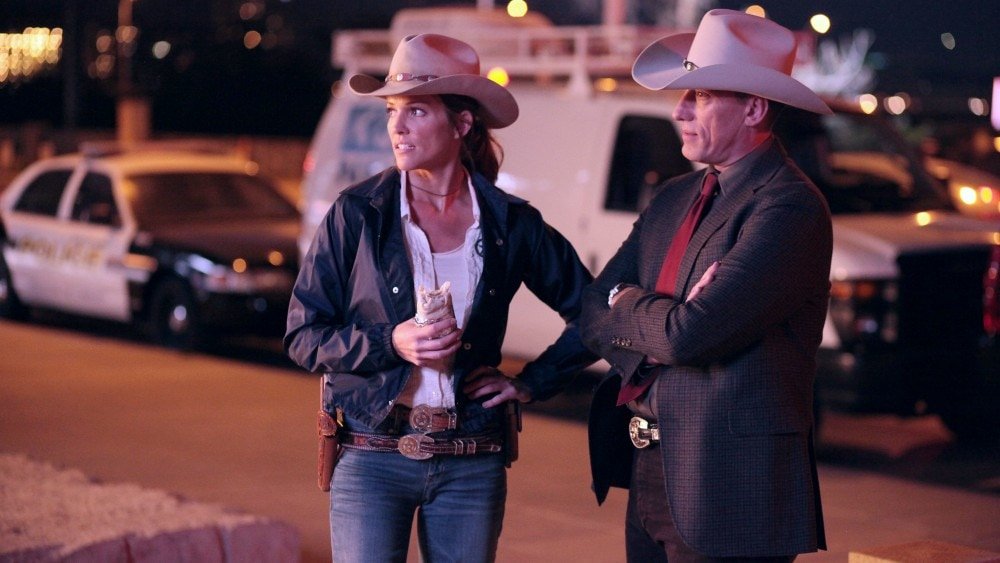 The next show on our list is an American adaptation of an Argentine crime drama called Mujeres Asesinas, and puts women at the forefront.
ABC's Killer Women tells the story of Molly Parker, a former beauty queen who left the pageantry world for a career with the Texas Rangers.
As the daughter of a sheriff, law enforcement and the pursuit of justice is in her blood, but that doesn't stop some of her colleagues from doubting her abilities despite having risen to the top of the ranks.
While Parker is a killer woman in her own right, the title Killer Women is a reference to the perpetrators Parker takes down – all of whom are women.
Texas Rising, History (2015)
As expected from a series brought to us by the History Channel, Texas Rising tells a scripted but historically accurate account of a notable time in the past of not just the Texas Rangers, but the state of Texas itself.
The year is 1836 and the Texas Revolution is well underway; the Alamo has fallen and with President Jackson hesitating to interfere in the tensions, Texas is forced to fend for itself against the Mecican forces and General Santa Anna.
Throughout this five-episode miniseries, the focus is placed on the Goliad Massacre and the Battle of San Jacinto, and viewers are introduced to an early company of Texas Rangers who served under notable historical figures Erastus "Deaf" Smith, Henry Karnes, and General Sam Houston.
Laredo, NBC (1965 – 1967)
We're taking it all the way back to the late 60s with NBC's Laredo, a series of the western genre that injects a healthy dose of comedy into the action.
The series follows three Texas Rangers: Reese Burnett, who was a Union Army officer during the Civil War, and his two – much younger – partners. Chad Cooper was part of the Border Patrol during the war while Joe Riley joined the Rangers in order to be protected despite his own previous run-ins with the law.
Much of the comic relief comes from Cooper and Riley's constant jesting of their older partner.
Laredo has everything you need from a TV show about Texas Rangers, including all sorts of outlaws, gunslingers, bank robbers, and evil businessmen.
Tales of the Texas Rangers, CBS/ABC (1955 – 1958)
If you thought Laredo was old school, Tales of the Texas Rangers takes us even further back by a decade.
In fact, before it was a series on CBS, it was a radio show on NBC Radio that broadcast audio reenactments of actual Texas Ranger cases!
For both the radio and the TV series, Captain Manuel T. "Lone Wolf" Gonzaullas served as a consultant; his input as a decorated Texas Ranger with a 30-year career was invaluable to the series.
While each episode featured the main characters, Jace Pearson and his partner Clay Morgan, in chases and shootouts, the setting would occasionally vary between more modern cases in the 1950s and others in the 19th century.
Trackdown, CBS (1957 – 1959)
We're staying back in the late 1950s with another of CBS's western crime series, Trackdown.
Like Tales of the Texas Ranger, Trackdown is entirely in black and white! The series was hugely popular and carried the endorsement of both the Texas Rangers and the State of Texas, as some of its episodes were inspired by real-life files from the Rangers themselves.
Trackdown premiered as a backdoor pilot of the western anthology series Dick Powell's Zane Grey Theater and further developed the character of Hoby Gilman, an ex-Confederate cavalry officer who returns to his hometown after the Civil War.
While the series begins with Gilman traveling to different Texas towns to chase down fugitives and bring them to justice, eventually he settles in at Porter, Texas, where he becomes the de facto sheriff of the town.
Rango, ABC (1967)
ABC brings us another western series from the late 1960s, though with a much shorter run than those previously mentioned on this list from that era, as Rango ran for just 1 season of 17 episodes.
The sitcom follows ranger Rango, described as "inept and bumbling" as he's assigned to the quiet town of Deep Wells, where crime is largely unheard of.
Rango was assigned there so as not to cause any trouble with his incompetence. However, the plan backfires when it soon becomes clear that trouble follows him wherever he goes.
Previously a peaceful place, Deep Wells is now a hotspot for crime that Rango and his Native American partner, Pink Cloud, must face.
Dead Man's Walk, ABC (1996)
To end our list of TV shows about Texas Rangers, ABC comes back with another entry titled Dead Man's Walk.
This two-part miniseries is an adaptation of Larry McMurtry's novel of the same name that was part of his Lonesome Dove series of novels.
The series is set in the 1840s and tells the story of two young Texas Rangers: Augustus McCrae and Woodrow F. Call. After a violent altercation with the Comanche War Chief, Buffalo Hump, McCrae and Call join an expedition tasked with annexing Santa Fe for Texas.
The journey proves to be more dangerous than anyone could have imagined as they experience heavy rains, having their horses stolen, being shot at, getting captured by the Mexican militia, and being forced to march through the eponymous Jornada del Muerto – the Dead Man's Walk.