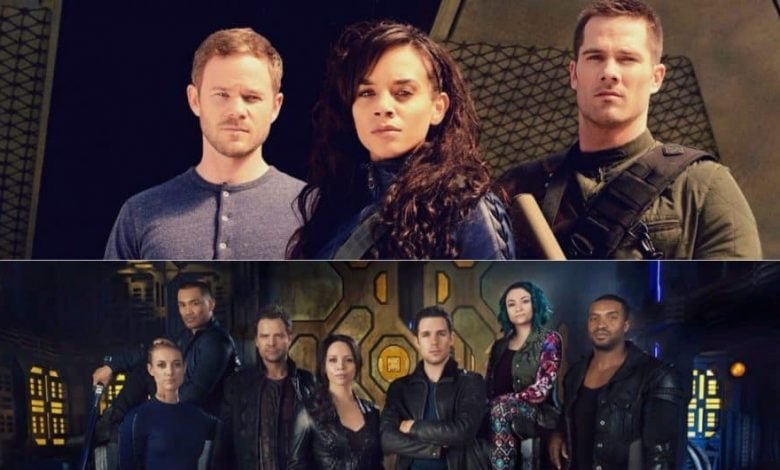 Get ready SyFy TV show fans, because the SyFy summer premiere dates for new and favorite returning series were just announced. And all I can say about them is that summer Fridays just got a hundred times better. So when do our beloved SyFy shows return? And what shows are expected to premiere this summer? Keep on reading to find out!
Killjoys season 3 premiere date and news
Starting with my personal favorite Killjoys, the official season 3 premiere date of the show is Friday, June 30. And Killjoys will occupy the 8/7 central time slot. So mark your calendars and be ready to follow Team Awesome Force on exciting missions once again. But what do we know about Killjoys season 3?
First of all, we know who will be back for the junior season of Killjoys. Of course, we can expect the show's three leads Hannah John-Kamen, Aaron Ashmore and Luke MacFarlane reprise their roles as Dutch, Johnny and D'avin. Additionally, we will also get to see more of Pree, Fancy and Turin, as actors Thom Allison, Sean Baek and Patrick Garrow have been confirmed for Killjoys season 3. But that's not all. The J Star System will see some new faces as well.
Actor  Karen LeBlanc will play RAC official Banyon, Kelly McCormack will star as Zeph, one of our team's enemies for the season, Prince Amponsah will appear as Havigan, a hackmod bar owner and Ted Atherton will play Gander, one of Aneela's lieutenants. On top of that, actors like Atticus Mitchell, Saamer Usmani and Mac Fyfe are among the guest stars that will be featured on Killjoys season 3, playing Pippin, Flik and Lachlan respectively. But what about where the season will go story-wise?
We got treated to a synopsis for the 10-episode long Killjoys season 3. During the third season of the Michelle Lovretta led show, we will be officially meeting Khlyen's daughter Aneela, as our trio will be preparing for a war against her since Aneela is out for blood over her father's death. And when I say preparing, I mean Dutch and her team will try to convince other RAC agents to side with them to defeat Aneela, which is only one of the challenges RAC team 25688-A will have to face on Killjoys season 3.
Dark Matter season 3 premiere date and news
The premiere date of Killjoys companion show Dark Matter was also a part of the SyFy summer premiere dates announcement. So Dark Matter season 3 will premiere on Friday, June 9 at 8/7 central. And the premiere will be a treat to all Dark Matter fans because it will consist of two back-to-back episodes. So on June 9, you will get not one but two Dark Matter episode. And make sure you also note that afterward, the show will air in the 9/8c time slot. So what can we expect from the 13-episode long Dark Matter season 3?
You can expect the return of almost all of the actors portraying The Raza crew. So Melissa O'Neil returns as Two, Antony Lamke as Three, Alex Mallari Jr. as Four, Jodelle Ferland as Five, Rodger Cross as Six and Zoie Palmer as The Android. Moreover, you will see some other faces on Dark Matter season 3 as well. Actor Andrew Moodie is set to appear as Teku Fonsei, Ayisha Issa will play Solara Shockley and Mishka Thébaud will be portraying Adrian Maro. But what do we know about the Joseph Mallozzi created space drama story-wise?
Unfortunately, not a lot. We know that the new season of the show will see to new and exciting adventure for The Raza. And, since the season 2 finale ended with the crew scattered, on episode 1 and 2 there will most likely be an event, that brings them all together again. The show's creator also teased that Dark Matter season 3 will continue to examine the past lives of the members of The Raza crew. And he also said that you can expect something resembling a corporate war on the newest season of this show.
SyFy summer premiere dates for 12 Monkeys and Wynonna Earp
Additionally, we also know when two other majorly popular SyFy shows will premiere their new seasons. So the time travel show 12 Monkeys, created by Terry Matalas and Travis Fickett, will unleash its third season, which is 10 episodes long, on Friday, May 19. Not only that, but we also know that 12 Monkeys will be back for its fourth and last season next year. The show will finish its run with 10 episodes.
As for Wynonna Earp, the Emily Andras led show will begin its season 2 run on Friday, June 9. The season will consist of 12 episodes in total and will see more demon-slaying gun-wielding badassery from Melanie Scrofano and Dominique Provost-Chalklkey's Wynonna and Waverly Earp.
Blood Drive premiere date
Lastly, SyFy also has a new show in store for us called Blood Drive premiering on Wednesday, June 14.  The show is set in dystopian future and will follow Arthur Bailey, a Los Angeles' cop, and Grace, an adrenalin-loving femme fatale, as they take part in a "twisted cross-country death race". But the kicker is that the cars participating in the race don't run on regular fuel. No, they run on human blood. Which makes the whole concept of Blood Drive interesting albeit also uncomfortably strange. So we will just have to wait until June 14 to see how exactly this type of race looks like.