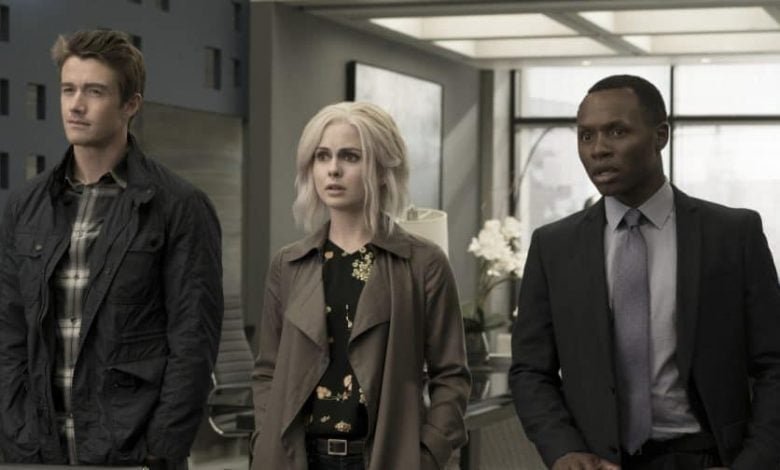 TV News items
The Defenders teaser drops
One of the most anticipated Netflix shows this year is The Defenders, Marvel superhero team-up miniseries that will feature four biggest Marvel TV superheroes Daredevil, Jessica Jones, Luke Cage as well as Iron Fist. And since the release of all 8 episodes of the show is just four short months away, on August 18, we finally got the first sneak peak of the series (video below). In it, we can see a security camera footage of all four Defenders riding the elevator. And Jessica Jones seems very unhappy about being filmed.
SyFy shows get their summer premiere dates
This week we also finally found out when some of our favorite SyFy shows will return to TV. First of all, we now know that Killjoys is beginning their 10-episode season 3 run on Friday, June 30. Additionally, Killjoys sister show Dark Matter will premiere the first and second episode of their 13-episode third season on Friday, June 9. Along with that, fan favorites Wynonna Earp and 12 Monkeys are debuting their new seasons on June 9 and May 19 respectively. And the newbie show Blood Drive will launch on June 14.
Girlboss trailer premieres
Another piece of Netflix news this week is that the trailer for Girlboss debuted this week. This Kay Cannon created comedy series is based on the autobiography of Nasty Gal founder Sophia Amoruso. Actress Britt Robertson is portraying Sophia in the Netflix adaptation. And the 13-episode season of the Netflix original comes out on Friday, April 21.
In the trailer (video below) we can see the trails and tribunals that Sophia goes through during the series to go from a lone eBay store owner to the founder of one of the most popular online clothing stores today.
Criminal Minds renewed
Then this week CBS also officially announced that they are, in fact, renewing the long-running show Criminal Minds for season 13. The announcement of other CBS show renewals came two weeks prior, in which the fate of Criminal Minds was left up in the air. But now we know that the successful show will go on for another season. And it is a pleasant surprise since the last three season 12 episodes are yet to air, beginning their run on April 26.
Chicago show fans get their own name
And this TV news roundup wouldn't be complete if I didn't mention that this week NBC's Chicago universe fans finally got their own name. It is #ChiHards, and it couldn't be more perfect. It encompasses the love Chicago Fire, Chicago P.D., Chicago Med and Chicago Justice fans, myself included, have for all of the shows and the shared One Chicago universe. And it also gives the fans an ability to interact with each other much more easily.
Think you have what it takes to be a part of the #ChiHards? 😍 #OneChicago pic.twitter.com/RGjnUG7hxq

— Chicago Fire (@NBCChicagoFire) April 7, 2017
Important TV moments
iZombie season 3 premiere
One of the main things on TV this week was the iZombie season 3 premiere. And the long-awaited first episode of the show's new season didn't disappoint. The iZombie season 3 premiere picked up right where season 2 left off, and it also set up new mysteries for season 3. Now we know that Fillmore Graves are preparing for a zombies-versus-humans' war and building an island where zombies could live in peace. We also saw how Clive being in the know about zombies looks like, Peyton getting even closer to Blaine and Major dealing with the aftermath of everyone finding out that he is (or was) The Chaos Killer.
DC's Legends of Tomorrow season 2 finale
While iZombie premiered this week, Legends of Tomorrow debuted their season 2 finale. It was exciting and ended on a cliffhanger as well. Luckily, we already know that Legends has been renewed for season 3 by The CW, which makes the wait until we see what happens next on the show at least a little bit better.
It was Burgess's time to shine on Chicago P.D.
The third big TV moment of this week was the Burgess-centric Chicago P.D. episode. It was not only emotionally hard and featured an intense story line, especially for Kim, but it, unfortunately, also left Burgess's future uncertain. At the end of the episode, we saw Kim make the decision of taking some time off to help her sister heal from the traumatic events she experienced. Let's just hope that Voight will let Burgess back into Intelligence. Although Kim might need to work for it at least a little bit, since a new face in the form of a robbery-homicide Detective Hailey Upton, played by Tracy Spiridakos, will be joining the show on guest starring terms starting episode 21.