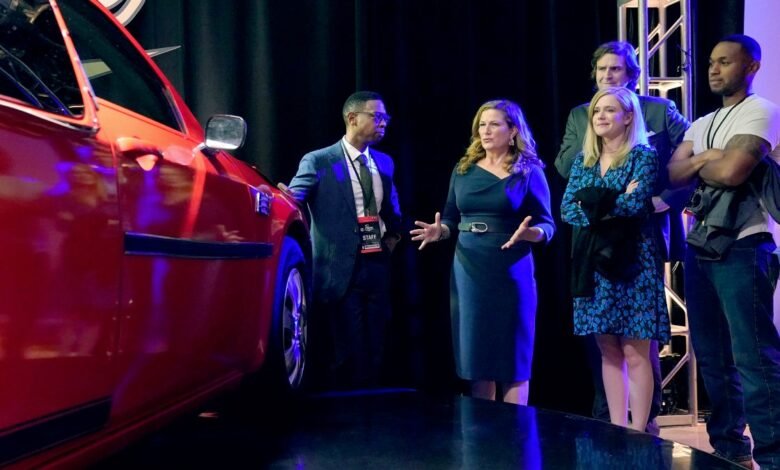 The automobile industry probably isn't one that many people would find a lot of humor in. I mean it's cars, trucks, and adrenaline. But then again, one look at The Office and you know that extraordinary talent can make anything funny – if they did it with a paper company, they can certainly do it with a motor company!
One of NBC's newest upcoming shows, American Auto, is a workplace comedy that promises to make your run-of-the-mill car company seem like the funniest place on earth.
Eager fans have been waiting almost two years for American Auto to premiere after it was given a pilot order back in January of 2020.
Some might argue they've been waiting even longer, as the script had been sold to NBC way back in 2013! It didn't go to pilot back then, and even in 2020, after the pilot had already been filmed, production was halted for a long time because obvious reasons.
But in January 2021, American Auto was finally given a series order after the series' pickup was in contention for a while due to having to redo cast deals.
Now that it's finally in full swing, NBC has announced that the first two episodes of American Auto – alongside four other comedies – will be airing on Monday, December 13 at 10 pm, ahead of their scheduled premieres in 2022!
Let's take a look at what we know about the series so far!
Who's behind the show?
We didn't just mention The Office for nothing! We've got high hopes for American Auto because it comes from the brilliant mind of Justin Spitzer, who has written episodes for Scrubs, Courting Alice, and of course, The Office (where was also a producer).
Spitzer is also responsible for the NBC comedy Superstore, a popular series that just ended its run with six seasons.
Alongside Spitzer as executive producer for American Auto are Dana Honor, Jeff Blitz, and Aaron Kaplan of Kapital Entertainment.
The production studios attached are Universal Television in association with Spitzer Holding Company, and Kapital Entertainment.
What's it about?
Set in the Motor City itself, American Auto centers on Payne Motors and its employees as the company is facing a dilemma about its future: either "adapt to the changing times or be sent to the junkyard."
To avoid the latter, a new CEO is brought in. She's one who excels in leadership and experience but knows almost nothing about cars.
Thankfully, she has a great team with the smarts to get the job done despite their constant fighting and chaos – which is what truly makes American Auto a comedy to watch out for.
Who will we see on American Auto?
Payne Motors' new CEO Katherine Hastings will be played by SNL alumna Ana Gasteyer, while writer-producer X Mayo will play her assistant, Dori.
The company's head of communications Sadie will be played by Harriet Dyer.
Joining these spectacular women in the cast are Tye White, Michael Benjamin Washington, Jon Barinholtz, and Humphrey Ker, who have all been cast in various roles of employees at Payne Motors.
White will star as Jack, one of the assembly line workers at Payne Motors. Washington will play Cyrus, the Chief Producer Designer at the company. Barinholtz is set to portray Wesley who's a direct descendant of the company's founder. While Ker will take on the role of Elliot, the Chief Sales Officer at Payne Motors.
Catch the two-episode premiere of American Auto on Monday, December 13, 2021! Followed by the regular time slot premiere on Tuesday, January 4th at 8/7 central.